Louisville Rock Lowdown
VHS or Beta
This month I am introducing you to a Louisville band that is totally different from all those I have written about thus far. They have a name as unusual as their sound: VHS or Beta, and they are a dance music sensation.
VHS or Beta is an all-original party band that combines the sounds of '70s disco with an up-to-date '90s feel. They definitely have a fresh, modern sound, as well as modern equipment. (You wouldn't believe some of the gear these guys have!) They are welcomed in most environments, including raves, bars and nightclubs, even if the clubs typically have a more traditional rock history. Anyplace with a dance floor is ideal. The band combines a light show, upbeat music, dancers and an energetic stage presence to put on the kind of show that has earned them the nickname of "traveling party."
Band members include Mark Guidry on drums, Zeke Buck and Craig Pfunder on guitars and Mark Palgy on bass/DJ set. Every band member takes equal responsibility in the songwriting, business and showmanship involved in making VHS or Beta; there is no one band "leader." They operate their own label called Nasty Skrump Records. Over 500 copies of their debut EP sold in a matter of weeks. Look for a new release coming from them around the beginning of the year.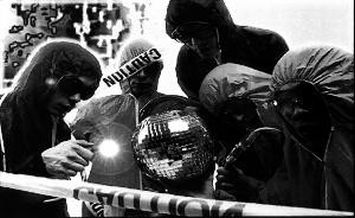 VHS Or Beta
Their song titles - and more importantly - their songs, may remind you of the '70s Disco days with a twist. Titles like "Solid Gold,""Rollerdays" and "Flash" are trademarks of their style. This is definitely a feel-good kind of band.
Believing that today's dance music is "faceless," played by easily forgotten musicians who don't interact with their crowds, VHS or Beta has worked hard to establish and maintain the image of a personable, tangible band whose entertainment factor goes beyond the music they play. Unfortunately, there are not a lot of venues open to dance groups like VHS or Beta or Imperial Sound System and the likes, but with the large crowds that the band is drawing, they hope they will gain more support from the area's music lovers.
There is considerably less competition in the genre of dance/party music, but it is also harder for talented groups to get the recognition they deserve when their brand of music doesn't often get due appreciation. (How many dance/party bands can you name from Louisville?)
All of the instruments in the music they play are real rather than synthesized. Even the electronic drums have to be played. That's not a drum machine you hear on their recordings, although many have mistaken Mark Guidry for one. Zeke has more of a '90s sound, whereas Craig carries the '70s funk along with him. Mark Palgy puts the bottom end together with his funky bass lines, plus the help of two turntables and a microphone.
I can't tell you how many people I have come in contact with who think that dance music is manifested from nothing. The most amazing thing about dance and party music is that it can be performed live, which is VHS or Beta's strong suit. You have not experienced a good live dance show until you have been to a rave. An opportunity to remedy that is the upcoming "Technosauraus 6" at the Louisville Convention Center on December 4, 1999.
VHS or Beta is just another example of a Louisville group doing something on a wider scale. The band looks forward to traveling for shows and plans to go to Germany for the Love Parade in Berlin in July 2000. You have to work hard to be in this band. They make all their own flyers and most of the artwork for their logos, T-shirts and website. Be sure to check out the site at www.vhsorbeta.com.
Unsolicited Opinion:
VHS or Beta's idea of being a single unit is very appealing to me, personally. If there is any one issue in the music world that I would like to see addressed, it is that of "band member suffrage." This whole band "leader" thing should be re-evaluated. Often times, good ideas are suppressed because of the dictatorship caused by a band front man, not to mention the widely practiced overshadowing of many talented bassists and drummers because of an over-enthusiastic guitarist (I am not trying to generalize.) But my advice to every band is: work together; that's why you are in a band and not playing by yourself.
I apologize for the delay on Spy Ring's article, it will be in next month's issue.