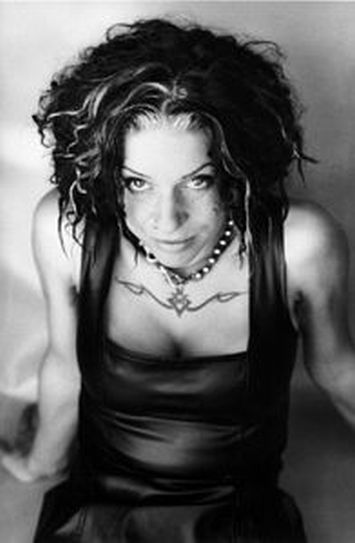 Ani DeFranco
Six Up Jammin '
Up Up Up Up Up Up
Ani DiFranc0
By Cheryl Chastine
If you haven't already discovered Ani Difranco, you're missing out on something remarkable. She's an incisive songwriter, an outspoken bisexual, a kamikaze guitar player, a troubled girl, an insightful singer, and most of all, a confident woman. Her personal brand of folk-rock~hip-hop-funk jazz has garnered her a constantly increasing range of listeners.
DiFranco's new album Up Up Up Up Up Up, released last Tuesday, fits perfectly into the larger context of her maturation as an artist (incredibly, it's her tenth studio album). With each of her releases, she's incorporated other musicians more and more. On Up, DiFranco says, she's "finally got myself an actual, bona fide. splendiforous [sic] band."
Despite all the albums she's released, DiFranco continues to grow artistically. Probably the most striking aspect of Up Up Up Up Up Up is the jam-oriented sound of it. There's much more of a priority given to establishing a groove and improvising around it, often for over five minutes. This, again, had an antecedent in the twelve~minute closing track of Little Plastic Castle, but it comes into its own here.
Whether this evolution is a good thing is a matter of debate. Much of DiFranco's brilliant gift for creating a gorgeous melody and singing it beautifully is sacrificed to the jam ethic and to quasi-spoken lyrics. Compounding this loss is the fact that newly emphasized singing style makes it more difficult to hear the album's lyrics.
These changes are sure to alienate some of DiFranco's longtime fans. Many other followers, however, will find much to appreciate. DiFranco's lyrics retain the same quirky poetry and heart-wrenching insight her fans have come to know and love.
Angry Anymore," the first single, muses, "Night falls like people into love / We generate our own light to compensate / for the lack of light from above." "Know Now Then" gives us one at DiFranco's most beautiful and insightful lines ever: "She's learning the spaces she leaves / have their own things to say / and she's trying to make music like mercy."
DiFranco's last album, Little Plastic Castle, found her searching, both in life and in music lyrically, the album was filled with meditations about her insecurities amid the increasing pressures of mainstream success (people talk about my image like I come in two dimensions," she sang on the album's title track). Similarly, the album's musical techniques conveyed a sense of searching. Difranco borrowed from more genres than ever before, experimenting with hypnotic jams, ska-like horns, and ghostly, vocal-filtered bleakness.
This experimentation was nothing new for Difranco, but Little Plastic Castle seemed unsettled, undecided. On Up Up Up Up Up Up , DiFranco has resolved many of the unsettled musical issues. Recorded only a few months after Castle, Up Up Up Up Up Up finds Difranco wielding the new techniques with a practiced perfection; what was experimental on Castle has become natural on the new record Indeed, DiFranco's persona on Up Up Up Up Up Up is inseparable from Little Plastic Castle. The expansive social commentary on Little Plastic Castle's "Fuel" provided the seeds for Up Up Up Up Up Up 's "Tis of Thee" and "Trickle Down," both of which are scathing political statements. Up' s "Come Away From It" has the same storyline as Castle's "Two Little Girls"; both depict love affairs with drug addicts. The matter-of-fact acceptance of life's imperfections and the simple folk sensibilities that informed Castle's "As Is" are what give power to Up's "Angry Anymore." The smoky-bar ambiance of Castle's "Deep Dish" is remade and elevated on Up's "jukebox."
The final verdict, thus, is this: if you're an established fan, this album is as essential as any of her others. If you're a new listener, however, pass it Up for now in favor of imperfectly, Out of Range, or another of DiFranco's brilliant earlier releases. Up Up Up Up Up Up deserves to be heard in the context of DiFranco's previous work.