I've Got A Mind To Ramble
Goin Down Highway 61
Walter Lay, who currently performs in the Highway 61 String Band with John Burgard, had heard about a Blues Harp Summit honoring Sonny boy Williamson II through a harmonica discussion group on the Internet. He was invited to attend (to teach school children how to play blues harp) in Glendora, Mississippi on Saturday, December 5. The impoverished little town is about 25 miles southeast of Clarksdale on Highway 49 and is Sonny Boy's hometown.. The purpose of the event was to raise interest and money for the Sonny Boy Williamson Community Center and Library, plus to instill a sense of community pride in the children.
On the way down, Lay stopped in Memphis on Friday to catch the opening event at B. B. King's on Beale Street, where Paul deLay, Rockin' Jake and Mark Sallings were performing. Paul deLay was at the school in Glendora with Walter and they gave a little introduction to the blues. Then Walter organized a group of twenty First- and Second-graders to teach them to play harmonicas, which were donated by Hohner, Hering and Lee Oskar. Ultimately, the children were able to do Little Walter's "Jake." Lay recalled a little boy tapping him on the shoulder and asking if he could learn how to play "Rock Me Baby."
According to Lay, the children got as far as making animal imitations and train sounds He said it was quite an experience to hear 100 kids playing harmonicas for the first time.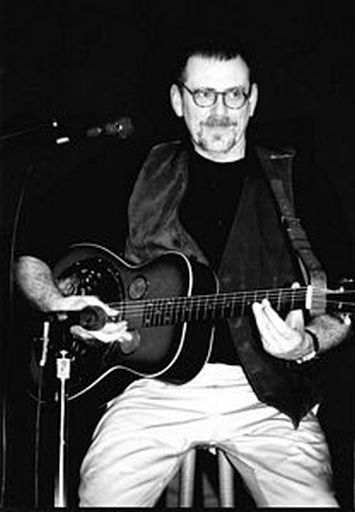 Walter Lay, at a performance with John Burgard at the January CoffeeStop
Later that night, it was back up to the Sonny Boy Music Hall on Cherry St. in Helena, Arkansas for a birthday celebration for Sonny Boy. About ten blues harp players from around the country showed up for this summit, including Sugar Blue, Blind Mississippi Morris, Rockin' Jake, Bruce "Sunpie" Barnes, Charlie Sayers, Paul deLay, Jumpin' Johnny Sansone, Arthur Williams and Mark Sallings. Even Walter Lay got a chance to ham at the end.
So who were some of the blues ambassadors who made an impression on Walter? Johnny Sansone came from New Orleans and played all Sonny Boy songs that night. He got so good at it by being obsessed for over a year with his music. Arthur Williams was a dynamic local harp mane who will have his first CD out soon. The Junk Yard Men are now the current house band at B. B. King's in Memphis.
Walter got to visit with Mark Sallings over dinner one night. Sallings and his band, The Famous Unknowns, were the original house band at B. B. King's for two-and-a-half years. Sallings impressed a lot of Louisvillians several years ago at the Waterside Festival with his harp and sax playing.
Walter Lay has just recently gotten back into the blues after he went to the King Biscuit Festival in 1997, which rekindled his interest. His early influences came while growing up in Danville, where there were lots of musicians. He recalls his uncle singing "I'm Ready." There were string bands like the Wall Family, harmonicas were played in church and there were street singers at the stockyard.
At U of K, Lay was in a band called the Pyromania Blues Band that played coffeehouses. Their local hit was "Burn, Baby, Burn," sung by Frank Nelson, who was a cross between Ray Charles and Little Richard.
Lay went out west to Washington state and played a little music, then returned to Louisville in the late Seventies to join a band called the Heathens. the band was John Mackey on drums, Paul McGee on bass and guitarist David Berman. the group frequently played at Woody's Tavern on Burnett and the Zanzibar. When John Burgard joined the band, it became the HotHeads.
In addition to being the director of Project Warm, Lay is a talented artist and musicians who plays both harp and guitar and who has a variety of guitars, including a vintage National. He is in the process of forming a new blues band that will include Sonny Sitgraves on drums and other musicians who work at Mom's Musician's General Store.
KBS Plans for 1999
Mark your calendars for the following events sponsored by the KBS. The Blues Cruise is scheduled for Saturday, May 15. We will meet the school bus on the Baxter Avenue side of the Mid-City Mall and fill up on Italian fuel at Mark Wagner's Come Back Inn. The blues stops on the itinerary this year include Stevie Ray's, Goodloe's and a third club yet to be determined.
Sunday, August 15 will be the Amateur Blues Contest at Stevie Ray's. Last year's winner, Jim Diamond and the Groove Syndicate, went on to compete against 37 other bands in the International Blues Competition in Memphis. They performed in the first round of the competition at the Hard Rock Cafe. Even though they didn't make the final round at the Daisy Theater, Jim got a great response from the crowd. Several photos of Jim were featured in the December issue of Bluesletter, the newsletter of the Music City Blues Society.
The KBS will be promoting a blues concert for the first time at Headliners on Saturday, September 25. Local, regional and national acts are planned for what the KBS hopes to become an annual event.