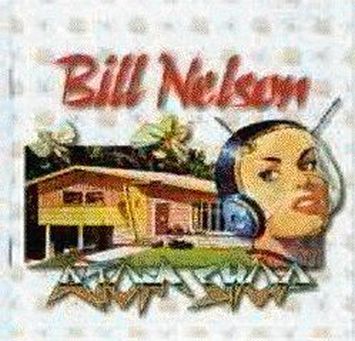 Bill Nelson Atom Shop
Smart Music
Atom Shop & What Now, What Next: The Cocteau Compendium (19801 990) (Discipline Global Mobile)
Bill Nelson
By Tim Roberts
Just when you thought Beck had conquered the realm of sampling, along comes a veteran British performer to out-sample and, well, out-Beck him. Bill Nelson, formerly of the UK bands Be Bop Deluxe and Bill Nelson's Red Noise, and founder of Cocteau Records, has released an impressively packaged trio of discs: one new, the other a double-disc compendium of his work on Cocteau from the last decade. Both are on Robert Tripp's Discipline Global Mobile, which is making a name for itself with its maverick, anti-corporate-label attitude and total trust in and service to, its artists.
Completely self-recorded, -mixed and -produced, Atom Shop is a masterful, heady sound scape, a collection of songs that reflect an innocent mechanized utopian vision common in 1950s America, the era When Tail Fins Ruled the Earth. Nelson blends his English techno-pop melodies and rhythms with lyrics that, in his words, allow "the American iconography to colour (sic)" the sounds. To put it another way, the songs cram together the sounds from the last two decades with the dreams from the century's midpoint. His samplings are plentiful but subtle, without completely driving the piece into which they are inserted. They include earthquake-resonant voice of Ken Nondine (who, for eons, was the voice of the Levi's commercials), a trumpet run from Chet Baker, blues riffs, a crisp-voiced woman giving instructions on how to listen to music.
Nelson himself gives us plenty of instruction on his music in What Now, What Next, the two-disc set of his work on his own Cocteau Records (which was once the home label of such British techno-pop bands as Flock of Seagulls and Big Man Aviators), spanning the previous decade. Included is the bouncy 1980 hit "Do You Dream in Color" and "Lady, You're a Strange Girl," heavy on the piano power chords and drum machine, which clearly dates itself as an 80s song. Scattered between the pair of discs are experimental works, an orchestral piece, and, like Atom Shop, lots of sampling. Nelson has also included a small portfolio of his drawings and photography in the liner notes. It totals up to an impressive package of sound and vision.
True, Bill Nelson is less than a household name in the US, especially when compared to other British musicians of similar artistic-pop stylings, like David Bowie. Nelson delves deeply into the music, exploring mystic collaborations among sounds. The results are sometimes puzzling, often challenging, and always smart. Or, as he sings in "She Gave Me Memory" from Atom Shop, "Intelligence is the sexiest thing on the planet."