Kentucky Center for the Arts
Anam is coming from Ireland on March 5 to play on the Bomhard stage. A contrast to Anam's traditional style will be offered to KCA patrons by Big Sea, a "Celtic/pop" group from Canada. According to the friendly woman at the ticket counter, the Celtic acts are top sellers for the KCA. Many were shut out of Mary Black's fine show for having tarried in buying tickets. Celtoids don't let this happen to you! Call 584-5477 for tickets ASAP.
A Mighty Month at Molly Malone's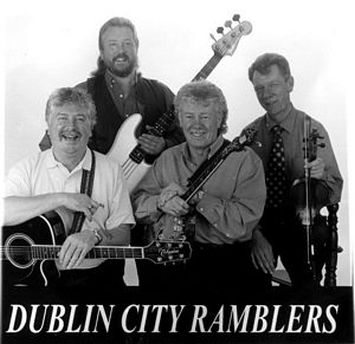 Dublin City Ramblers will performat Molly Malone's on February 24 & 25
February brings us four great weekends of music with local bands Galloglas (5th), The Rashers (6th), then Drowsy Maggie (12th) and Ten Penny Bit (13th). On the 19th, Silver Arm, Cincinnati's premier Celtic band comes to town with their unusual blend of pan Celtic and medieval music, playing flute, whistles, guitars (acoustic and electric), concertina, fiddle, oboe and bodhran as well as vocals. The following night (20th) features "The Bluegrass Reunion" which, although a hybrid of members of The Galoots and Cloigheann, is no musical mongrel with the likes of Steve Cooley, Mike Schroeder and Mark Rosenthal ("Rosie" to the local ruggers) in collaboration. The month has a solid finish with Lexington's Liam's Fancy (26th) and The Rashers (27th) .
Tucked away on two weeknights (23rd and 24th) will be shows not-to-miss by The Dublin City Ramblers ($10 in advance, $12 at the door). With several gold albums to their credit, you will certainly enjoy the vocal style of Paddy Sweeney, the banjo, mandolin and repartee of Sean McGuinness with singer/bassist Shay "Murphy" Kavanagh. New to their prodigious musical arsenal is fiddler Maurice Lennon, founding member of trad music giant Stockton's Wing. Both DCR and SW have performed at the Louisville Irish Family Fest in years past. DCR has been entertaining the Irish and their diaspora for over 25 years. They recently received "keys" to several US cities, including Morehead, Kentucky, which is in the process of being "twinned" with an Irish city. If only Louisville's "city fathers" would be similarly inclined.
Celtic Hearts
Galloglas will hold its annual Celtic Valentine concert on Saturday, February 13 at The Rudyard Kipling. Reservations are strongly recommended 636-1311. These Rud concerts have been especially enjoyed by the listening audiences.
Highland Paddies!
The annual St. Patrick's Parade is moving this year from the Limerick neighborhood to the Bardstown/Baxter corridor on Saturday, March 13. Unnamed informants revealed that it will step off from Mid City Mall and end at Phoenix Hill. More details next month!