Down On The Corner
• For those of you keeping track, please note that the offices of Louisville Music News have been moved. The new address is 3705 Fairway Lane, Louisville, KY 40207. The new voice phone number is 502-893-9933, new fax number is 502-721-7482.
• Uriel Segal was named music director of the Louisville Orchestra on January 25. He has been the principal conductor since the fall of 1997. Segal lives in Jerusalem, Israel but will buy in house in the area for the time he will spend in Louisville.
• Chazmaster Chaz has gotten an invitation to perform on the South Lawn of the White House for the Easter Egg Roll on April 5, 1999. Some 35,000 people attended last year's event.
• I've been seeing the signs at Maier's Tavern in St.Matthews that Wednesday was bluegrass music night. It turns out that the band is called the Hog Operation and features mandolin wizard and Louisville Mandolin Orchestra founder Mike Schroeder, who also picks with New Horizon. Other New Horizon members in the Hog Operation include banjo master Steve Cooley, formerly with the Dillards, and bassist Larry Raley. Tony Myers rounds out the quartet on guitar, although with these guys, there'll no doubt be lots of instruments swapped around. Show time is a Boomer-friendly 7:30 p.m. Plenty of time to catch some tunes and still be home for a 10 p.m. bedtime.
• Speaking of reconfigurations, members of the original Wild Horses band have reunited as Roundup and will be playing the Sunday country shows at Jim Porter's in February.
• The Kentucky Opera Guild will present the last Lunch & Listen program for The Barber of Seville on February 2 at Vincenzo's Restaurant. For reservations, call 584-4500 by Monday, February 1.
• The Louisville band slackshop made a trek to the Big Apple for a mixing session on their first single, "Grace." The band is on the micro dot recordings inc. label.
• Marie Augustine and Warren Hester, who play together as Common Ground, are starting up what they term a "Performing Artist Showcase" at H. Lee's in Middletown on Mondays, starting February 1. Showtime is 8:30 p.m. and the featured artist on February 1 will be Michelle Lee Gossman. Performers interested in being on the showcase can contact Marie Augustine at Marie714@aol.com or call 502-635-1043.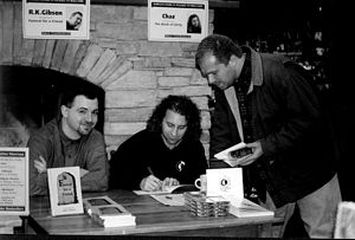 Ben Schneider, at right, stopped by Hawley-Cooke's Glenview Pointe store on Jan. 23 to check out merchandise by Chaz, the Unity Guy, and author Kevin Gibson, who recently provided a cover story on Schneider's band, 100 Acre Wood, for this newspaper. Photo by Jean Metcalfe
• Danville, Ky. native and current Louisville resident Larnelle Harris is the featured artist on a new Easter compilation, to be available only through The Family Christian Store. The project, entitled Forgiven: Celebrate the Resurrection with Larnelle, was assembled by the Nashville-based Adams Group and will feature some of Harris' most well-known songs.
• Artist Steve Eilers has drawn and had printed a coloring book called Mike & Donn's Coloring Book, which features Mike Murphy and Donn Adams of the group Tempura Horns. That's the short version of the story. Eilers, Murphy and Adams will be at the Air Devils Inn for a book signing on February 14, 7 p.m. until they quit. Eilers also hopes to attract the other Air Devils Inn frequent players who appear in the comic, including (but not limited to) Tim Krekel, Steve Ferguson, Peter Rhee, John Burgard, Dave Marasco, Kim Ritchey, Gene Wycliff, Jim Baugher and Mike Wiilliams. Eilers hopes for an extended Air Devils All-stars style jam session. Bring money for the coloring book.
• If you can tune in Double Q in Lexington (WKQQ), listen to "Local Live from Wakefire Studios" at midnight on Saturdays, hosted by Kat Guinn and Shea Maddox. the show features musicians from the Lexington / Central Kentucky area. In February, the schedule is: 2/2 - Artgeko; 2/9 - Witchazel; 2/16 - Gold Tooth Display; 2/25 - Winners of WKQQ's "Decent Exposure" contest. If you're in an original band interested in being on the show, call them at 606-881-0200 or e-mail to Locallive@wakefire.com.
• Lexington banjo whiz Tim Lake has a new CD out, called Live in Toyko, Japan. The project is a joint production of Tokyo's Audio Park label and Padraig Records and features Lake performing with Shofu Yoneya on shakuhachi and Jo Fujii on shamisen. Contact Lake at 606-268-1718 or e-mail TimLakePAD@aol.com or check his website at http://members.aol.com/TimLakePAD.
• Music Ranch USA in West Point, Kentucky has kicked off a second calendar year, still doing the Saturday night Country Jamboree, with an occasional Bluegrass and Gospel show on Fridays. Radcliff radio station WULF also tapes and rebroadcasts half an hour of each Saturday night Jamboree.
• The Jewish Community Center is auditioning acts for their Talent Show, to be held on March 13. The auditions will be held at 2 p.m. on Sunday, February 7 and Monday, February 8 at 7 p.m. at the JCC. Call Marsha Bornstein at 459-0660 ext. 153 for more information.
• The Southern Gospel Music Guild will host a national talent search on Saturday, April 17 during Gospel Music Week, April 17-21. An assortment of prizes worth $6,000, including recording time, a radio single release and membership in the Guild, will be awarded. The entry fee for groups and soloists is $50.Contact the GMA at 615-242-0303 for registration information.
• The 3rd Annual African American Music Heritage Institute will be held February 1-2 on the Belknap campus of U of L. The theme is "Aftrican American Women of Song" and the guest artist is jazz vocalist Nnenna Freelon. The event is sponsored by the U of L School of Music. For information and schedules, contact Institute Coordinator Jerry Tolson at the School of Music at 852-6972
• Boomer News Dept. Leon Russell has recovered from hip replacement surgery and has a new CD, Face in the Crowd. This one is blues-oriented. In all the regular record stores.
• We hear from "The Chief's" publicist that Eddy Clearwater's new CD, Cool Blues Walk, has hit Numbero Uno on the Blues radio chart. Louisville resident Duke Robillard produced the CD and offers his share of plaudits.
• Songwriters and acoustic performers, take note: the Swannanoa Gathering at Warren Wilson College, Asheville, NC has been scheduled for July 4-31. Advance reservations are required. There's too much stuff to list, so call them at 828-298-3434 and they'll send you all the info you need.
Codas
• Helen R. Conley, 87, formerly of Louisville, died January 14 in Savannah, Ga. She was a church organist and music director of Beargrass Christian Church.
• Jarrett S. Fankhauser, 78, died in New Albany, Ind. on January 20. Fankhauser was the anchor of the Louisville Orchestra's double-bass section for more than fifty years.
• Tom Roberts, 39, died in Chicago on Jan. 5 of complications from muscular dystrophy. Roberts was a writer for Cultural Jetlag, a single-panel cartoon that appears monthly in Louisville Music News.
• Martha Lee Ruhe, 69, died on January 16 in Louisville. She sang with the Nightingales on the "Hayloft Hoedown" show on WHAS.