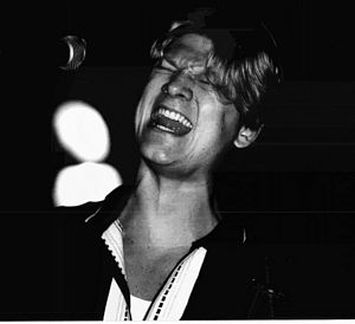 Tom Florian
Front and Center - Tom Florian
Victoria Moon
Let's face it: we live in the Age of Product. Music is too often the stuff of public relations gurus and imaging consultants, record labels are cutthroat corporations, and even indie subversives like Sub Pop have been eaten up by the money machine named American Pop Music. The only hope a talented wannabe has in this dog-eat-dog world is to sink all their cash into the creation of their own indie release, marketing it like crazy in their spare time between their day job and nightmare gigs and nursing a bruised ego from hundreds of form rejection letters a day.
Or could there be a better way?
During a recent conversation with Tom Florian, member of the band The Air Conditioners and one of the founding creators of indie record label 52nd Stream, I discovered that not only did the average Joe Artist have a chance to get his or her music heard on an international basis, but there is a subversive, DIY ethic alive and well that gives new meaning to the term "cyberpunk". Want to know more? Florian is more than happy to tell you all about it.
It all started with some innocent Internet surfing. \
"In late September of '98 I got this email talking about this website called mp3.com," Florian explains. "[the email said that] mp3.com was a new site for unsigned artists using mp3 technology [a file format created to compress music files from larger files to much smaller files while still keeping the sound quality high]. The site would host your band, give you a free web page, and let listeners hear your music for free. They would then sell your CD and split the profits 50-50 with the artists. Now, a 50-50 split in this business sounded very odd to me, so I immediately went there and spent about 2 hours searching the site and using up all the ink in my color copier printing off pages from the site. It was so amazing what was possible!"
Florian's enthusiasm over the site caused him to send one of his songs, "I Used To Be A Jerk", to the mp3.com site and join the community of artists that were already members of mp3.com. "When I joined, there were about 1,000 other artists," he remembers, "and we all just started [virtually] meeting each other and swapping songs. It was a great place for artists to come together, discuss marketing and promotion strategies and ways to reform the music business-trying to take the greed and selfishness out of the equation, but still have a business that can be profitable and help a lot of other people."
But Florian soon realized there was more than just a community offered through mp3.com. The site offers its own chart system based on hits from site visitors (similar to Billboard charts, the well-known industry standard) and within three weeks of putting his song on the site the song charted in the top 200, and he was receiving email from all over the world from fans impressed with the single. Realizing that the song had done this well without any marketing or promotion on his or fellow Air Conditioner member Tom Mabe's part, he wondered what might happen if he started doing a little promotion on his own and sent out an email to 400-500 people connected with the music industry locally and nationally. Expecting that the extra effort would help push the song to the top 100, Florian was surprised (and a bit disappointed) to discover that there was little response to his press release. "It's a perfect story to show that nothing happens overnight," he said.
The press release may not have helped his song move up the charts immediately, but it did lead him to meet several other artists who joined with him to form 52nd Stream, a promotions business/record label that Florian calls "a message to the record industry - really, to all big business! - that you do not have to be greedy and selfish to get ahead".
Co-founded by Florian at the same time was Artists United Against Injustice, a consortium of artists joined to change the record industry into something more, well, human. 52nd Stream takes a co-op approach to their marketing and promotions, providing artists with a forum to promote their own and each others' work, compilation CDs of their artists' songs, links to the mp3.com site and free mp3 files of their artists for listeners to download. In return, the money taken in through CD sales is divided 100% among the artists. The artists don't have to sign a contract, and don't have to give away any of their songwriting/publishing rights or their royalties. While this may sound too good to be true, Florian has seen immediate success with the new co-op: within one day of forming 52nd Stream, "I Used To Be A Jerk" broke into the top 100 on mp3.com. "This is what happens when you put all ego and selfishness aside," Florian said.
52nd Stream's first compilation disc included Cooler, Muffy Panics, Otis, Hipmonk, Bryan Hurst and the Lolligaggers, The Pennies, Stan Arthur, Gone and Ruined, Kung Pow and of course The Air Conditioners. Most of the bands chosen Florian had met and heard through helping local artist Chaz with the annual Harvest Showcase (Florian was also featured on the 1996 Harvest Showcase CD).
"This CD shows everybody great music, not just what will sell," says Florian. "To me, it blows away anything on the radio right now".
Florian points out that any artist with music and an Internet connection can start selling CDs immediately. "I'm really excited about this," Florian enthused. "We've sold a lot of CDs with almost no promotion, and as word gets out it's just going to get bigger...we're building a grassroots movement. As Jim Morrison said, `they got the guns, but we got the numbers'! In my day job, I learned my mission statement and rallying call for what I'm trying to do from [motivational speaker] Zig Ziglar: `you can get anything in life that you want as long as you help enough other people get what they want'. If we all work together, we could build this grassroots movement to...who knows what?"
Information about mp3.com can be found at http://www.mp3.com. For information on 52nd Street, check out http://www.mp3.com/music/Pop/3095.html