I've Got A Mind To Ramble
Postscript For Albert Washington
In last month's article, I mentioned that Albert Washington, the Cincinnati blues singer who passed away last October, recorded on the Fraternity label during the mid-Sixties. This got the attention of Marvin Maxwell (Mr. Mom's), who called to say that he remembered drumming on these sessions at the old Sambo Recording Studio in Jeffersontown. "Sambo" stood for the "Southern Artist Management & Booking Organization," which was located in a big old house at 9912 Taylorsville Rd. Ray Allen, Hardy Martin and Jack Sanders, a former Louisville radio DJ, ran the studio where other performers like Charlie Daniels and the Sir Douglas Quintet also recorded.
In Steve Tracy's book Going to Cincinnati, he incorrectly referred to the studio as "Sanborn Recording Co." and mentioned that either eight or ten cuts were made during the Washington sessions in 1966 and `66. These sides were more in a soul and rhythm and blues genre. The studio band included trumpets, saxophones, a celeste and back-up singers for Washington's vocals and guitar work.
Maxwell recalled that Washington showed up for the session wearing a wrinkled old blue sport coat covered with sequins, looking as if he just got off the stage at a club. As it happened, Shad O'Shea, who set up the studio session, had picked Washington up in Cincinnati at the Vets Club.
O'Shea is an institution in the Cincinnati music scene, having been a disc jockey, author, record producer and owner of a recording studio, Counter Point Creative Studios. When I called O'Shea, he remembered that when he went to get Washington at Vet's, a tense hush fell over the smoky club when he opened the door and found himself the only white person in the room. When Washington spotted him and welcomed him in, the situation went back to normal.
O'Shea said that he and Washington co-wrote the eight-bar ballad "Doggin' Me Around," which was recorded at the Louisville session and was a forerunner to Washington's "Love is a Wonderful Thing" on Jewel Records.
Maxwell and O'Shea both feel that the colorful history of Sambo Recording Studio needs to be documented.
Curtis Kicks at Headliners
Five years ago, Curtis Marlatt left Louisville for new musical horizons in San Diego, Ca. He returned to Louisville a year ago for a brief gig at Twice Told Coffeehouse, performing with members of his original local group, The Kicks. The `Prodigal Son' returned again for an excellent concert at Headliners on December 17.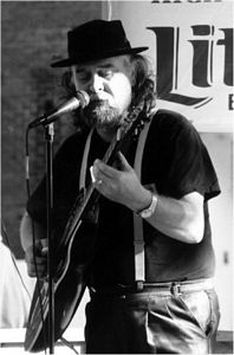 Curtis Marlatt
Before the show, I talked to Curtis about what he had been doing. He said that the Southern California scene is loaded with talent, including James Harmon, Rod Piazza and the Paladins but the gigs pay very little. He said he was getting the same money out there that he was getting in Louisville thirty years ago. He played for a while as the house band at a club called Gumbo Joe's in Palm Springs and supplemented his income by selling P.A. equipment and giving guitar lessons.
Marlatt made the move to Minneapolis in October 1998 to a better - though cooler - blues climate. Ron Levi and Cannonball Records are based in Minneapolis and there is an excellent blues newsletter, Twin City Blues News.
The new version of the Kicks that Marlatt brought with him is a crack outfit of outstanding musicians. Bronsin (from Wisconsin), who has played with the James Solberg Band and Otis and the Alligators, drummed with a mighty force. Jimmy Thomas, a.k.a. Broadway, was an animated bass player and sang on several tunes, including "No More Doggin'." He had just joined the band, following his return from Holland, where he played with Phillip Walker.
Rounding out the band was Bobby Lester, a veteran saxophonist who played with Louis Jordan in the late Sixties. Lester had also played with Phillip Walker and his tenor sax added a strong jump and swing sound to the band.
Marlatt looked in good form, having lost some weight and grown a white goatee. His guitar playing has matured. with a little more of a West Coast feel and his vocals are stronger, with an occasional Boz Scaggs twang. Curtis and the Kicks has developed into a versatile and sophisticated band that is also able to play jump tunes for the current swing craze. It was still nice to hear some of his stands from his Louisville days, including "That's What the Blues is All About,""Tear Your Playhouse Down" and "You Don't Know what Love Is."
After a two-night stand at the Slippery Noodle in Indianapolis, the band will return to Minneapolis, where they will have a regular gig at Big Daddy's Famous Kentucky Barbecue.
Marlatt has had his share of career starts and stops. He said that "with each new city, it's like dropping back to punt and trying to get the ball back." He plans to stay in the Twin City area to be close to his five-year-old son Remy, but he will be making more frequent visits to Louisville. Let's hope that he can intercept an opportunity and make the big play with his talent.