Down On The Corner
• Inasmuch as he doesn't have to hang around Louisville to be inaugurated as Mayor (`cause he didn't win), K. Scott Ritcher and His Band Metroschifter have headed out for an European tour. They'll return to the US of A on January 25.
• Paul K and the Prayers' new project, Saratoga, on the Alias label, is due out in the spring. The album was recorded at Ramcat Studios.
• Speaking of recording projects, word comes that Supaface will be recording at Distillery Sound studios, with the assistance of Travis Meeks. No release date has been announced.
• We hear from Second Street Entertainment that Dallas Moore has a couple of tunes in a new movie, Nice Guys Sleep Alone. Moore's "Bad Checks" tune is among the songs in the flick.
• B. J. Adcock and Sandy Bass of After Glow are off on the cruise shop Mercury for a winter-long tour of the Western Caribbean and through the Panama Canal to L. A. and Vancouver, Canada. They're providing musical entertainment for the cruises.
• If you missed the "No Cover" shows on KET last fall, you have another chance to see them. Every Friday night, starting on January 8 at 10 p.m., the program will feature live-to-tape stereo performances by Muffy Panics, 100 Acre Wood, Supafuzz, Swifty, Taildragger, Peace in the Jones, Heavy Weather and Mulch. There will also be encore presentations of performances by Cooler, Mindchoir, Rose to Lara and Gold Tooth Display, as well as some repeats from "Alternatively Yours" with performances by Catawampus Universe, art geko and peacemonkey. This whole set of shows is the brainchild of Krista Seymour, who asks that you call the KET response line at the number given at end of the show if you like seeing this kind of live music on television.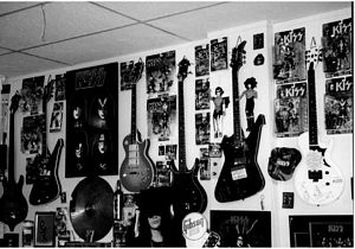 The recently opened Celebrity Pawn on Preston Hwy, has a wall full of rock paraphenalia, autographed pictures and guitars
• Speaking of original music, Mike Pollard of Headliners Music Hall has decided to make Wednesdays "Original Music Night" at Headliners. They will book only acts with enough original music to play either a whole night or split a night with another act focused on original music.
As of this writing, the plan is to charge "What you can afford" at the door, which will go to pay the band. The first Wednesday, January 6, will feature 100 Acre Wood and Dewey and the Navigators. The rest of the month had not been booked as of print deadline. For more information, call Mike Pollard at 584-8088.
• Coyote's is kicking off a new "College Nights" series every Wednesday, beginning on January 6. The inaugural act will be the swing band called the Kelly Jay Orchestra from Indianapolis.
• Speaking of Second and Jefferson, Hurricane O'Malley's has added yet another new "club" to the multi-plex. This one is called Jump, Jive and Scream and is, of course, a swing club. Put on those dancin' shoes and get on down there.
• Bryan Walker, program director at Basix Communications in Elizabethtown and on-air personality on WRZI STAR 101.5, has been nominated, along with four other radio veterans as national Small Market Radio Personality of the Year by the Gavin Organization. WRZI is the smallest market station accepted by Gavin as a reporting organization.
• The 20th Annual W.C. Handy Blues Awards Weekend will take place May 27 - 30, 1999 as announced by The Blues Foundation. The weekend will include the W.C. Handy Blues Awards ceremony, a two-day Blues festival on Beale Street, educational symposia, a brunch cruise and the "Keeping the Blues Alive Award" banquet, honoring non-performers in the Blues industry.
Following the Handy Award ceremony on Thursday May 27 at the Orpheum Theatre, The Blues Foundation and Beale Street Merchants Association will celebrate the 20th anniversary of the awards show with the presentation of The Handy Awards Festival May 28-29. The festival will feature a Blues roster composed entirely of Handy Award nominees in the clubs on Beale Street.
• The Kentucky Opera Guild will host the Tri-State Regional Finals of the Metropolitan Opera National Council Auditions on Saturday, January 9, 1999 at 1 p.m. in the Main Recital Hall at the University of Louisville School of Music. Singers from Kentucky, West Virginia, Southern Ohio and Southern Indiana who have advanced in prior competitions will compete for the top prize and an opportunity to go to the National Semi-Finals at the Metropolitan Opera in New York City on Sunday, April 4, 1999.
• Tom Florian of 52nd Media, the eMusic group for which he is publicist sent this bit of e-mail: "We are going to host a three-day event here in Louisville, KY on January 28-30 at the newly renovated Butchertown Pub. There is one stage set up for bands and a dance hall for DJs, spinners etc.!" As is generally the case with Flo's e-mail, there are many more words in his e-mail, so I direct you to either e-mail him at flo@bluegrass.net or check the website at http://www.mp3.com for more information about this event.
New Releases
• There has been a flurry of new CDs released by Louisville area performers. Since we have not yet been able to get around to reviewing all of them, here is a list of several that have arrived in the mail. Look for reviews later. You can no doubt find copies for sale at ear X-tacy, Disc Jockey Records and Hawley-Cooke Booksellers, among others.
• Scott Furlong, Just West of Midnight., Silver Creek Records. Furlong is a singer-songwriter from Louisville currently living in Richmond, KY.
• Bryan Hurst & the Lolligaggers, Waiting for Favors, ear X-tacy Records. Produced by Jeff Carpenter and Bryan Hurst and recorded at Al Fresco's Place. (See Tim Roberts' review on page 29.)
• The Marks, The Marks, independent release. Produced by Mike Baker and recorded at DSL Studios in Loiusville. Has been getting played on WFPK.
• John Moss, The Ladder, Reverence Records. Singer-songwriter Moss is a native of Louisville now living on the West Coast. The tune "Hole in My Pocket" has been getting airplay on WFPK..
• The Prophets, Happiness Dispenser, Sundried Records. includes "Optional Rain," a tune that has been getting airplay on Radio Louisville, a.k.a. WFPK Also getting airplay on WFPK. Produced by the Prophets and Tim Haertel and recorded at Falk Studios and Ramcat Studios.
• Bill Sweeney, Reflections, Mom's Records. Produced by Bill Sweeney and Howie Gano and recorded at Mom's Recording Studio.
• A Few Good Men, Against All Odds , cassette. Produced by Vince Emmett, Tom Kinnaird, Joseph Castriota, King Thomas and recorded at Melody Hill Farms.
• Beeble Brox, Dominant Domain, Acme Records. Produced by Monika Herzig and Peter Kienle. This Bloomington, Indiana group plays Louisville often. Tim Roberts wrote the liner notes.
Codas
• James Walter "Bott" Bryan, 74, died on December 22 in Louisville. He was a member of American Federation of Musicians Local 11-637.
• Mary Frances Duane, 88, died on December 20 in Jeffersontown. she was a voice teacher and a former singers at the old town Hall in New York for WHAS.
• Patsy Ann Hammons Koerner, 56, died on Saturday, December 19 in Louisville. She was a music composer.