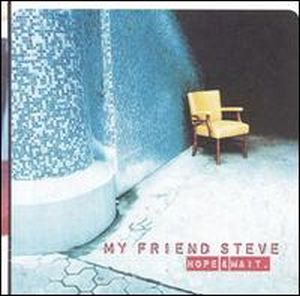 Hope & Wait (Mammoth Records)
My Friend Steve
By Robert Gruber
A band like My Friend Steve could get lost in a world of lame-o imitators like the Goo Goo Dolls and Third Eye Blind, and that's a shame. Despite their sort of generic sound - acoustic guitar-driven, Hammond organ coming in from the rear, very Wallflowers - My Friend Steve has the touching, literate lyricism of singer Steven Burry to set them apart from the pack. Consider this verse from "Carflips":
"When the car flips over and the people fall out/This is not something I can laugh about/somewhere there's a home where they're being missed/somewhere there's a wall beaten by a fist."
Or, from "Better Left Behind": "Baby, you ain't the daughter of Mark Twain and Ayn Rand/like you stated in your press release to your imaginary fans/Maybe you'll go as far as you say/Maybe we'll see you in L.A."
Burry's sufficiently raspy voice lends the proper emotion to each word. I'm surprised he didn't go the solo-folky route and give Elliot Smith a run for his money. In any case, My Friend Steve deserves a better chance than they'll probably get from radio and MTV - but then, so do a lot of good bands.