I've Got A Mind To Ramble
Chicago Blues Festival Turns Sweet 16
There is always a sense of excitement when you first see Chicago's dramatic skyline while driving in on I-94, which adds to the anticipation of four days of solid blues. This year was our 15th pilgrimage to the Windy City and will be remembered as the hottest.
There are now six stages: Front Porch, Crossroads, Juke Joint, (Best Buy) Showcase, Petrillo Music Shell and Route 66, which was added this year. Actually, the historic Route 66, covering some 2,400 miles through eight states to Santa Monica, California, started (or ended) at the intersection of Lake Shore Drive and Jackson Boulevard by Grant Park.
With all of these venues providing continuous music, there is no way you can hear everything. Therefore I selected whom I most wanted to see and planned a logistical itinerary for each day - until I got sidetracked, that is.
There were lots of distractions, with more vendors, record crowds, busking in the streets, the Belmont and just the magic of the city. The best I can do in this space is to give you few of my impressions during the largest free blues festival.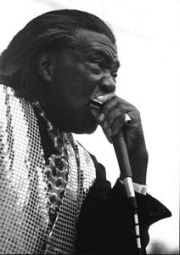 Neal "Big Daddy" Patman. -
Day 1 - Thursday June 3.
The first stop was the Crossroads Stage, where guitarist Johnny Laws sang with his easy, smoky voice, with just the touch of falsetto. He frequently performs at Lee's Unleaded Blues on Chicago's South Side. Another local band, Nate Turner and the Windy City Blues Band, were getting their kicks at the Route 66 tent. Turner's show was a little looser: he chewed gum during his set.
Then it was time to pay tribute to some of the legends like Detroit Jr., who played at the Memorial Piano Set to Sunnyland Slim. His impish humor and rollicking keyboard style brought back the blues from the '50s. The perennial Homesick James offered a set on the Front Porch. His slide guitar style is a little erratic but he settled down, with a slow version of "Juanita." When he was asked to do an encore, he abruptly said "no" and walked off the stage. I guess at 89, you are allowed to do that.
Bobby "Blue" Bland was the headliner that evening. His performance was similar to the recent show he did at the Brown Theater. Bland's voice is still very rich, without many of guttural scrawls. He segued from classic hit to classic hit for a nostalgic trip through the Duke and Malaco years.
Day 2 - Friday, June 4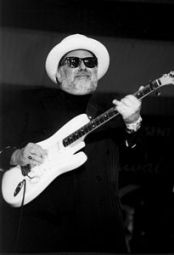 Duke Robillard performed in the Kim Wilson Blues Review - Photo By Keith Clements
Friday warmed up with a tribute to Junior Wells at the Crossroads, including John Primer, Phil Guy, Foree Superstar, J. W. Williams and a special appearance by Lee Oskar. This long set lasted all afternoon and was one of my many distractions. The Juke Joint featured Billy Branch, followed by David "Honeyboy" Edwards. This stage retained a more intimate character, featuring musicians playing acoustically.
Back at the Front Porch, there was another tribute to Jimmy Reed, with Johnnie Mae Smith (backed on guitar by her son Jimi `Prime Time; Smith. Johnnie wrote several songs for Reed and played drums in his band. The evening shows in the bandshell were strong with Larry McCray and James Cotton. Cotton's voice is gone, so Mojo Buford was there to handle the vocals, along with Cotton's inspired harp.
The climax of the evening was Kim Wilson's Blues Review. Two other Fabulous Thunderbird alumni, Duke Robillard and Kid Ramos, provided powerful guitar solos. Robillard's jazzy swing style contrasted nicely with Ramo's intense string bending. Midway through the set, the musicians cleared the stage and Wilson tore into a long harp solo that lasted ten minutes. It was like Rodney Hatfield's "Pike County Stomp" times two. Finally Billy Branch came out to jam a little harp with Wilson.
Day 3 - Saturday June 5
Cootie Stark and Neal `Big Daddy' Pattman got double exposure playing on both the Juke Joint stage and in the Route 66 tent. This duo brings an unusual combination of Piedmont guitar from Stark and Pattman's romping, down-home harp. Stark is nearly blind and Pattman has only one arm, but there is no holding back when they perform. Pattman's infectious harmonica rhythms were able to work the crowd into a frenzy and reminded me of Dr. Ross. Pattman was the sleeper of the festival.
The Best Buy Showcase stage is right at the crossroads of Columbus Dr. and Jackson Blvd. and featured young talent. Noah and the Stratocats made two appearances there, with Noah impressing the crowd with his extraordinary guitar prowess. I had recently seen this 17-year-old kid with long blond hair and braces competing at the Greater Cincinnati Blues contest. As he matures and works on his vocals and stage presence, he will become a rising star in this next generation interpreting the blues.
The evening shows started off with Mississippi Heat. This group has undergone several personnel changes since it was founded in 1991, but Pierre Lacocque has kept the group going with his leadership and masterful harp playing. Barrelhouse Chuck alternated between piano and organ, and blues divas Katherine Davis and Zora Young belted out most of the vocals. This band has grown up to become one of Chicago's hottest ensembles.
Day 4 - Sunday, June 6
This was the day I was looking forward to most, with lots of potential diversions available. Othar Turner opened the Front Porch with his hypnotic fife. This 91-year-old is the last of the musicians still playing this primitive music. Turner still leads his Rising Star Fife and Drum Band at his regular picnics on his goat farm near Como. Mississippi.
The Crossroads had some father and son acts, including Chris Thomas King and his father, Tabby Thomas. King opened, playing some traditional acoustic blues, including "Face Down In the Red Mud," a powerful statement of racial injustice. Thomas sang several songs from his Excello days, till finally Chris broke loose with his aggressive, contemporary blues.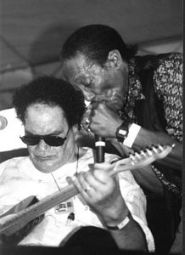 Louisiana Rd - Photo By Keith Clements
The highlight of the day was seeing Louisiana Red live. I've got all his recordings from Low Down Back Porch Blues on, but I had never seen him perform, because he has lived most of his recent years in Germany. Red did two great shows, playing acoustically at the Juke Joint and with a top-notch Chicago band on the Front Porch stage. Red played his classic "Red's Dream," where he had a vision of all these bluesmen in the White House. Willie `Big Eyes" Smith normally drums, but he showed some impressive harp playing during Red's set.
The Hot Tamale Mama, Marcia Bell, delivered her usual boogie-woogie piano and soulful songs I her swinging stocking feet. Taj Mahal closed out the festival with a musical mix from reggae to rhythm and blues. His set ended with "Ooh Pah Pah Doo" and "Everyday" for an encore.
Sweet Sixteen was one of the best of the Chicago Blues Festivals. It was combined with some memorable late night activities at the Hot House, which I'll report on next month.