Front and Center Marvin Maxwell Begins His Hunt for Old Louisville Recordings By Victoria Moon
A few issues ago, I wrote in this very column about the exodus of the music recording half of Allen-Martin Studios east on I-64 into Lexington to start a business up there. At the time, I thought that might be the last I would talk about that venerable old studio, where so much of Louisville's rock-n-roll history was recorded. I thought I had, in fact, written the last chapter in that studio's biography.
But then Marvin Maxwell, proprietor of Mom's Music, came along to prove me wrong. In fact, Maxwell's project is so big that it's crossed the waters into Merrie Olde England and resurrected the soulful, rocking part of Allen-Martin's past that obviously was never dead, just resting. After talking to Maxwell, I knew I had to revisit the old studio just one more time and remind Louisville of its place in rock-n-roll history- so get ready folks, for a little history lesson. Don't worry, though- it's never sounded so good!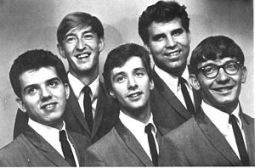 Soul, Inc.
It all starts in a little studio that started up in Louisville in the 1950s called Sambo Studio. Here, the Monarchs, The Trendells, Soul, Inc., Elysian Fields and others recorded their music in the 1960s and started their careers. It was the epitome of DIY music back then -- garage bands really did play in their garages; percussion noises were made with stones in Coke cans log chains and zippers; and the echo chamber was rigged up in a place out back, with a microphone and speaker set into either end of the room -- to put it mildly, it was rock at its raw material best: new, experimental, independent and wild. Some of the bands that recorded there - all of the bands mentioned above, in fact - even had songs that made the national charts; and they toured with the biggest of the Big Boys all over the world. It was a heady time, the early days at Sambo. Eventually, though, the studio changed its name to Allen-Martin (after owners Ray Allen and Hardy Martin), the hullabaloo died down a bit, bands broke up and went their separate ways and the 2-track recordings made in the studio - literally thousands of them-were tucked up into an upstairs vault, far from the light of day.
Flash forward to the 1990s. Maxwell, once a seminal member of Soul, Inc. and Elysian Fields, as well as session drummer for many of the local and national performers who recorded at Allen-Martin, has become the successful owner of one of Louisville's best-known music shops and studios. He's rounded up the remaining members of Soul, Inc. who were still around town and released a critically-acclaimed CD under the band name The Shufflin' Grand Dads. All in all, life's pretty sweet.
Then he gets a call from a friend who says, "Hey, you've got to check out this website coming out of England," so he does. There, on www.Delerium.com, was a tribute to Sixties music, a book that, according to Maxwell, had "more information about our band than we collectively knew ourselves," and a CD for sale with a Soul, Inc. bootleg on it. That started him thinking. A short while later, he heard about a bootleg Soul, Inc. song being marketed in Germany. That really got the brain in gear, and a friend of his - Ed Amick, now Maxwell's partner in a venture titled Groovy Music, Inc. - contacted the web administrators in England, who directed him to the right record labels.
Eventually, Maxwell and Amick got in touch with Gear Fab Records, a small label that focused on DIY and garage bands from the Sixties on up. When the label heard that Soul, Inc. members were alive and well - and still in the music-making business - they got excited. When they heard from Maxwell and Amick about that huge cache of Louisville music masters at Allen-Martin, they got very excited. So Maxwell and Amick formed Groovy Music, Inc. and went to talk to Ray Allen and Hardy Martin. At the end of that conversation, Maxwell walked out of the studio with 13 master tapes of Soul, Inc. and Elysian Fields' songs and an agreement to allow Maxwell access to the cache of masters still there.
Maxwell took the masters he had into his studio, got an old 2-track machine and dubbed the songs digitally down to CD ("we basically had one shot at it," said Maxwell. "As we were dubbing, iron oxide started coming off the original tapes so badly it formed a cloud in the control room!"). These CDs are hanging out in Ardent Studios in Nashville to be mastered and, starting September 1, the first Soul, Inc. album in 30-plus years will hit the streets. October 1 will see the release of Soul, Inc. Volume II and the first of November brings in a re-release of re-mastered Elysian Fields tunes. Seventy-five to eighty percent of the CDs will be marketed to European collectors and music aficionados who have created a market eager for the sounds of Louisville's own.
"Europeans are just freaking out over these re-releases," said Maxwell. "To find out that there are collectors across the world who want our music is pretty rewarding." He went on to add that one of the reasons that the masters have been lying dormant for so long is the legalities and red tape that go along with re-releasing them.
"It was too much of a hassle for Allen-Martin to deal with, and I understand that," said Maxwell. "It's basically got to be a love of this project that drives all of this, not a love of money. It's a labor of love. I'm still dealing with all the legalities of it; making sure the writers get paid, the publishers get paid - all that. Plus, some of our songs were on major labels that have since been bought up by major conglomerates, so now I'm dealing with the conglomerates on permission to re-release the stuff they had out. But this is a gift to Louisville - probably a lot of people here aren't even aware of the amount of recording that went on in Allen-Martin in those days. Louisville is pretty lucky to have had Ray Allen and Hardy Martin have the insight to build a studio in those days and let a whole bunch of us go for it. We did a lot of good things in those days: traveled with two "Dick Clark Caravan of Stars" tours, opened for everybody from the Stones to Paul Revere and the Raiders and The Byrds. It was an exciting time."
All Soul, Inc. aficionados on this side of the Atlantic will be interested to know that Soul, Inc. will be performing July 18 at the WFPK fundraiser "Dylan for Dollars". They will be performing "Subterranean Homesick Blues," which they recorded in the Sixties, and, best of all, they will be bringing back the original vocalist Jimmy Orton to perform with them. Even better, the original Soul, Inc. lineup will be headed back into the studio to make music history one more time.