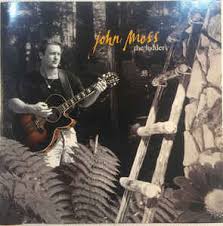 The Ladder (Reverence Records)
John Moss
By Bob Mitchell
The sound is reminiscent of the Monkeys and early Beatles, now called "adult alternative" music.
The showpiece of this release is "Hole In My Pocket," and Skip Gordon's harmonica on it is wonderful. The words are also great: "Well, I guess I have a hole in my pocket, the way things slip away from me. / Wishing things were different, it don't help me none. / I was wrong, but I can't undo the things I've done. / Had it all together on a sunny day, / when I wasn't looking, it just slipped away." -- You got that right! Everybody knows the feeling!
Moss is a busy man throughout the entire project. On most cuts, he not only provides the lead vocal but also guitar, drums and percussion. He is the sole author of eight songs and co-author of two others. The writing is strong in "The Soul.""Dare to Dream" and "Everybody Care."
"Crazy For You" is another nice cut. The steel drums of Jay Lawson add a zesty flavor to the lyrics of Ayers and Moss: "I was nervous from the start. / Didn't know you would break my heart. / Couldn't think of anything to say, / so I guess I'll wait another day."
Moss, originally from Lexington, KY, is now based in Los Angeles, CA. Some of our readers may remember his vocals and drum work with the pop Southern band Twice Told.
To obtain a copy, contact Moss at his website http://johnmoss.iuma.com