Louisville Rock Lowdown
This month, the featured band is Andy's Kitchen. The group consists of singer/songwriter/guitarist Harmony Beeler, singer/songwriter/guitarist Woody Mauldin, drummer Todd Walker, and bassist A.J. Holley. All members of the band have been there since Day One, which in this case was one year ago. The group got its start as the house band at H. Lee's in Middletown for a couple of months, then worked in some other gigs. Since then, they have been working on recording a CD, writing new material and playing various shows around town.
I went to watch a performance by Andy's Kitchen at the Rudyard Kipling (managed by Ken Pyle) on Friday, May 21. The atmosphere was laid back until a loud and obnoxious stranger entered the room, proclaiming various bits of information that no one cared about. This, together with technical difficulties (e.g., a crackling cord on the bass and the omnipresent-feedback-demon from the guitar amp) stood in the way of the festivities. The band demonstrated their resilience to obstacles, continuing to make last-minute preparations and jesting with the self-proclaimed vagabond. After Woody informed the crowd that their next date at the Rudyard would be June 26, the loudmouthed assailant said, "That's my birthday!" Woody then replied in a saucy tone, "You'll definitely have to come out, then."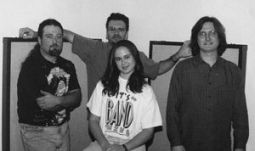 Andy's Kitcher, from left, Todd Walker, A.J. Holley, Harmony Beeler and Woody Maudlin
Thankfully, the rest of the night was much quieter after the heckler left and the music got underway. A mesh of various influences brings out the sound of Andy's Kitchen. Elements of rock, jazz, country/bluegrass, R & B and even swing/shuffle can be detected in some form in their work. Responsibilities are shared throughout the band, both on and off-stage. A good example of this on-stage sharing is the fact that both Woody and Harmony sing, sometimes harmonizing with each other, sometimes solo. Todd adds a very dynamic expression to the music through his percussion work, while A. J. gives each song a ton of flavor with his technical and sometimes funky bass-lines. With nearly twelve years experience as a bassist, Holley makes it look easy. Woody and Harmony also compliment each other's guitar playing, with Beeler carrying the chord changes on a 12-string acoustic/electric and Mauldin providing killer solos and texture-rich background tones to each piece.
In-between a few sets, Harmony took the stage as a soloist and gave the guys a break. A version of Bette Midler's "The Rose" was the most crowd-pleasing of these ballads. She handled it with ease in a beautiful soprano voice. "Norwegian Wood" was also touched on, but there are never more than a couple of covers in any set of theirs. A new song, "Time To Pay," was also introduced that night. Their music is definitely not your average three-chord power pop tunes. Instead, the songs each have a style that fuses other styles of music, with cool chord changes to boot.
In an interview at a practice session, I learned some of the band's history and goals for the future. The band got together after different combinations of its members met at the Hideaway Saloon and a Rat Dog show, finally deciding to get together and form a band. The group credits too many different sources to list as their influences.
Beeler said it best: "We don't recreate our influences, we build on them." For them, influences are meant to keep them in touch with what is going on, to point them in the right direction, and to send them on their way to do something creative. It is very obvious as well that each different member of the band has his or her own style of playing and writing. For instance, Holley has a very structured and arranged way of playing and writing his bass lines, but Todd Walker's biggest challenge is to tone down his hard-hitting style of drumming to match the music of Andy's Kitchen.
As far as the future goes, Andy's Kitchen hopes to be touring other than in Kentucky soon, playing the major cities in the four-state area. Promotion of the new CD will be a top priority during this summer and into the new year. Some new percussion experiments may be in the works for the next album, plus a keyboardist might be added. The band is in contact with Nashville singer/songwriter Sally Anthony and will be doing some gigs with her both in Louisville and Nashville. You can see them together on June 26 at the Rudyard Kipling.
When asked, "what do you want your audience to know about your band when they see you live," the band replied: "We just want everyone to have a good time. Our shows can be a transformative experience ... We set the tone so you can forget about your problems and get away from the daily grind." The group lives by the rule "no conformity" when it comes to their original songwriting. They want the people to like them for who they are, not what the media says they should be.
The group credits much of its success to the friendships and personality traits of its members. There are no ego problems and everyone is open to each other's ideas, consequently, the group gets along very well together. Their only complaints came from the fact that they have no full-time roadies or soundmen!
They were in agreement that writing new material and watching it evolve into a polished song is the best part of being in Andy's Kitchen. The band pumped out the main structure to sixteen of those songs in the studio in October in just ten hours! However, the finished product is expected to rack up 40 to 60 hours of studio time.
Their self-titled debut album is scheduled for release in August. Be sure to check out the band's first single to be aired on 91.9 FM soon (so call in and request them!)
With all of the recent enthusiasm shown by their fans, it seems that bright horizons lie ahead for these up-and-coming artists. Andy's Kitchen is available for bookings and private parties and can be reached at (502) 368-3515 or by e-mail at hbeel01@infospacemail.com. A website is in the works, so e-mail the band for more info!
As always, I urge you to support local music. Go check out Andy's Kitchen and any other local band around town and give them a shot at pleasing your ears. Keep sending me your requests to be in an upcoming column of Louisville Rock Lowdown. I have already received great response from bands this month. You can page me at (502) 672-3153, e-mail me at Jkslacker@aol.com, or contact the Louisville Music News at 893-9933 or editor@louisvillemusicnews.net or by snail mail at 3705 Fairway Lane, Louisville, KY 40207. Also, click to the new LMN website at www.LouisvilleMusicNews.com
Next month, read about the all-new Unknown. Rock on!