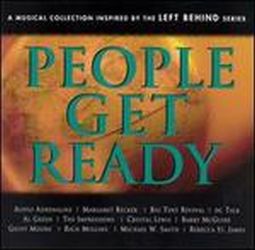 People Get Ready (Forefront Records)
Various artists
By Robert Gruber
The astounding popularity of the "Left Behind" book series has created a cottage industry of "rapture-related" items, including t-shirts, ball caps, videos and now this, a CD of "rapture-related" songs (These are the tunes you want to be whistling when Jesus comes back, yuh dig?)
Despite the obvious stench of exploitation here, this is actually a pretty good collection. CCM heavyweights like Crystal Lewis, Rich Mullins and Michael W. Smith weigh in with popular numbers, respectively, like "People Get Ready, Jesus is Coming,""Elijah" and "I'll Lead You Home."
Two songs, "Horses" by Margaret Becker and "Come Quickly Lord" by Rebecca St. James, are quite remarkable, and the disc almost pays for itself by including the Impressions' "People Get Ready" and Al Green's "Jesus Is Waiting."
The only songs that really don't need to be here are a pair of really lame Larry Norman covers by Geoff Moore and dc Talk (Face it, no one does Larry like Larry, they should've just used his originals, Lord knows he could use the money!). Also, do we really need another album with "Eve of Destruction" on it? I think not.
I should mention also that this is an "enhanced CD." Pop this puppy into your CD-ROM and read excerpts from the "Left Behind" books. Of course, you could do that without computer assistance, but hey, it's interactive, it's fun!