I've Got A Mind To Ramble
KBS Blues Cruise Has A Record Turnout
In years past, one bus was adequate to go from club to club, but with this year's load of 66 cruisers, we needed a convoy of two buses. As the crowd was congregating in the Mid-City Mall parking lot, waiting to board, it was post time at the Preakness. When Charismatic crossed the finish line, winning the second leg of the Triple Crown, we were off to Stevie Ray's for some good food. Pepperwood Catering set up a delicious buffet of chicken and pork barbecue in the Voodoo Garden. Then it was time to announce the winner of the KBS T-shirt contest. Frank O'Connell came up with a creative design that incorporated musical instruments and images in the brightly colored word "BLUES" on the front of the shirt. They come in beige and purple, O'Connell has a business in Greenville, IN called Louitoons, where he teaches cartooning and does puppetry.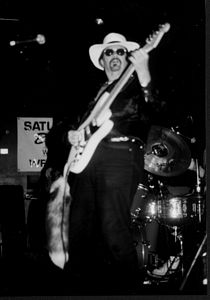 Don Oswald
Dr. Don and the Love Dogs got us into a rockin' blues groove with their opening set. This trio features Don Oswald on lead guitar and vocals, Kevin Oechsli playing bass and Bill Mercer drumming and, occasionally, barking. Don likes to tell the story from the bandstand of when Stevie Ray Vaughan played Louisville in the early '80s. (I think that was the concert at Louisville Gardens with Johnny Copeland.) After the show, Vaughan wanted to go somewhere to hear some local blues. Don was playing in a band called The Titanic Juke Band at the time and they were performing at the Maple Inn. So in walks Stevie Ray Vaughan with Double Trouble to shoot some pool and hear the music.
No one recognized Vaughan except Don, who took the opportunity to talk to him. He asked Vaughan what was his favorite song. It was "Cold Shot" which Don finished the set by playing.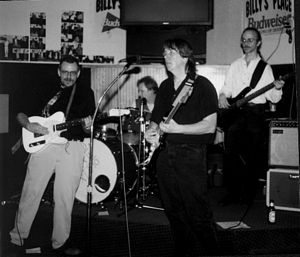 Doctor Hermiola and the Blues Activators are, from left, Walter Lay, John Burgard, Mike Williams and Mike Alger, drums
The next stop was Goodloe's Sports Bar on the corner of 22nd and Market. B. B. Taylor and his band were already strokin' when we arrived. This West End neighborhood hangout is complete with a long bar, pool table and a spacious patio out back, where "Little Billy" was the resident DJ. B. B.'s amp was not cooperating during the first set, but that was replaced during break time, so his soulful vocals came through a lot stronger. B. B. can wrench a lot of emotion out of the R&B stan