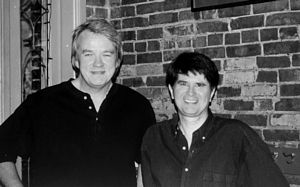 John McCormick and Pat Kirtly

?>
Kirtley and McCormick at the Rud: A concert to remember
By Bob Mitchell
Louisville is an exciting city, especially during the Derby Festival. To add to the excitement, the Rudyard Kipling hosted a performance by two fantastic musicians, Louisville's "old friend" John McCormick and national finger style guitar champion, Pat Kirtley.
The weather was so nice a window behind the stage was propped open, allowing a light breeze to bring in fresh air. It was a sign of more fresh things to come. An appreciative audience settled in for an hour of music from each man.
Kirtley strode on stage promptly at 9:00 p.m. and opened the concert with a blazing rendition of his signature tune, "Riplin." In the next hour he moved with the grace of a ballet dancer through a wide array of original and traditional tunes. A man of few words, the soft-spoken Kirtley let his fingers do the talking as he took his audience on a tour of Kentucky and Ireland. Before embarking on a series of Irish tunes, Pat paid tribute to his mentor and the one "turned him on to Celtic music," John McCormick. Pat's set featured songs from his latest release, Rural Life, as well as selections from "Kentucky Guitar" and "Irish Guitar."
After a brief intermission, "Big John" McCormick took center stage and captivated us with his gentle wit, sensitive vocals and wicked guitar work. His comments clearly indicated he was genuinely pleased about a local newspaper article that referred to him as Louisville's "old friend."
I have heard John at the Kentucky Music weekend Festival, and in concert with Celtic harpist Patrick Ball. Like fine wine, John gets better with age. His rendition of Robin Laing's "When Two Hearts Combine" was worth the price of admission. Throughout the set, he established a series of running jokes about a spray can of 'Finger Ease' that Pat Kirtley left on stage. The funniest moment was when he pretended to use it as a sore throat spray. It was obvious he enjoyed his return engagement at the Rud, and he used the opportunity to share selections from his latest recording, Between Our Hearts. John's easy style in such an intimate surrounding gave each of us the feeling of a private performance. Other selections included Cindy Kallets' "Tide and River Rising." a Bert Jansch tribute.
After the concert, Pat Kirtley said, "John and I don't get to see each other too often. It was a special privilege to appear with him in Louisville where John has a good base of followers. He is such a fine guitarist, and vocally, a great interpreter of songs."
If you missed the concert, there will be many other first-rate performers coming to the Rud. Check out their musical calendar. Support live music. And, keep a song in your heart. [Scoop: as this goes to press, I am told that Pat Kirtley and Tommy Emmanuel are tentatively scheduled to appear at the Rud on July 13. Tommy and Chet Atkins received a Grammy for their recording of 'The Finger Pickers Who Took Over the World.]