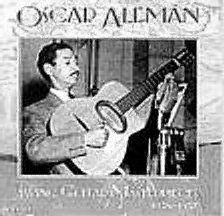 Oscar Aleman - Swing Guituar Masterpieces

?>

Better Than Django?
Swing Guitar Masterpieces 1938-1957 (Acoustic Disc
Oscar Aleman
By Chet Bell
Though most everyone is familiar with the music, or at least the name of Django Reinhardt, few have had a chance to appreciate the work of his contemporary, Argentinean string swingman, Oscar Aleman. Few of Aleman's 78 RPM recordings were released in the United States during his lifetime. And the several LP collections that became available in the '80s were poorly distributed. David Grisman's Acoustic Disc label has rectified this gross oversight of one of the most accomplished swing guitarists ever to record with the release of the 52 tracks on this double disk set.
Aleman's life story is as rich and distinctive as his playing. Born to a musical Creole family in Argentina in 1909, Oscar was a seasoned performer and an orphan by age ten. Wandering between Brazil and Argentina, Aleman had tasted some success as a dancer, musician and prize fighter by the age of 15. Hearing recordings of American jazz, especially those of pioneer guitarist Eddie Lang, galvanized him to the pursuit of this music, and by 1929 he was touring Europe in the company of continental and black American jazzmen.
During the years prior to WWII he enjoyed a popularity that led to recordings with many American expatriates and European jazz greats such as violinist Svend Amussen. He spent several years leading Josephine Baker's band, during which he was invited to join the Duke Ellington Orchestra. Baker nixed this solicitation, saying, "Where in the world will I find another man who is able to sing in Spanish, French, Portuguese and Italian...who can dance and play guitar...who is black, and best of all, is a great companion?"
Aleman thrived in Paris, playing and recording, and gaining the appreciation of all who heard him, Reinhardt included. Being a practitioner of Entartete musik, or degenerate jazz, as the Nazis took control of France, Aleman was forced to flee the continent, but not before the Reich confiscated his metal-bodied National guitars for military scrap. Oscar returned to Argentina, and over the years (until his death in 1980) enjoyed several periods of successful activity recording and playing in his native country.
His light touch and exceptional sense of swing and American jazz harmony has few peers. A listening given to his treatments of such standards as, Jeepers Creepers and Twelfth Street Rag will convince anyone that he is deserving of a seminal place in the Pantheon of swing. After first hearing him in Paris, Leonard Feather commented that "Aleman is a great 'hot' guitarist, probably the best in France...his tone, phrasing, swing and attack are so grand that if anyone ever mentions Django...I shall stare coldly...Aleman has more swing than any guitarist on the continent."
The recordings of this set are of many different settings, made over two decades in numerous countries. There are no weak cuts, no filler, just excellent examples of string genius. Aleman's aptitude for swinging encompassed all tempos. His bouncing rendition of Fats Waller's trademark, "Honeysuckle Rose," his scorching flights through "Sweet Georgia Brown" and "Limehouse Blues" are as original and fresh as any interpretations ever recorded. Originals like, "Dolores" and "Como te Llamas," prove his mastery of the genre equal to any stateside composer. His finger-style treatments of "Lady Be Good,""Diga Diga Do" and "Russian Lullaby" are only needing of a wider audience to become classic treatments. After hearing "In The Mood," it would be an honest mistake to assume that the song was penned specifically for a string band treatment. The same assumption could be made concerning his performances of "Begin the Beguine" and "Cherokee."
Ernesto Lecuona's semi-classical chestnut, "Malaguena," becomes unquestionably a swing duet for guitar and piano, with no other interpretation seemingly plausible. Aleman's playful capering through "You Made Me Love You," replete with Spanish scat, is one of the warmest renderings this piece has ever received. And "Cherokee" unfolds like a gentle strike of lightning, powerful and subdued at the same instant.
Anyone with the mildest interest in jazz guitar, swing band music, or plain melodic virtuosity will have no trouble appreciating Aleman's music. That the masterful output of this guitar savant has been so delinquent in release is a shame. Tremendous thanks are due Grisman for setting things right by releasing these overlooked gems.