I've Got A Mind To Ramble
A request went out to all the founding members of the KYANA Blues Society to list their personal twenty (plus or minus) all-time favorite blues recordings. A desert island list for the deep blues sea. There would have to be a turntable on my island, for most of my picks are on vinyl from when I first started collecting back in the 60s. The following records are in no order of preference, but just as they crossed my mind. The first ten came quickly, while the remaining ten took a little more thought.
1. Magic Sam Live - Delmark D6 645 (2 LPs). Any Magic Sam recording is outstanding but this live album at the Alex Club and the Ann Arbor Blues Festival captures the exuberance that only Sam could exhibit. If he had not died so young (32) in 1969, he would likely have become a crossover star like Robert Cray.
2. Otis Rush The Classic Recordings (Cobra) - Charley CRB1107 (LP & CD). Another influential Westside Chicago bluesman. These reissued Cobra sides from 1956 to 1958 capture Otis; vocals and guitar at the height of his impassioned and creative peak. Willie Dixon produced these sessions.
3. John Lee Hooker Sings Blues - Every One a Pearl - King 727 (LP). The prolific boogieman has made hundreds of records, but this one has some of the Hook's most primitive and powerful music with a deep Mississippi mood. I had him sign the jacket the time he performed at Phoenix Hill with the Coast to Coast Blues Band.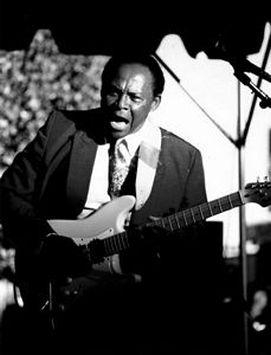 Byther Smith, 1995 Garvin Gate Festival
4 Muddy Waters at Newport 1960 - Chess LP 1449 (LP & CD). A ground-breaking event where Muddy converted the white folk blues purists at the Newport Jazz Festival to his amplified Chicago sound. James Cotton Pat Hare and Otis Spann played with this vintage Muddy group to the ecstatic crowd.
5. Albert King - Lets Have a Natural Ball - Modern Blues MBLP 723. It was tough to pick my favorite Albert King recording when there are so many. These songs and instrumentals were recorded in the late 50s in St. Louis before the Stax days. The title cut opens with a great be-bop horn riff taken from Horace Silver's Cookin at the Continental.
6. Byther Smith - Tell Me How You Like It - Grits GR100 (LP). This no-nonsense Chicago bluesman plays with an intensity straight out of Theresa's Lounge. This first LP was recorded in 1985. Smith performed locally at Bellarmine College and at the 1995 Garvin Gate Blues Festival.
7. Hound Dog Taylor and the House Rockers - Alligator 47010 (LP & CD). This was the initial record that started Bruce Iglauer's Alligator Records in the early 70s. This uninhibited, good time, slashing slide style could only come from Hound Dog's cheap distorted Japanese guitar.
8. Robert Johnson - King of the Delta Blues Singers - Columbia CL 1654 (LP & CD). This was the very first LP I ever bought. When I had just finished reading The Country Blues by Samuel Charters, I walked into the Record Rendezvous in Cleveland and asked a knowledgeable salesperson what blues record he would recommend. This was the place to start.
9. B. B. King Live at the Regal - ABC Records 724 (LP & CD). Some consider this the best live blues record ever made. King was cooking in front of an all-black audience in 1964. My copy was signed by King when he performed at the Phoenix Hill Tavern.
10. R. L. Burnside - Too Bad Jim - Fat Possum FP 1005 (LP). You can bring the genuine Delta juke joint blues from northern Mississippi into your living room with this disk. Burnside's hypnotic rhythms will be mesmerizing people again at Headliners on March 17.
I'm going to stop with my first ten favorites for this month and continue with the remaining ten in the March issue. Looking back over this list, I notice that half of the records are Chicago guitarists, which is my favorite style of blues. If I lived the Windy City I'd be hanging out at the clubs every weekend.
Suit You to a `T'
The KBS has produced various attractive T-shirts over the years with the KBS logo, Sylvester Weaver / Sara Martin and Foree Wells. Now it is time to have a competition for a new T-shirt design. Besides the recognition of seeing your creative work worn by others, the winner will receive a cash prize of $200. The deadline for entries is April 15 with the winning design announced on May 15 during the KBS Blues Cruise. If you are interested or know of someone with artistic and graphic talents, call Bob Cox at 502-893-0173 for more detailed information and an application.