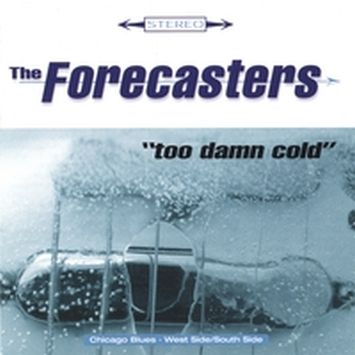 ?>

Not So Damn Cold
Too Damn Cold (Blues Shot)
The Forecasters
By Jeff Kallman
So you still think you can't play the electric blues unless you load down with effects and harden the Stevie Ray Vaughan arteries, eh? Then you ought to give a pull on the Forecasters - this Indiana trio blows that canard back to the compost heap where it belongs. And although they can and do rock a very wide groove, this is not blues-rock - this is blues without embarrassment, pretense, or false hope.
Will (The Weatherman) Scott is that rare blues lead guitarist who seems to believe that the notes which matter the most are both the notes you do not waste and the ones you do not play; there is plenty of room for taste, real lyricism, and sensitivity to his material in his fills and solos. Rhythm guitarist Jim Richter chooses lines, riffs, chords, and runs on the feel of the song rather than an arbitrary rule of order. Drummer J. J. Perry nails down a very solid beat and colorizes it with remarkable economy and sensibility.
Their most obvious influence is the vintage West Side Chicago milieu which spawned the like of Magic Sam, Otis Rush, Junior Wells and Buddy Guy in the later 1950s, but there are also sharp Delta influences in the band's attack - their various jaunts Mississippi way, and the mentorship of the near-legendary Junior Kimbrough have also given the band an element of subtlety which they exploit without forcing the issue.
A lot of the band's power is in their songwriting - here at last is a newish blues band who pays attention to their songwriting and aims for something beyond the rote blues symbols without ducking the blues tradition. "Cold Comfort,""Cold In Chicago" and "What I Ain't Got" are some of the most inviting pieces of blues songwriting of the year. "Cold Comfort" is the most overtly Magic Sam-influenced number, but they draw on the influence without mimicry. "Cold in Chicago" is a guitar duet between Scott and Richter which evokes old Chicago without enslavement to it - they sound as though they passed through, picked up the feeling and put the story into their own terms (bearing in mind that Scott is a Windy City native) and with their own pulse. Richter's rhythm guitar is the real star of this duet, pulsing and riding with unforced soul.
And although Scott is an non-pushy, insinuating singer, the Forecasters are no slouches with an instrumental. "Juarez Blues" has almost the feeling of a Latin surf song in the rhythm, while Scott squeezes out one after another breezy, tastefully sensible line from his guitar. "Oh E Ona" sees that and raises it Freddie King, with Scott borrowing the feel if not the lickery of the Texas Cannonball and the band shaking him on for a smooth ride.
They take two covers, the standout being their take on the Son Seals interpretation of Ray Charles's "I Believe To My Soul," with some horn augmentation and a subtle dropback by the rhythm section (augmented by bassist Brian Wymore), the Forecasters manage to deliver it without sounding like pretenders but rather like three fellows who found it to their liking and took it their own way.
Too Damn Cold is a misnomer - this music is just too damn cool.