Welcome, race fans, to yet another installment of my opinionated ramblings on the world of CCM. It's gearing up to be a busy spring, what with the dc Talk on March 19th and the Icthus festival April 22-25th and all those new releases hitting the shelves. New music for March includes: 4Him, Adam Again, Carolyn Arends, Avalon, B.O.B, Wendy Bagwell, Helen Baylor, Roger Bennett, Scott Blackwell, Broomtree, Bruthaz Grimm, Jan Buckner, Steve Camp, The Cathedrals, Crowd Of Faces, Montrel Darrett, The Dove Brothers Quartet, Allison Durham, Eden's Bridge, Georgia Mass Choir, Godrocket, Greater Vision,Guardian, Halo Friendlies, The Inspirations, David Kauffman, The Kingsmen, Lenny LeBlanc, Don Marsh, Mindrage, Don Moen, New Direction, Noggin Toboggan, P.O.D., Ivan Parker, Pocket Change, Matt Redman, Chris Rodriguez, Ruby Joe, Say-So, Scarecrow & Tinmen, The Skadaddles, Jamie Slocum, Bob Smiley, Troy Sneed, Pete Stewart, J.D. Sumner & The Stamps Quartet, Switchfoot, Wayne Watson, and Alicia Williamson. `Nuff for ya?
In case you might have missed the Grammy Awards last month, I wanted to review the winners for you in the CCM/Gospel categories. This year, a little gold statue went to Ashley Cleveland's You Are There for Best Rock Gospel Album, Deniece Williams' This Is My Song for Pop/Contemporary Gospel Album, The Apostle--Music From and Inspired by the Motion Picture for Southern Gospel, Country Gospel or Bluegrass Gospel Album, Cissy Houston's He Leadeth Me for Traditional Soul Gospel Album, Kirk Franklin's The Nu Nation Project for Contemporary Soul Gospel Album, and The Associates' Reflections for Gospel Choir or Chorus Album. Congratulations to the 1999 winners!
As for Icthus, I promised a bit more information on it this month, so here it is: tickets for the festival are running $35 for a day ticket and $40 for a weekend this year, but that's not a lot of money considering the lineup. This year, the festival will showcase Big Tent Revival, Bleach, Burlap to Cashmere, Clear, Charlie Peacock, Five Iron Frenzy, Fling Down Jezebel, Ghoti Hook, Grits, Homeless Man Tour, Jonathan Noel/Yancy, Michael W. Smith, Miss Angie, Newsboys, Out of Eden, Plumb, Polar Boy, Rebecca St. James, Small Town Poets, Supertones, and The Waiting. New changes for this year include a packed Thursday night lineup, a new college tent, a second stage, and a new festival site. All the information your little heart could desire (including how to get your hands on these hot tickets) can be found at http://www.ichthus.org/. (And I have mentioned previously that missing an opportunity to see Burlap to Cashmere live is proof of insanity, haven't I? Just checking...)
This month, I'm running into the problem of too much information and not enough space to print it all! That being the case, I'll hold off on industry news this month to share with y'all a conversation I recently had with Kevin Max of the one and only dc Talk. Fans of the band will already be familiar with their fifth and newest release, Supernatural, which debuted at #4 on the Billboard charts and still remains in the top 100 months after its debut. The band has inked a secular distribution deal with Virgin Records as well as continuing to work with their long-time Christian label, Forefront, and finally the band is starting to get some much-deserved recognition on the secular front as well as in Christian circles. As the band continues its tour across the US, I had the great pleasure of a phone interview with Kevin about the album, the band, his new volume of poetry, and a bit of life, the universe and everything. Here's a bit of what we discussed: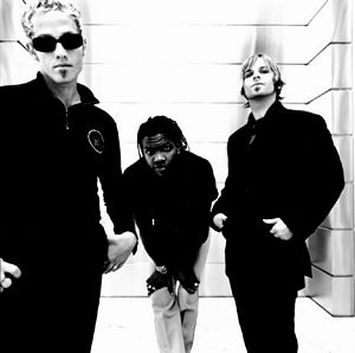 dc Talk
VM: Supernatural is the first collaborative album where all three of you [Kevin Max, Michael Tait and Toby McKeehan] played a strong and integral part in the album. Could you tell me a little bit more about that, and maybe what you brought to this album that hadn't been visible in the past?
KM: We decided to all write this record together because we don't know how much longer we're going to keep this thing going. We tend to want to keep a fresh resolve from record to record, and I think this was the next step in what we do. In the past, we've written more individually and Toby wrote most of the stuff because Mike and I really weren't interested in writing back in the early days; we were interested in doing other things and were really just singing on the record. Now that dc Talk has become such a big part of our lives, we've gotten more into the writing process and I've developed my writing over the years and have written a couple of books [At The Foot of Heaven and the as-yet unpublished I am Alien]and a lot of songs on the side that I'm putting together for a solo record. But right now, this is the natural evolution of dc Talk-all of us writing every song together. Having to work together in such close situations we learned more about each other as writers, and I think because of that this record is more of a dc Talk record than any other one we've done.
VM: How do you keep it fresh after five albums, especially in a Christian market which has a tendency to be more structured?
KM: I think that if you can't keep it fresh then you should probably go on to something else. Some people might disagree and say `well, you know. It's your bread and butter,' but I'm more like an artist in the fact that if I can't make it interesting than I don't want to do it. And I think the way we made this record interesting is just that: we decided we're all going to write together. Individually, we could all write a record and all three records would be great, so it was interesting that each of us wrote lyrics and melodies to each song. Sure, there are parts of this record that I don't completely agree with because it's not wholly mine-the same goes for Toby and Mike. That's what being in a band is all about, I guess: sacrificing your right for someone else's right. It creates a interesting tension at times.
VM: In reviewing both Christian and secular resources concerning the band, I noticed a strong dichotomy between the two sources. It seems like in the secular press there is still a prejudice and a skepticism among a lot of critics that the band would have to work to overcome. Do you feel a pressure to prove yourself within the secular market, especially considering that the band has chosen to make their Christian message more blatant than other artists who have crossed over from a Christian to a secular market?
KM: Do I feel a need to prove myself to them? No. But do I want their acceptance? Yes. It's a hard thing, because I do think that MTV in the past has censored us, and I do believe that Rolling Stone and other secular publications will do something on us, but it will only be out of necessity. They aren't running to find out about Christian music. But I think dc Talk is different than a lot of Christian music, and therefore we have the opportunity to go places where people haven't gone in Christian rock. It does get a little discouraging at times because you do think `I don't understand--my music is as good as this person or that person and they still don't play me or want to interview me' but while dc Talk writes very blatant songs about God and Jesus it just isn't going to get the secular press that Marilyn Manson is going to get. For example, I know that if we wrote a song about `I want to sex you up' we'd probably get a lot more press, but I'm not going to sell out to that.
But do I think that people are coming around? Yes, I do. People are starting to take notice of us as a musical group that has something to say from an artistic level. That being the case, it will be interesting to see what will happen with this album.
VM: With such strong crossover successes, how do you deal with the duality of being both a Christian minister and entertainer, as well as the duality of being an artist-traditionally more destructive and deconstructive-and also being a Christian traditionally called towards a life of obedience and edification?
KM: I don't agree with the opinion of Christian musicians having to be an entertainer and a minister at the same time. From the stage, I'm not a minister. From the stage, I'm not an evangelist. I make music. I entertain. Off the stage, in my life, that's when I choose to live like Christ. Not that I don't choose to live like Christ on the stage, but how can you minister to someone when you're singing a song and jumping around and playing guitar? It's more difficult than having a relationship with a person and getting to know them. I don't consider myself an evangelist, and I don't consider myself a minister from that standpoint, although other people might...Who I am on stage is a fantasy, but who I am offstage is the reality, and that`s where the rubber meets the road.
Also, I think that `deconstructive' is a better word than `destructive' when defining the role of an artist. You don't have to be destructive to be an artist. What an artist does doesn't have to be all constructive, and as an artist I love to challenge and make people think and push their parameters. And really, I do that a lot more in my poetry than I do with dc Talk. As a solo artist, I might do that more than I do with dc Talk. As an entity, the band is a lot more conservative than I am as a person, but when I signed up to be in this group I realized the vision of what this thing was all about. But I think that if you break us down into individuals there's a lot of interesting stuff going on in this group...I think mainstream music is starting to realize that we're not just "some Christian boys singing about Jesus" but that there is something more going on with us. And there is more to Christ than going to church and listening to choir music.
I think whole books can be written on this subject. Being a rock and roll person and being a Christian at the same time is sometimes very difficult and a dichotomy.
VM: I would think that dichotomy would be even more apparent as a poet and a Christian.
KM: That's true, and I think my poetry is a case in point for that. My first book of poetry [At The Foot of Heaven] was decidedly more spiritual in content and I think it was better placed within the Christian community. But my second book [I am Alien] that I'm releasing-probably via the Internet-is probably going to be released only in a mainstream market because this book is decidedly more mainstream in content and wouldn't fit as well within the parameters of a Christian bookstore. I'm sure it's going to offend some people; not because the text is offensive, but just because it isn't overtly spiritual and is more about being human, and seeing how different people react to different things...and this is a whole other thing, but I'm on a personal vendetta to bring back poetry to modern bookstores because it's the one mode of expression that's very toxic, I think. Reading poetry is a lot more toxic than reading a novel. It does a lot more for the world of art and philosophy.
VM: So what are you reading right now?
KM: I'm reading The Lord of the Rings by J.R.R. Tolkein because I tried out for the movie and I'll find out in a couple weeks if I got the part of Frodo Baggins, which was the part I tried out for. I went to London for the audition. I'm just starting to get back into acting-I did a little of it in college. So it's yet another chapter in my life, which is not just making music for dc Talk-something a lot of people may not know.
Besides Tolkein, I'm rereading The Idiot right now by Dostoevsky, one of my favorite Dostoevsky books. And between Tolkein, Dostoevsky and the Bible, I think that's enough for right now.
*So, there you have it! Remember to show up March 19th at Louisville Gardens for the live experience of dc Talk, Jennifer Knapp and The W's-I guarantee it will be a show worth seeing. Meanwhile, grab those tickets for Icthus, pick up a couple new discs and I'll see you next month!