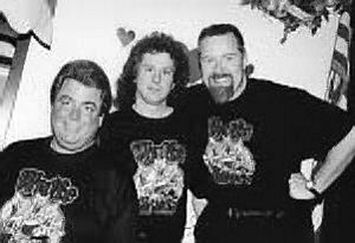 The Wulfe Bros, from left: Paul Cunningham, Jeff Jarboe and Rodney Wurtele

?>
Front And Center: The Wulfe Brothers
By Vicky Moon
Step back for a moment in time to high school. You're walking into your 8:00 AM American History class, still only half-awake and wondering how you'll get through the next 45 minutes of facts, figures and places that are completely unrelated to you and the truly major problem you're currently dealing with: whether or not you'll have a date this Friday night. But when you get into the classroom, you notice something different: a stage where there should be a desk, and guitars, drums and keyboards where there should be a world globe and textbooks. Instead of boring Mr. Smedlinksky writing on a blackboard with squeaky chalk, there's three guys looking more like rock and roll veterans than teachers tuning up those guitars and keyboards to play a little music.
No, this isn't a remake of Rock and Roll High School or a fantasy stemming from lack of sleep. It's American history, Wulfe Brothers style, and it's coming to a class room near you.
Paul Cunningham, Jeff Jarboe and Rodney Wurtele make up the Wulfe Brothers, half-band, half-educational tool and wholly entertaining according to the countless teachers and students who have witnessed their unique take on history in schools all across Kentucky. The band, which is based in Louisville, travels to elementary and high schools throughout the state to present one of four different shows they have researched, written and produced, using music and drama to walk the students through different periods of American history. Doing up to three and four shows a day, the trio explores the various American wars, the Westward expansion, Kentucky's history and the historical drama of the United States in the 1950's. The shows, titled Reflections of the American Spirit...Songs of the Brave Heart, Taming the Wild West, A Rockin' History Lesson and Kentucky's The Place have been named Outstanding Social Studies Program in Kentucky for several years running.
According to bassist and vocalist Paul Cunningham, It all started with a good idea, a rock and roll band looking to supplement their income from their nighttime gigs, and a wife who just happened to be a school teacher. "I had an idea about a show [which eventually became Reflections of the American Spirit...Songs of the Brave Heart] and we were looking for a way to get a little extra income. We were playing a lot of nightclubs then, and we wanted to do something in the daytime. My wife, Carnary, is a schoolteacher in Anchorage and was responsible for researching and helping with much of the dialogue-as a like to tell people, she makes us sound smart! Two other people who have also been instrumental in helping to get this together were Bill and Brenda Woods, who wrote the book Louisville's Own, a book about Louisville musicians [Brenda also owns a marketing company called Tri-Com, which heads the marketing team for the Wulfe Brothers]. I did a lot of research at the U of L School of Music library and looked up a lot of these old songs. Together we developed and marketed a script to the schools about patriotism that goes from the Revolutionary War to the present day and use songs from the wars of our country, like the War of 1812, and tells how "The Star Spangled Banner" came to be our national anthem. Now the day shows have taken over so much that they're pretty much all we do!"
Each show since that first program are equally well-researched, using songs and stories from the period of history being focused upon to effectively teach students about their past. Taming The Wild West uses the Gene Autry-style "cowboy" and folk songs of the period, for example, and A Rockin' History Lesson incorporates the sounds of the 1950s and 1960s. "Every time we perform one of these shows, teachers will come up to us and tell us `I can't believe how entertained I was, but how informative the show was!', Cunningham said. As well as the era-authentic music and carefully crafted dialogue, the band uses other dramatic techniques to drive the lessons home such as a gunfight scene during their Taming The Wild West show and dressing teachers in the Korean War-era vintage coats and caps of the Army, Air Force, Navy and Marines during Reflections of the American Spirit. "The kids go crazy when that happens, especially the high school kids," Cunningham laughed.
Though the show is developed and geared towards young people, it's obvious that Cunningham has learned a great deal from his historical research as well. Some of the historical tidbits he discovered as he researched the various shows included the fact that "The Star Spangled Banner" did not become our national anthem until 1931, that "The Yellow Rose of Texas" was written during the Spanish-American War and its original lyrics were laced with racist overtones, and that many folk songs attributed to folk performers, such as Edwin Christy of the original Christy Minstrels, were actually songs of unknown origin in the public domain that these folk performers arranged.
The Wulfe Brothers took their unusual name from a cigar box, and have found it to be helpful since it does not denote a style of music and therefore keeps the band from being stereotyped before they are heard. "We were trying to think up a name that meant nothing musically," said Cunningham. "It's been a great name for us". The unstereotypical band has recorded CD's and cassettes of all four of their educational shows, which are available in area record shops, as well as two cassettes of classic cover tunes, Wulfe Bros. In Your Ear! and Dances With Wulfes. Besides their educational shows, the band does occasionally perform at corporate events throughout the area.
Perhaps the best lesson that the Wulfe Brothers teach is that folk music, the musical heritage of the founding of America, is as timeless as Beethoven or Mozart as it cuts across generational boundaries. Their music connects with everyone, from the very young to the very old, and is a meeting ground for teachers and their students; parents and their children. "Parents have called me and sent me notes saying `you've saved our vacation! Your music was something the whole family could listen to!' Now, I'm not saying that listening to us is like listening to Green Day-it's not the same thing at all. But there's a reason why so many of these tunes have lasted as long as they have. And music is about being exposed to everything, every type of music. That's what's so cool about doing these shows: exposing the kids to so many different types of music".