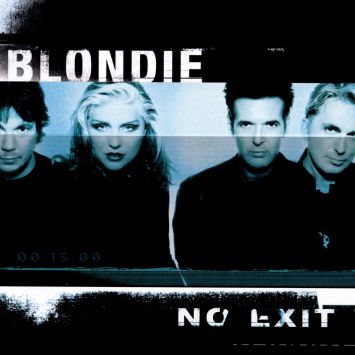 No Exit (Beyond)
Blondie
By Jim Conway
Sixteen years is a long time in the music business. When Blondie faded away in 1982, they'd seen new wave, hair metal bands, grunge and countless other musical styles come and go. Which leads us to ask the musical question, "Why now for a Blondie reunion CD/tour?"
This incarnation of the group finds the original four members cranking up the creative juices on fourteen diverse musical directions. Debbie Harry and the boys settle into everything from the hip-hop/metal groove of "No Exit" to the traditional, waltz-time western swing of "The Dream's Lost On Me."
If you're a fan of the multi-platinum 1979-81 era of the group, this CD may be disappointing because the only reference to that incarnation of the group is "Nothing Is Real But The Girl," which could easily fit on either Parallel Lines or Eat To The Beat. However, there are several choice cuts which rate with anything they've recorded. "Screaming Skin" is a high-powered, ska-influenced rocker which abstractly compares biological DNA make-up with human emotions, and cleverly proclaims "I'm a multi-cellular individual, don't call me germ!"
"Forgive and Forget" grows with each listening, as Harry's lyrics unveil new meanings of - the best I can tell - man's creation and evolution. Jimmy Destri's keyboard work is featured prominently on this cut, as well as throughout No Exit, and, quite honestly, he deserves kudos for his ability to enhance the array of styles and tastefully embellish them.
"Maria" became a European hit last year and was also released in the States as well. It's catchy, but my ears detect a possible rewrite of The Ramones' "Something To Believe In." Probably the most pleasant surprise is the traditional jazz of "Boom Boom In The Zoom Zoom Room," in which Debbie Harry makes the most of her early Nineties association with The Jazz Passengers. It sounds like it could be a long-lost Billie Holiday song, rather like what happened a few years ago with Patsy Cline and Leanne Rimes. Actually, Harry and her Blondie/Jazz Passengers associates wrote "Boom Boom". Quite an accomplishment for a New Jersey secretary, who in her late twenties, found herself a part of the CBGB / New York punk scene.
I feel Harry's vocalizing is the strength behind Blondie's success. What she lacks in "pipes," she makes up in phrasing and an innate ability to become the subject of whatever song she sings. With Debbie Harry, if you bring her a good song, she will deliver the performance. If on No Exit, the performance sometimes overpowers the material, well, after sixteen years, I can excuse Blondie for that.