17th Annual Kentucky Scottish Weekend
May 7,8 & 9 at General Butler State Park(Carrollton, KY) is where you want to be post-Derby. Here is a list of reasons why to go there on Saturday: Clan Tents, Scottish Athletics (aye, laddies, we toss the caber), Scottish Country Dancing, Celtic Merchants, Cultural/Historic Seminars, British Car Show, Solo Piping & Drumming, Highland Dance Competition, Border Collies, Reenactors, Massed Bands Performance and Pipe Band Competitions. Sunday is much the same - except the competitions are over - but includes the "Bonniest Knees Contest" and the "Welly Toss Competition"- great fun. Both days will feature the great Scottish balladeer, Alex Beaton.
The Saturday evening Ceilidh (7:30 p.m.) will have a variety of entertainment Seven Nations, the darling of America's Highland Games. The seminars are especially impressive for the substance they lend to the festive occasion. A very special event indeed is Sunday's performances of The Tannahill Weavers direct from Scotland. TW is a major deity in the pantheon of Celtic music.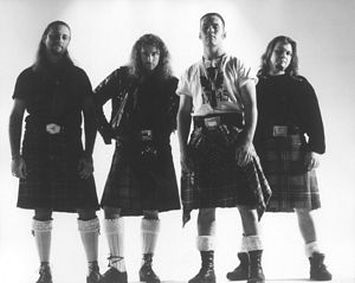 Seven Nations
Spend the day or spend the weekend. You cannot be more entertained fully clothed. For more information check at The Celtic Centre on Chenoweth Lane or e-mail: KyScotWknd@aol.com. Rock never misses this one.
The 14th Annual Glasgow Highland Games
The merry month of May has barely slipped away when along comes another Celtic blowout. June 3 - 6 is a mighty weekend of events, both traditional and less so. Kilted Sky Diving? The Kingdom of Raknar? Major merriment along with proper celebrations of Scottish culture are on offer. Seven Nations will make a riotous start at the Beach Concert Thursday night followed by a Barbecue and Ceilidh on Friday night. Saturday has the piping, Gaelic harp, athletics and dancing competitions. Try your hand with the Battle-Ax Competition or watch armored battle reenactments. If you have any MacGregor relations, show up because it is the featured clan this year. David Ross, Chief of Clan Ross will be "Chief of the Games." Accommodations are available for every budget. For more information, call (502)651-9090 and ask Maureen for instructions. Rock never misses this one either.
Derby Eve - Oaks Night
The Irish Rover features Cloigheann to bring on the horseflesh. They will be performing "session style" (sans amplification) with some of their friends in Galoots. A mighty night for sure.
Molly Malone's hosts Drowsy Maggie for a fabulous evening. They will return to Molly's on May 15 as well. Keep your ears peeled for an upcoming CD release. Long overdue, I must say!
The Rashers and Galloglas
The Rashers are doing a full weekend of May 28 & 29 at Molly Malone's. Galloglas will be doing a concert at Twice Told Coffeehouse on Friday May 14(9:30)
Galloglas will perform in concert on Friday, May 14 9:30 pm at Twice Told Coffeehouse on Bardstown Road. The show is a tribute to songwriter Jez Lowe. On Sunday, May 16, from 3 to 6 p.m., Galloglas will perform at the Prospect Summer Gazebo Concert located at the entrance to Hunting Creek on Highway 42. Bring a blanket or lawn chair.