Down On The Corner
• The Heartland Songwriters Association of Kentucky, an Elizabethtown-based songwriters organization, has released a compilation CD, Heartland Songwriters Sampler, featuring a collection of tunes written and performed by members of the organization. The twelve-song CD is available at Disc Jockey Records on Shelbyville Rd. and Barnes and Nobel in Louisville, Picassos and Heartland Music Store in E-town, as well as the Lincoln Museum and Bank of Magnolia in Hodgenville. Proceeds from the sale of the CD go to the John Lovins Scholarship Fund. Lovins was an artist and musician who passed away from cancer a few years back. According to Brian Walker, program director at Basix Communications in E-town, sales have already exceeded two hundred units.
• Guitar players might well be interested in a free acoustic guitar workshop sponsored by Taylor Guitar and Steilberg String Instruments, set for May 16, 305 p.m. at Steilberg String Instruments, 4029 Bardstown Road. Steven King (not the writer), a jazz guitarist, plays fingerstyle jazz on an acoustic instrument. He plays simultaneous waling bass lines , melodies and chords, in rhythm. Go figure. You might want to break all your fingers after this workshop or you might be inspired,. But you are not likely to be indifferent. Call Jimmy Steilberg at 491-2337 for more about this workshop.
• Singers, take note. The Janice Borla Vocal Jazz Camp at North Central College in Naperville, Ill. Is scheduled for August 8-13. This camp offers an intensified, week-long course in jazz vocalizing, conducted by Borla and a staff of professional jazz artists. For information, contact Janice Borla at 630-416-3911 or click to www.noctrl.edu/jazzcamp or write via snail mail to the camp c/o/ Dept. of Music, North Central College, 30 N. Brainard St. P.O. Box 3063, Naperville, Ill 60566.
• Looking for vocal instruction closer to home? Noted Louisville singer Turley Richards has been taking on vocal clients for a while. Richards is noted for his wide, wide vocal range.
• The Louisville band slackshop has released its first CD, grace, on the band's microdot label. If the record is successful, they promise to buy a keyboard with a working "Shift" key.
News from Initial. The bands on Initial Records have been busy lately. Here's a roundup: The Enkindels are touring with the Mighty Mighty Boostones. They'll be back in town for Krazy*Fest on May 21. Ink & Dagger is on a tour of Europe through the first of May. Elliott is in the studio to record a single, set for release by Krazy*Fest.
Check the Upcoming section for news about Krazy*Fest, set for for May 21-23 on the Belvedere.
• Chaz the Unity Guy and 52nd Stream artist, performed for the children at the White House Easter Egg Hunt in Washington D.C. recently. He was accompanied by his family and took lots of photos.
• Duke Robillard has a new release, New Blues For Modern Man, on Shanachie Records. Robillard said this about the project: "Most of the songs were one-takes...Most of the guitar solos are live, too. I meant them to be a reference, but I realized there was no way to duplicate the feel of the band following me. That would have taken away from the overall sound of the album." Should be available around town.
• Still Looking for a Deal? Dept. A record company called Total Envision Records is staging a national "I Want A Record Deal contest." Winners get a one album record deal with the company, a publishing contract, a royalty advance of $5,000, plus a 15-day all-expense-paid trip to NYC for the recording session. In short, a more-or-less regular deal from a medium independent, so why the contest? Check their website at www.hotac.com for the devil in the details.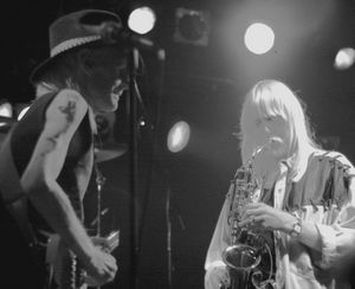 DAnny Drake snapped this shot of Johnny and Edgar Winter at Coyoute's on April 12
• The gospel groups The Kevin Spencer Family and The Crabb Family will be recording a live video plus audio for a CD and cassette in Prestonsburg, KY on Tuesday, May 25, in the Mountain Arts Center. For information, call 606-886-2623
• We were sad to hear that Bob French, of the Louisville Academy of Music and a very knowledgeable music historian, suffered a stroke early in March that resulted in partial paralysis of his left side. He has been in Baptist East Hospital undergoing treatment and therapy.
• The U.S.A. Songwriting Competition is open for entries. This contest is sponsored by a slew of music business corporations, including Billboard Publications, Fender, Mackie, D'Addario Strings and others. The grand prize is worth over $22,000 in cash and music merchandise. There are fifteen categories to enter. For more information, contact USA Songwriting Contest at 1-877-USA_SONG, http://www.songwriting.net or e-mail to info@songwriting.net.
• The Kentucky Opera will hold chorus auditions for the 1999-2000 season on Saturday, May 15 from 2 - 5:30 p.m. and on Tuesday, May 18, from 1 - 4:30 p.m. and 6:30 - 9 p.m. Singers of all voice categories are needed. To schedule an audition, call Ms. Kim Cherie Lloyd at 502-852-3996 by Friday, May 14.
From tuba player Jim Evans comes word that the Franklin (Ky) County High School Band is searching for all band alumni for a reunion on May 21 and 22. For more information, contact band director David Goins at FCHS, 502-695-6756 or e-mail to dwgoinstpt@aol.com.
Codas
• Julia Easton, 76, died on April 16 in Louisville. She was a retired music teacher at the University of Louisville.
• Raymond "Gene" Snyder, 63, died March 29 in Parkersburg, W. Va. Snyder was a former disc jockey and retired owner 0f The Joni Entertainment Agency, a Louisville booking agency. The company was named after his daughter, Joni Wright.
Press Release
Garney Yeager, baritone singer and manager of the popular Kentucky trio Jubilation had a triple bypass surgery this past Monday. Garney has been in the Central Baptist Hospital in Lexington, KY since this Friday where he went for a stress test only to find out that a triple bypass was needed. The surgery was a complete success and Garney is recovering in his hospital room and waiting to be released in the next few days. I spoke with Garney today and he knows that what has happened to him is in God's plan for his life. He hopes to be back on the road singing with Jubilation as soon as possible. Get well cards can be sent to Garney Yeager Jubilation P.O. Box 632 Harrodsburg, KY 40330.
-Pat Avery Promotion and Management
Daytona Beach, FL
Forgo