Front And Center
U of L's School of Music
By Victoria Moon
Since 1932, the School of Music at the University of Louisville has quietly gone about its business. With its two recital halls, 15,000-square-foot library, 44 teaching studios, 76 practice rooms and three dance studios, it was certainly a respectable music school with a decent reputation, but it wasn't as if teenage musician wannabes were hanging around on its steps dreaming "someday I'll be good enough to get in, someday..."
That may all be changing, however, as two local musicians and music patrons have opened up their hearts and wallets to benefit the School of Music in a big, big way. Margaret Cosmetic, lifetime native of Louisville and longtime patron of the arts, has given a cool $1 million to the school, part of which was used to finance a sculpture for the outside of the school, part of which will be used to bring internationally renowned pianists to the school on an annual basis for concerts and master classes, and the rest used to bring two winners of international competitions to the school for residencies of varying lengths.
The other gift comes from part-time School of Music instructor and internationally known jazz musician Jamey Aebersold, who has given an undisclosed amount to support the jazz studies program at the University, as well as allowing the school's jazz studies program to be renamed the Jamey Aebersold Jazz Studies Program.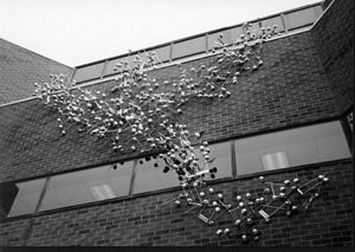 Show of Notes Sculpture at U Of L School Of Music
In a recent interview with Herbert Koerselman, the Dean of the School of Music, he revealed some of the logic behind Ms. Comstock's generous gift. "She grew up here, just a few blocks from the school," he said, "and she's been very involved with music her whole life; particularly the keyboard. She's a pianist who still plays and practices every day, and she loves it. I think she has a great deal of appreciation for the School of Music; for the quality of the school, and I think she'd like it to become better-known".
Part of her strategy for making the school better known was to finance the sculpture that now resides above the entryway to the music school. The stainless steel work, created by local artist David Caudill, is titled "Shower of Notes" and features several hundred oversized musical notes spilling in random fashion down the face of the building.
"The idea behind her giving us "Shower of Notes" was to let people know this was a music school, even when they were just driving by," said Koerselman. The university apparently agreed with her assessment of the need to give the school a higher visual profile, since they financed the creation of a second sculpture by Caudill that hangs suspended from the foyer ceiling immediately upon entering the music building. This piece, named "The Search for Musical North," is a mobile in five sections, also made of steel.
"In a sense, it depicts various musical applications," revealed Koerselman, "the artist is trying to bring a sense of musical expression to motion whether through a shower of cascading notes or the patterns of the mobile".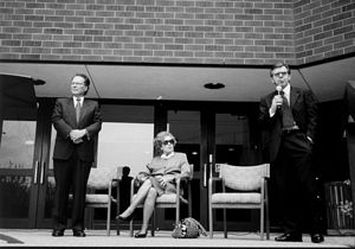 U of L President John Schumaker, left, and Margaret Comstock, center, listened as Music School Dean Koerstelman spoke at the dedication
But Comstock's gift goes far beyond simply making the school more visually known - she also has given a much-needed facelift to the school's music program as well. By bringing in internationally known performers and competition winners for concerts, master classes and residencies, she has given the school the opportunity to attract highly qualified students and increase the program's desirability to better students. Her gift could also raise the school's profile not only on a national but an international level as well, as the school brings in competition winners to teach.
"It's not out of the realm of possibility that we could be connected with some major competition where the winner is automatically invited to the school as part of the prize," speculates Koerselman, "frankly, it's a wonderful gift that will be seen for a long time in the fabric of this university".
Jamey Aebersold's gift to the university is no less remarkable, even though there has been much less press and attention given to it. Though internationally known as a leader in the study of jazz improvisation, Aebersold has chosen to continue to live quietly in the local community, playing shows in local coffeehouses for audiences who have no idea how famous he really is.
"He's been courted by many other places and could go anywhere in the world, but he's chosen to do important things in a fairly modest way," Koerselman said. "I think that probably says more about Jamey than anything. He likes to do most of what he does without a lot of fanfare, and the proverb `a prophet hath no honor in his own country' is quite true in Jamey's case - he's so widely recognized internationally, and we tend to take a lot of that for granted."
Koerselman went on to explain that perhaps Aebersold's greatest gift was the use of his name for the jazz studies program. "To receive the gift of his name, we had to be doing things in such a way that he would be comfortable with them, because he's a man of integrity and great conviction when it comes to music studies and particularly jazz studies ... to have him here teaching on a part-time basis, and now to have his name attached to our jazz program will mean that our program will have a certain level of distinction worldwide that we wouldn't have otherwise. It will allow us to attract higher-quality students to our jazz program, and we expect the quality of the program to be dramatically affected by his gift".
Though the first musicians to be brought to U of L under Comstock's gift have yet to be named, there is already an air of anticipation and freshness running through the studios and rehearsal rooms of the school, evidenced by the crowd of students who showed up at the dedication of Caudill's sculptures on April 21. And when musicians in Prague and Helsinki are as familiar with the name of Aebersold as they are with the name Baker or Parker, it's easy to predict a huge jump in reputation for the jazz music program.
So thanks to the generosity of its patrons and its players, the School of Music is tuning up for the most impressive composition its ever attempted: the 21st century. The opening movements sound pretty darn good.