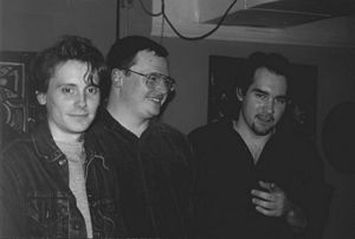 From left, Craig Wagner, Todd Hildreth and Ray Rizzo
PHOTO BY JEAN METCALFE
BREAKING UP IS HARD TO DO: Fans swarmed around members of the popular jazz trio The Java Men between shows at their April 29 Farewell Concert, making it difficult to snap the threesome all looking in the same direction at the same time. Drummer/percussionist Ray Rizzo pointed the way for guitarist Craig Wagner, at left, and organist/pianist Todd Hildreth ("the one who's staying") as the faithful waited to express their appreciation for the group's music.
Rizzo and Wagner will join the nationally known local group Days of the New for an upcoming tour in support of their new album. The first of two shows at Clifton's Pizza Co. was attended by parents of all three musicians, and in their honor the guys played the achingly beautiful Hildreth original "William & Lil' Leigh."
We miss them already and they're not even gone. Did I hear the word "reunion"?