Second Thoughts
Meet Maestro Mark Flint
How many readers have ever noticed how very few operatic reviews pay attention to the orchestra's conductor?
Yet without his comprehensive knowledge, painstaking attention to all that is going on, careful mastery of the composer's instructions and ability to get along with all involved in the performance, the show would not go on. It is not enough simply to know the music.
Just what all this really means made this writer remember an all-Wagnerian concert by the Cincinnati Symphony here many years ago. It was not merely an orchestral concert; it was primarily a showcase for Lauritz Melchior, then the world's premier heroic tenor. The orchestra's music director, the widely acclaimed Eugene Goosens, became unable to come, so an orchestra member had to fill the gap. It soon became apparent while this gentleman knew the score, he could not inspire his fellow musicians.
If this is true for an orchestral concert, it is more so for an opera. An Italian opera company was en route to Rio de Janeiro to stage Verdi's Aida. Suddenly and without any advance warning, the maestro became indisposed. An 18-year-old orchestral member had to fill in, but he was more than up to it. So began a career of conducting with few equals - the young maestro was Arturo Toscanini!
Recently, Louisville Music News talked with Maestro Mark Flint, who wielded his skillful baton over Kentucky Opera's well-received performances of Madama Butterfly and Romeo and Juliet. A native of nearby Nest Virginia, Flint had no formal training in conducting but, as he emphasized, "My training in voice and piano were indispensable. The piano is like the orchestra; it, in its own way, can present the whole score." (A recent informal research by this writer indicates that nineteen conductors of this country's twenty leading orchestras began as pianists.)
Flint continued, "There is also no substitute for a meticulous perusal of the libretto, the score and the composer's instructions. I say perusal because composers do not make everything explicit. For instance, Puccini reviewed each of his opera's libretti meticulously and was inclined to add or delete as well as to emphasize.
"You have to enter the composer's spirit and that is not always a simple task. I have conducted Italian, French and some German operas and there are discernible differences. There are also singular challenges such as Carlisle Floyd's Susannah, which we recently premiered in Montreal. Floyd wrote his libretto. He grew up amidst the religious environment in the rural Southern mountains; that is totally different from French."
Mikelle Bruzina's "GLORIA" -Innovative & Well Received
Meet Mikelle Bruzina! .A native of Lexington, trained at the Royal School of Winnipeg Ballet, an experienced dancer including significant roles with Louisville Ballet, she is an indefatigable student of leading types of modern music and a keen observer of modern life.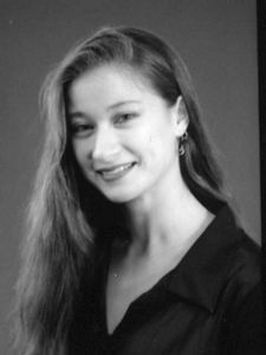 Mikelle Bruzina
"Gloria" is her response to the pervasive materialism in our midst. Drawing from several sources, it depicts a modern person who has found a treasure. What to do with it? Does one hoard it or seek self-gratification with it? Or does one give it away, reaching out to others? Miss Bruzina says that one of her inspirations is this time-honored insight: "Give and it shall be given to you!"
She herself reflects a diverse cultural heritage. Only recently with the strong encouragement of colleagues, has she turned to choreography. Though raised in Cincinnati, her father, now a philosophy professor at the University of Kentucky, reflects a Germanic cultural heritage, while her mother, a native of Winnepeg, was the child of Japanese parents. The couple met and married in Manitoba's capital and then moved to Lexington where Mikelle was born and began her education. She also has danced in Japan.
Mikelle is an avid listener of multiple kinds of music. She does so with three ears: just as a music lover; as a dancer and finally as a choreographer. Part of her musical orientation is her perception of dance as a genuine expression of life's She sees ballet as "an expression Of Movement" and movement lies at the heart of life. Perhaps she also feels what the poet, Horace once wrote 2,000 years ago: "Everything human is of interest to me!"