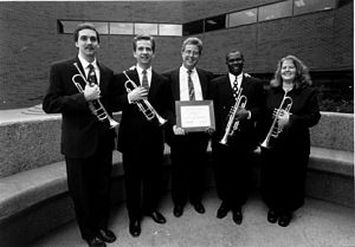 From left, Geoff McBride, Daniel Hazelton, Prof. MIchael Tunnell, Dewayne Venzen and Jennifer McCord
U of L Trumpet Quartet Wins First Prize
The University of Louisville Trumpet Quartet won First Prize in the Ensemble Division of the 1999 National Trumpet Competition, held at George Mason University in Fairfax, Virginia on March 19, 1999. The ensemble was picked up a $1000 prize for their efforts.
The members of the quartet are Jennifer McCord, graduate student from North Carolina; Geoff McBride, senior from Northern Kentucky; DeWayne Venzen, senior from the Virgin Islands; and Daniel Hazelton, sophomore from Lexington. All are students of Dr. Michel Tunnell, professor of trumpet at the University of Louisville.
Hazelton and McBride also participated in the undergraduate level solo division, and Fabio Brum, a junior at Atherton high school who studies privately with Tunnell, participated in the high school division. Brum is an exchange student from Brazil.
Geoff McBride is also a finalist in the international Trumpet Guild Mock Orchestra Competition, scheduled for Richmond, Virginia, in May.
The Indiana University Trumpet Ensemble won second place. Third place prize was awarded to the Florida State Trumpet Ensemble.