I've Got A Mind To Ramble
Pass the Biscuits Again
After a year away, the pull of the Delta was calling me back again to the King Biscuit Blues Festival, so with the great music from the Louisville Blues Festival the previous weekend still ringing in my ears, I headed to Clarksdale, Mississippi and Helena, Arkansas.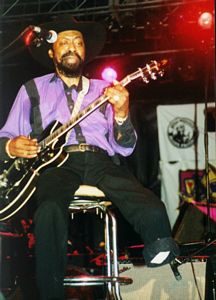 Son Seals at the 1999 King Biscuit Blues Festival
I found a few changes in Clarksdale, notably Jim O'Neal's Stackhouse Records, which was abandoned when Jim left for Kansas City. The Crossroads juke joint a closed a year ago and Delta Blues Museum moved to more spacious quarter in the old Clarksdale Freight Depot at #1 Blues Alley. There was an excellent exhibit of black and white photos by Raeburn Flerlage and Jim Fraher in the renovated train shed. Flerlage captured the bluesmen and the environs where they performed in the Sixties. Fraher's poised portraits have been published in the book, The Blues Is A Feeling. Permanent exhibits are planned as funds become available.
I arrived at the Festival on Thursday, Oct. 7 to the rock-a-billy sounds of Sonny Burgess, who recorded for Sun Records in the Fifties. Next, Little Jimmy King opened with "Standing in the Rain" as a tribute to his `adopted' granddad, Albert King. (Little did we realize how prophetic that song would be the next day.) Jimmy And Albert had performed together at the 1990 Biscuit. Jimmy was out in the audience, going up and down the levee playing his trademark Flying V guitar left-handed.
Little Charlie and the Nightcats brought their West Coast jumping jive, featuring Charlie Baty's consummate guitar playing and Rick Estrin's irreverent vocals and searing harmonica riffs. Midway through their set, Rick and Charlie switched guitar and harp, demonstrating their competency on the other's instrument.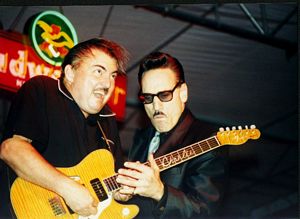 Charlie Baty and Rick Estrin clowed at the King Biscuit Blues Festival
Sugar Blue is in a class all by himself as a blues harpist. His cascading notes, dynamic range and powerful reverb create a most unusual sound. He acknowledged the legacy of Sonny Boy Williamson II with "Help Me" and of Junior Wells with "Messin' With the Kid."
Terrance Simmien closed out Thursday night with some romping zydeco. This was the first time that zydeco was booked at the Biscuit.
Sonny Bayne started Friday off with his traditional "Pass the Biscuits, It's King Biscuit Time" radio show broadcast live over KFFA 1360 AM, from the lobby of the Delta Cultural Center. He had the governor of Arkansas, Mike Huckleby, on his show. Later, Huckleby played bass on the main blues stage. I guess you have to be an R&B musician as a prerequisite to be governor of Arkansas.
The skies got threatening and soon it was the Soggy Biscuit Festival, but the show went on. Johnny Jones, a guitarist / singer from Nashville, did some tasteful solos. He has an excellent CD out on Black Magic called I Was Raised on the Blues.
The next set honored two local musicians, drummer Sam Carr and harpist Frank Frost. Unfortunately, Frost looked very weak and was confined to a wheelchair, so Arthur Williams helped out on his harp and vocal, with Fred James playing guitar. (The following Tuesday, Frank Frost died at age 63 from a heart attack.)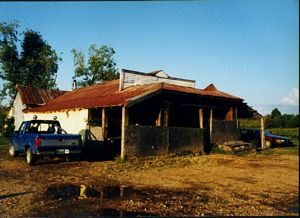 Junior Kimbrough's Juke Joint
The rain was beginning to soak in, so we took a break and returned that evening to hear Terry Evans and Magic Slim & the Teardrops. Evans' soul-stirring vocals combined the sounds of the Delta with those of California. Magic Slim was about three quarters of the way through his set, playing and singing with his usual South Side Chicago intensity, when the rains really began to howl and the Festival abruptly ended for the evening.
Saturday brought better weather and the strongest lineup of performers on both stages. Reba Russell opened with her gritty Memphis vocals, singing "Your Part Time Love Gives Me The Full Time Blues" and "Tool Box Blues," a song loaded with double entendres. I could ramble on and on about W. C. Clark, James Harmon, Anson & Sam, Byther Smith, Phillip Walker, Eddie Kirkland and John Westen, but I'm quickly running out of space.
The best was last, with Son Seals closing out the Festival. He brought Eddie Shaw's band plus Billy Branch to back him up. It turned into a mighty blues jam with Seals trading guitar licks with Vann Shaw, Eddie's sax and Billy's harp. Due to his diabetes, Seals has recently lost his left leg but that has not hampered his ability to play and sing. He sat on his stool, swinging from side to side, rolled his eyes skyward and gave the best performance I'd ever seen him do.
Sunday was a blues odyssey around Mississippi, using Jim O'Neal's Delta Blues Map Kit as a guide. We drove south on Highway 49 to the sleepy town of Tutwiller to see the train station where W. C. Handy first heard the blues, performed by an unknown musician playing the guitar with a knife blade and singing "Where the Southern Crosses the Dog." Large murals commemorating the event were painted on a nearby brick wall, as was a spooky image of Sonny Boy Williamson II, shrouded by angel wings.
Outside of Tutwiller is Sonny boy's tombstone in a little clearing behind the Whitfield M. B. Church. Around the base of the monument are harmonicas, miniature liquor bottles, flowers and business cards. I left a KBS card behind.
We headed north through Lambert, where there is a strip of black juke joints along 8th Street with names like the King Curtis Lounge and the Low End Lounge II. Near Como was the grave of Mississippi Fred McDowell and his wife, Ester Mae. On the back of the new headstone is the inscription, "You may be high, you may be low, you may be rich, child, you may be poor, but when the Lord gets ready, you got to move." Amen.
The Blues Avenue is located on the second floor of Farley Hall on the campus of Ole Miss in Oxford. The space is filled with books, posters, records and videos. B. B. King donated his vast record collection to their archives.
On Highway 4, west of Holly Springs, is Junior Kimbrough's juke joint. If you saw it driving by, you would just keep on going, for it looks like a shack with a rusty tin roof. We stopped and talked with Kenny Malone, Junior's son, who was sweeping out the place for that night's live music. He now runs the place and plays drums with the house band, The Soul Blues Boys. Kenny said the building is about two years old and was originally a roadside country store. Then it was a residence and finally became a juke joint for Kimbrough's regular Sunday parties. We had planned to drive up to Memphis and "do" Beale Street that night, but we chose the path less traveled and returned to Junior's Place at about 9:30. Cars filled the dirt lot and spilled out onto the road, with people hanging out, enjoying themselves. Upon walking through the pair of swinging doors, we found ourselves in a colorful room, with photographs, posters and curious scenes painted on the walls. Intimate alcoves with couches and chairs were on each side, while the band played in one alcove near the front. The regular crowd started to drift in and a quarter ante pool games was underway. The music stared around 10:30, with Kenny on drums and Gary Burnside on bass. The music was mostly rhythm and blues, until a young white guitarist/singer named Mike showed up and got the band on track, playing Junior's style of moaning, droning blues.
Everyone needs to experience a Sunday night at Juniors', as it reminded me of the Pleasure Inn during the Eighties, only more primitive and countrified.