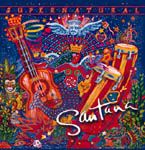 CArlos Santana - Supernatural
Supernatural (Arista Records)
Carlos Santana
by Janet Wolfe
Carlos Santana has once again pranced to a Latin beat on his newest Arista Records release, Supernatural. This offering includes collaborations with Eric Clapton, Dave Matthews, Lauren Hill, Everlast, Eagle Eye Cherry and Rob Thomas. The album has reached the No. 3 spot on Billboard's album chart after a mere 16 weeks. This is a positive collection that shows a great bit of versatility, with so many distinctive guests adding their own musical treasure to this charm.
Most of the guest singers bring their songs with them and use Carlos Santana's fervent energy to add the ginger to the other spices. The first hit-to-come - in the second spot - is "Smooth," written and sung by Matchbox 20's Rob Thomas. Lauren Hill sent her creativity to newer heights in her tune, "The Way It Is," which has additional vocals by Cee-Lo. Everlast puts a .slow groove on "Put Your Lights On." Dave Matthews co-wrote the smooth silky ballad called "Love of My Life."
Santana rocks on the opening tune, "Da Le Yaleo," which features hot salsa horns. Of course there are several Spanish tunes: "Africa Bamba"; "Migra"; "El Farol"; "Corazon Espinado" (which has exceptional percussion); "Primavera" and "Maria, Maria." Santana uses the universal language of music to express the ideals of freedom, peace and togetherness. As a master of the past and future, he holds to his exceptional standard of fabulous guitar work, with an unmatched Latin flair. Santana bursts out steam with a romantic lushness in his playing. This album is bound to be nominated for a Grammy or two and is well-deserving.