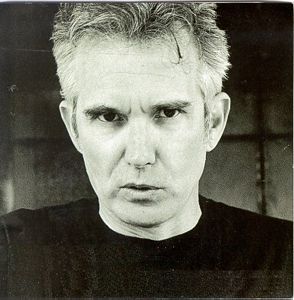 Johnny Down
Johnny Dowd Slithers Onto Music Scene
By Alan Rhody
It's too bad I couldn't have written this piece for the October issue because it would be so perfect for Halloween. Johnny Dowd is without doubt the scariest singer and songwriter I've ever encountered. What? 'You haven't heard of him? Where've you been?
Just kidding. This Ithaca, New Yorker with Texas and Oklahoma roots has recently started garnering much attention in the alternative music world via Mojo Magazine in England, as well as through many alternative weeklies around North America. His death-tinged and evil-sounding songs are, in spite of their content, wonderful pieces of avant-garde music. His latest release, his second, is on Koch Records and is rapidly gathering a following for the fifty-year-old Dowd, who didn't start his recording career until age forty-nine.
Whatever his background, I hope none of it provided near the anguish portrayed in the fifteen tracks contained on Pictures From Life's Other Side. (Yes, it is the Hank Williams song.) Though it's been given a treatment that most country fans would be hard-pressed to relate to, the music on this collection is striking and dark and his actually been called "dark country," but I for one wouldn't use that term at all - the "country" part, I mean.
After reading about Dowd in Mojo while I was on a two-week tour of Ontario last month, I had to go see him when I returned home to Nashville. I found him playing The Sutler here along with a long-time friend of mine by the name of Tom House. He worked with a keyboard player, drummer and backup vocalist. Dowd plays crude but very effective electric guitar. The treatment of the music is beyond categorization, combing elements of jazz, rock 'n' roll, blues, mood synth, and a tiny bit of country. It is haunting and unforgettable.
Dowd's voice is mournful, thin end nasally, but also so dry and blunt at times, it's almost comical and frightening at the same time. This stuff is not for the fainthearted. I do, however, highly recommend it to those of extreme and/or adventuresome tastes. A Richard Thompson fan could probably relate very well to Dowd's way - life sucks and is hopeless. And women are to blame for all men's downfalls.
Is that hard enough? Cold enough? Enough said. The tracks actually use sound effects very well and Kim Sherwood-Caso's vocals are wonderful. Mike Edmondson's use of keyboard sounds provides a wonderful bed along with Brian Wilson's accomplished and jazz-influenced percussion and drums. The four musicians create a spooky but magnetic result that can't help but draw you into it. I'm cheating here by quoting a song that is not on the disc, but one that stuck in my head after the live show:
"First there was a funeral, then there was a trial.
Then they took me to a courtyard and let me hang up there a while.""
Check this guy out if you dare.
For an evening of more mixed emotions and a bit of light-hearted fun along with the serious stuff, come down to the Rudyard Kipling and hear my "New Band Thang" on Saturday, November 20 at 10 p.m.
Nashville, TN resident and Louisville native Alan Rhody is an award-winning songwriter and touring performer with four independent releases to his credit, including 1992's Dreamer's World on Germany's Taxim Records and From a Real Good Home on his own label. Rhody may be contacted at P. O. Box 121231, Nashville, TN 37212 or by fax at 615-298-5146.