Louisville Rock Lowdown
Despite the lack of 18-and-over venues (I apologize for my nonexistent article on the ABC's new ruling against 18-and-over nights at clubs. The check is in the mail, I promise this time!), I have still managed to bring you some more 'ear candy' for your listening and viewing pleasure this month, in the form of Lexington's hottest band, Supafuzz. David Angstrom on vocals/guitar, Chris Leathers on drums and newest member Jason Groves (formally of Gold Tooth Display) on bass are the musical forces that make up Supafuzz.
Check out these credentials: since 1994, a killer live show has enabled the band to perform with such national recording artists as Kid Rock, Godsmack, Candlebox, Third Eye Blind, Loudmouth, Better Than Ezra and Slash's Snake Pit! After selling out of the first two pressings of their debut album (originally titled "Pretty Blank Page") in just six weeks on Violently Hip Records, New York City-based Gotham Records signed the band. Three tracks were added to the album, and it was released nationally as their self-titled debut. Since then, copies have been sold nationwide, and radio exposure has increased dramatically. The CD has been played on numerous radio stations in Kentucky (of course), Arizona, Tennessee, Illinois, Oregon, Georgia, Massachusetts and more. Radio singles include "Push" and more recently, "Superstar."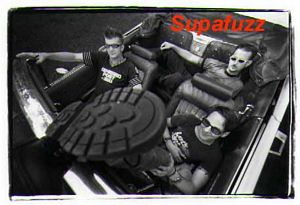 Supafuzz
The band is currently working on its second album, which is tentatively titled, It's All About the Rock. Carey Rutherford of Rutherford Management (the band's management) notes that "...(the new album) will consist of 13 new tracks [that] the band completed while touring in support of their first Gotham Records release Supafuzz." The album is being produced by Rich Morpurgo of MidWest Audio in his personal studio in Bloomington, IN.
David Angstrom and I had a telephone interview, and he told me the tentative game plan through the end of the year. The group will be taking a Southwest tour then return to the studio in Bloomington to work on the project more. A Midwest tour will be in the works after that, then it's back to the studio they go. Around December, Supafuzz is off to the wild, wild, West for a few weeks, (and then, you guessed it!) back to the studio for the wrap-up on the new disc. Cities on the upcoming tour include Los Angeles, Oklahoma City, Las Vegas, Kansas City, Denver and others.
High expectations surround this release. Angstrom commented that the tones and the professionalism found on this upcoming release will create a sound that is on a higher plane than the local timbre they were accustomed to. The hope of all involved is to rival the quality and the success of a national artist like Soundgarden or others. He said that the recording process so far has been a lot of fun, in contrast to their first album, where they found themselves quite tense.
So what is "the Supafuzz Sound?" It has been described as catchy, crunchy, "high-decibel clobber," strong metal-pop. What is my soon-to-be famous quotable line of musical interpretation? Hmmm... I like it. Though fearing that I might sound like Forrest Gump, I like it a lot. I have heard very few bands that put so much vigor into their music and songwriting. A listener gets the impression that it took some time to sit down and work on these tunes until they came out in just the right way. The chord changes are very smooth, the solos are intense (but not overly exaggerated), and most of all, I especially like the way the music finds the "soft spots" of so many listeners.
Supafuzz's music kind of reminds me of a free psychic reading that I had at U of L earlier this week. It seems like everything the lady psychic told me could be right in some way, shape or form. I am the kind of skeptic who believes that anyone experiencing one of these tarot card readings interprets all these generalized "predictions" to fit their own situations as truth. Likewise, it seems to me that anyone listening to Supafuzz can interpret this genre-spanning music to get what they need out to like it.
I am, however, not a skeptic about "the Supafuzz Sound." That "Sound" is what has been most responsible for getting kudos from so many magazines, including Gavin, Rockpile, Hard Radio, Ace Magazine and more.
The band also was picked up by a new booking agency, Valley Entertainment, based in Fresno, CA. Valley Entertainment has made it possible for the band to play out more often than ever before. They now average about 20 or more shows a month when they are on tour.
They have not been able to play as many local shows due the constant touring, and the tour dates keep coming as the countdown to the new release continues. Your best bet of catching a live show will be in Lexington, between trips.
If you are online, you can take a gander at the band's website at www.Supafuzz.net or you can try this one (although my Internet connection is being stubborn as usual, so I have not had a chance to see which one is better): www.mindspring.com/~Supafuzz/index.html.
Be on the lookout for It's All About the Rock. The projected release date is February 29, 2000. You can get it in stores near you or, as always, at live shows for only $10. The band wants everyone's help to "spread the rock"!
If you are a club owner interested in booking the band, contact Rutherford Entertainment at (812) 967-6108, or call Valley Entertainment at (559) 243-9021.
If you are in a band or know someone that is, and are interested in being featured in the Louisville Rock Lowdown, E-mail me at JJKSLACKER@cs.com or call my cell phone and leave a voice mail at (502) 262-8728. You can also contact the office at 893-9933. Thanks for reading LRL. Next month, look for the band Spy Ring. Until then, Rock On!
I think you should just leave this out:
I would to thank Supafuzz, along with their label & co., for being in the Louisville Rock Lowdown column this month. As always, I wish the best of luck to them in the future. Keep making Kentucky proud!