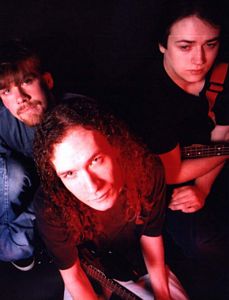 Zero Cycle
Zero Cycle
By Cheryl Chastine
Listen to Dan Canon talk, and you'll hear a curious combination of thoughtful insight about familiar things and people, and relative apathy toward things that don't touch his life. Canon, the driving force behind the band Zero Cycle, has the usual set of choice words to say about certain local venues, publications and radio stations that don't support Louisville, accompanied by an equal amount of understated praise for those that do.
He also offers some remarkable opinions about the nature of musicians, the music industry and individual people and places on the local scene. Just don't ask him about the Republican presidential primary. Canon is 21 years old. The profile of a generation? Or just a random guy? A little of both, probably.
Zero Cycle and its brethren and sistren are the first glimpse we're getting into the musical development of the generation that was just coming of age when Nirvana and "alternative" exploded onto the mainstream music scene and helped define the path rock would take in the '90s and beyond.
"We're a loud rock band," Canon acknowledges. But more importantly, Zero Cycle is the distinctive product of the energies of three guys, namely Canon, Derek Carpenter (also of Joshua's Window), and Kenny Marine (formerly of 40 Watt Station).
"I am the founding members," Canon says with a chuckle, owning up to "close to 800,000 member changes" over the band's career. The current lineup dates back about a year, and Canon says it's the best yet. Watching Zero Cycle perform, it's obvious that they interact as a true band, not a vehicle for a single member. Zero Cycle has just released their self-titled debut CD on Gizmo Records. In a lot of ways it's a quintessential Louisville record, from the guest musicians (notably a cameo from the ubiquitous Ray Rizzo) to the almost throwaway "All Night Restaurant," a minute-long sound collage midway through the record.
"We recorded a bunch of people talking and glasses clinking and stuff" for the song, Canon recalls. "Then all we did was overlay a bunch of voices and us reading the Weekly World News." The country inflections of "20 Years" and "Change" also add variety to the basic alt-rock introspection theme. Canon plays mandolin on a couple of tracks, hinting at a softer side to his music. You can also see this softer side in evidence at the Rudyard Kipling's Monday night open stage, where Canon can be found many nights playing solo with an acoustic guitar.
Another side project of Canon's is his guitar work with Nate Thumas, the erstwhile 100 Acre Wood singer/guitarist who's now to be found playing occasional acoustic solo gigs. But at Zero Cycle's July 16 CD release party at Tomaso's Pizza, this side of Canon's musical personality was barely in evidence. (The band had had another such party the previous night at the Rudyard Kipling, prompting one of Canon's understated but sincere credits: "The Kipling and Tomaso's are great places where at least you can get some people to see you play.") The remarkably large audience at Tomaso's, who seemed to be mostly friends and regular fans, were there to hear a "loud rock band," and they weren't disappointed. Humor and inside jokes were also out in full force. At several points during a typical Zero Cycle show, the band pelts the audience members with PEZ, and the Tomaso's show was no exception ("Who wants sweaty PEZ?"). Many of the attendees were members of other bands, friends and collaborators of the Zero Cycle guys. Canon says he wishes he could see more of this camaraderie among Louisville bands.
"Louisville bands need to band together," he says. "The rock bands especially. The punk bands do it, but the rock bands don't. We're really kind of catty." More advice for local musicians: "People need to keep doing their own thing, and somebody will eventually find you and give you money to do an album. We've had a lot of good people have a lot of faith in us."