Bluegrass Beat
October, October, October, here you are with your promise of fallen leaves, cooler nights, perhaps a touch of frost, an enjoyable Indian summer spell and all of your spooks and hobgoblins to come. And when you are done with your briskness in the mornings that refresh us, you leave us with the anticipation of the holiday and festive seasons approaching. October, you are something and you still have more to offer. Read on.
Strictly Bluegrass Festival
September had the Strictly Bluegrass Festival at Iroquois Park, which I assume was another success. I wasn't able to be there as much as I usually am because of other commitments. I did enjoy the time I was able to spend with friends who I only get to see on such occasions as this. I always enjoy a good chat and visit with a couple I met at this festival several years ago. Dean Sapp and his wife. I really enjoy getting together with Dean, watching his performance and chatting. We "chat" and we definitely "chat-on-the-same-wave-length." Of course that always makes it more interesting and a lot more fun. I have a lot of god material from Dean that I use frequently on Sunday Bluegrass. Thanks to a good friend.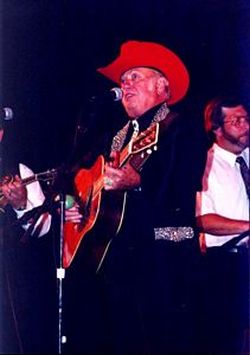 Jimmy Martin performed at the Strictly Bluegrass Festival for the first time. Photo by Paul Moffett
There are others, many others. James Monroe is another friend I see at this festival. I must say that since my first real encounter with James at Bean Blossom the last year he had the park, he has been very nice to me. I will be putting a bluegrass display in the Barr Library on Ft. Knox for the month of October. I have done this every year for several years now. I got a great new poster and pictures from James to be added to this year's display. Thank you, James, for your support. We can talk about the old days.
My big miss this year: I didn't get to see Dr. Ralph, and I missed Jimmy Martin. I can only look forward to seeing them now at IBMA. I will see Ralph before that. Where? Read on. There were and are many other fine and noteworthy acts on the Strictly Bluegrass Festival. Larry Fuller is usually there, The Sullivan Family, Tommy Brown, and my apologies to others who won't come to mind at this time. Obviously, Gary Brewer & the Kentucky Ramblers.
I also see and meet many fans and friends of Sunday Bluegrass there. It is always a pleasure for me to get to talk with the folks who are listeners. As I have said before and can't say too often, I truly appreciate your support, encouragement, and dedication to the show. It is expressed in so many ways. THANK YOU, again.
Looking Ahead
Well, let's look at the big events ahead over the next few weeks and looking us right in the eye and ears. There is so much to go in here I am not sure I can remember it all or if Paul can handle it without an annex to the main part. I think this would be a good place to get this in for this issue. This time I have a multiple-choice question. Your choice on which question you can answer. How many #1 hits did Hank Williams SR. have? How many of these can you name, and how many were #1 for 10 weeks or more? How many were one-week #1s? Somewhere later. And now back to our regularly scheduled program.
Big Fall Homecoming
First big event for October, or at least for me and several thousand other folks it is. The Tennessee Fall Homecoming at the Museum Of Appalachia. Absolutely one of the biggest and best events of its kind that I go to. The dates this time are October 7-10. Now this is NOT a bluegrass festival as we think of a bluegrass festival. It is the old-time mountain/Appalachian music that bluegrass grew from. Here are hundreds of musicians you probably otherwise would never hear or hear of. And a word for those folks who have a very mistaken idea of the wonderful, sincere people who play our music. They are not stereotypes of all the cartoons or very early country/hillbilly "costumed" bands and performers. The stereotype was totally erroneous from the beginning. I certainly don't think college professors, doctors, lawyers, a gentleman who is listed in Forbes 500, surgeons, and other wonderful, honest, ethical and straightforward, hard-working people who are really the picture of this country and what it is all about fits the image. (OK Berk, enough of the soap box.)
Music starting on three stages at 9:00 a.m. and continuing until dark is just a part of this event. Yes, it is a very big part, but there are Appalachian arts and crafts, made in Appalachia USA, exhibits and demonstrations of the old ways. An experience of the hard work and background that America grew from. Do I sound like I am big on the Tennessee Fall Homecoming? I am. And I recommend it to everyone who is reading this and all of you that are not. A brief and limited idea of some of the many top performers who will be there this year: Dr. Ralph Stanley (Th), Kenny Baker & Josh Graves (Th), John Hartford (Th-Su), Mac Wiseman (Sa/Su), Doyle Lawson (F/Sa), all legends. Ricky Skaggs (Su). A vigorous 99-year-old fiddler, Leroy Troy, Marilynn Powell-Greene, a one-hand fiddler and so many more, including some of the best cloggers and buck dancers to be found.
Other Exciting Stuff in October
Is this month big or what! We get a one-week breather (almost) from the above, and IBMA starts on the 18th of October. And you thought summer fun was over. Not hardly, there is just so much that it has to carry over into fall. The IBMA World of Bluegrass Trade Show and Bluegrass Fan Fest will invade Louisville at the Galt House again. The award show this year will be in the Palace Theatre on Fourth Street. Stars expected to be here during the week and performing at various times include John Hartford, Charlie Waller & The Country Gentlemen, J.D. Crowe, Larry Sparks, IIIRD Tyme Out, Lynn Morris, The Kruger Bros., Lost & Found, Leroy Troy and just so many others. You never know who you will see, run into or talk to in the halls and all around IBMA. The Galt House in Louisville will be the place to be, the bluegrass event, October 18-24.

Another special event that will take place that week, October 20 to be exact, will be a bluegrass cruise with the Kruger Bros. on the Spirit of Jefferson. The boat will load at 7:30 p.m. and the cruise will leave at 8. You have heard them on Sunday Bluegrass both recorded and live, some have seen them in places in the area, including the Horse Park earlier this year, and now is your chance to cruise with them. It will be a fantastic voyage. I'll be there and so will Bill Ray, our man on the Belle. There could be another "surprise" or two. A couple of possibilities that have not been confirmed yet, as far as I know. They will join me on the 17th for our program again. Now you see how many exciting things are going on in OCTOBER!

.
Jim & Jesse Update
The weekend of September 11 was Jim Britton's last official weekend as banjo player for Jim & Jesse. Jim's antics with the band, on stage and sometimes off, and that big smile could leave you wondering about this possibly "wild" man. Not that at all, Jim has left the band in order to be home Fridays and Sundays to work full time at his church. Jim & Jesse will miss having him and being on the road with him, but they do accept and respect his decision. Best wishes to you, Jim. Expect Raymond McLain to fill in for the time being as his schedule allows, although Jim will probably play the Opry with the group.
Thanks!
I must say a word of thanks to all of the faithful who called in their support during the Public Radio Partnership Fall Fund Drive. Thank you. And let's see: That was 11 #1 hits for SR. There were four of those that were #1 for 10 weeks or more. And what else was it? Oh yes, three were only one-week #1s. The number ones were "Lovesick Blues" ('49), "Long Gone Lonesome Blues" ('50), "Why Don't You Love Me" ('50), "Moanin' The Blues" ('50), "Cold, Cold Heart" ('51), "Hey Good Lookin'" ('51), "Jambalaya (On The Bayou)" ('52), "I'll Never Get Out Of This World Alive" ('52), "Kaw-Liga"('53), "Your Cheatin' Heart" ('53), and "Take These Chains From My Heart" ('53). Source for this info: The Billboard Book of Top 40 Country Hits from 1944 to present (1996). Well, Howdja do? cgberkb@bbtel.com
Stay Tuned
Trust me and keep supporting bluegrass as only you can. See you somewhere and on the radio, Sunday Bluegrass, WFPK, 91.9 FM, Sunday 8-11 p.m. for the shortest, fastest and bestest three hours in radio.