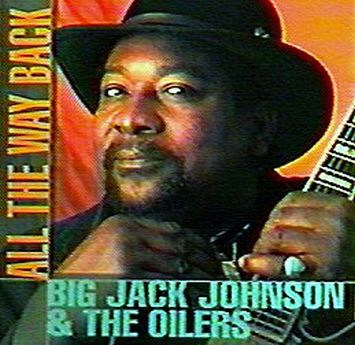 Big Jack Johnson -All The Way Back
Oil It Up And Go
All The Way Back (M.C.)
Big Jack Johnson and the Oilers
By Jeff Kallman
Big Jack Johnson is one of the few electric bluesmen working today who actually lets overt swatches of the music's rural roots take a generous portion of what he does, and it is that element of his guitar playing and bandsmanship which makes All The Way Back most worth hearing.
The Oilers are energetic yet sympatico to the leader's hybrid - drummer Chet Woodward especially has a strong sense of his leader's soul and punches the band into its corridors appropriately - and Johnson in his turn responds to their carefully exuberant feeding with clean, unpretentious guitar work. Where he stumbles is in his songwriting - his lyrics are at best the kind of thing you've probably heard a dozen times before - and at times, his vocals seem to betray a sense that he knows it but is yet lost for a way to kick himself out of that grip.
But there are hints that he might just do precisely that soon enough, most notably "I'm Your Oilman." When he does, Johnson will very likely kick himself into the front lines, and it will be well worth hearing how that magnifies his distinctive musical attack.