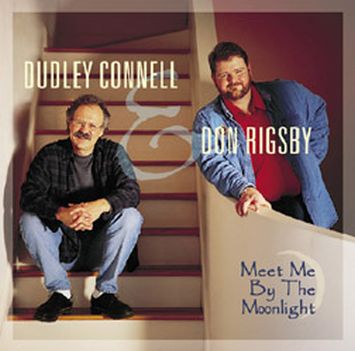 The Old Time Sound Done Well
Meet Me By The Moonlight (Sugar Hill)
Dudley Connell and Don Rigsby
By Bob Mitchell
What do you get when you cross two voices with a guitar and mandolin? If the voices and instruments belong to Rigsby and Connell, you get a masterful and thoroughly enjoyable musical experience. This recent collaboration is a skillful and satisfying blend of traditional and contemporary bluegrass.
For the most part, the project is a showcase for two voices and two instruments. However, there are several outstanding guest appearances from Ronnie Simpkins (bass) and Aubrey Haynie (fiddle). Connell is at his best in the lonesome mountain ballad "Oh, Loving Babe." Rigsby's shining moment is a brilliant rendition of the G. B. Gilbert classic "Short Life Of Trouble."
When you listen you will understand why Rigsby was chosen for the 1999 Bluegrass Now Fan's Choice Award for Vocal Tenor of the Year. This is a first-rate CD featuring gifted musicians who love and respect the old time sound of country and bluegrass duets.