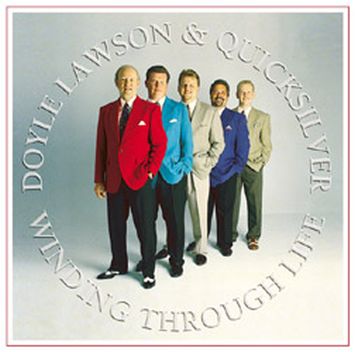 Doyle Lawson and Quicksilver - Winding Through Life
Doyle Does Perfect
Winding Through Life (Sugar Hill)
Doyle Lawson and Quicksilver
By Bob Mitchell
An artist never knows where a recording will be heard. I first experienced this project in a dentist's chair. Somehow, it seemed appropriate as I listened to "Do Right and Come Smiling Through." The next time I heard it, I was in a plane on my way to Denver. Again, it seemed appropriate as I heard "Just Let Me Fly," and "Up Above the World So High."
The tight, flawless harmony reflects countless hours of rehearsal and a lot of love for the music. This project is a showcase for the human voice. Vocals are so strong and clear that instrumental backing is minimal. Lawson's leadership and distinctive voice are the rock-solid foundation of each track. Somehow, he never overpowers anyone; in fact, the arrangements allow everyone to shine. Barry Scott is incredible. His tenor is the centerpiece for most of this CD, and, oh, how he can sing. However, every man in this group is a talented vocalist and instrumentalist. I never get tired of Lawson's mandolin work and that distinctive chop is a wonderful driving force. Newcomers Doug Bartlett (fiddle) and Jamie Dailey (bass) are outstanding. Dale Perry's banjo, as usual, is fine as fine can be.
Lawson's gospel music has always had a way of providing his audience with a special kind of inner tranquility. Anyone who enjoys bluegrass gospel is sure to be satisfied with this latest release.