I've Got A Mind To Ramble
When It Rains (Blues) It Pours
There was an extraordinary convergence of blues in central Kentucky when a large number of blues stars appeared during the same weekend. Four different blues events occurred on September 10 - 12, which made for some tough choices.
Six Flags Kentucky Kingdom featured John Moshey, Maria Muldaur, Clarence 'Gatemouth' Brown and Kenny Neal, plus a surprise visit by Billy Branch. This was Six Flags' first Blues, Brews and Barbecue three-day festival, held in their amphitheater. The Belle of Louisville had a blues cruise on Saturday with Jim Diamond. After two-year hiatus, B. B. King returned to Lexington to perform with Kenny Wayne Shephard on Sunday. Then The Blues to The Point - Two Rivers Blues Festival in Carrolton had Smokin' Joe Jubesk with Bnois King, Corey Harris, Debbie Davies, Walter 'Wolfman' Washington and Bernard Allison on Friday and Saturday.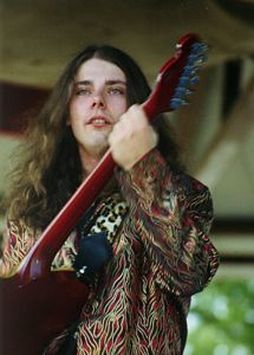 Anthony Gomes. Photo by Keith Clements
Out of this deluge of Blues in the Bluegrass, I decided to spend Saturday in Carrolton. This was the fifth year for the festival and there was even a special commemorative postmark for the festival postcards. Following a harmonica workshop conducted by Mr. Downchild that morning; we chatted about what he has been doing since his last appearance in Kentucky at Stevie Ray's. Mr. Downchild, a.k.a. Steven Brazier, no longer travels with his band, The Houserockers, instead preferring to tour solo at clubs and festivals. He is equally proficient playing his Hohner Harp or slide on his National resonator guitar.
The Anthony Gomes Band was the opening act, offering a strong flavor of Chicago blues spiced up with plenty of Hendrix licks. Gomes won the top honors for the "Best Unsigned Blues Band" at Buddy Guy's Legends last February and has been touring to promote his first album, Blues In Technicolor: Next on the schedule was Corey Harris, who just brought himself and his National steel body guitar. His laid-back solo performance was eclectic roots blues, mixing his own style with the Mississippi styles of masters like Charlie Patton, Son House and Bukka White, plus mixing in a Louisiana influence. Harris has recorded three excellent CDs on the Alligator label.
Debbie Davies followed with the same intense guitar slinging she did recently at Headliners. It's refreshing to see a whole generation of female guitarists like Deborah Coleman, Joanna Connor, Sue Foley and Susan Tedeschi come on the scene. I first saw Davies when she and Albert Collins traded guitar licks at the Phoenix Hill in 1989. Following Davies with their jazzy New Orleans rhythms was Walter 'Wolfman' Washington and the Roadmasters, which included horns, percussion and a female vocalist. Washington's deep voice and funky sounds took us into the twilight.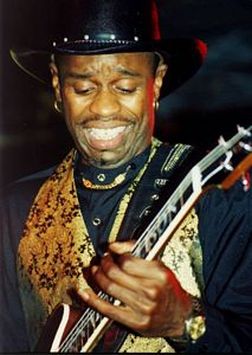 Bernard Allison at the 1998 Louisville Blues Festival. Photo by Keith Clements
The main headliner of the evening was Bernard Allison. For those of you who saw his performance at last year's Louisville Blues Festival, you know what a dynamic personable showman he is, following in his father Luther's footsteps. Bernard was dressed in a black pinstriped suit with his most recent trademark, a black hat adorned with two rattlesnake heads, fangs poised for the attack. And attack he did, starting off with "Bad Love" as a tribute to his dad. . When Bernard gets out his slide for one of his extended solos, it's walking time in the audience. He has developed into his own musician, taking his high-energy performances into the next century. His band included Mike Vlahakis on the Hammond B-3 and various keyboards. Vlahakis played with James Solberg when Solberg was touring with Luther.
Bernard played Stevie Ray's the following Monday, so during their layover they attended B. B. King's concert in Lexington. Bernard's shows aren't much different whether he is playing a festival or a club, except he has more time to stretch out with a couple of sets like he did at Stevie Ray's. This time he walked out of the bar and down Main St. with his slide. He also had a chance to play the Luther's stainless steel guitar and demonstrated some more blistering slide work to close the show.
Kentucky Folklife Festival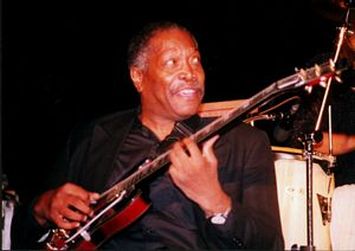 Billy Clemons at the `1999 Kentucky FolkLife Festival. Photo by Keith Clements
Highlighting the third Annual Kentucky Folklife Festival, "From Juke Joints to Jazz; Louisville's Rhythm and Blues" was presented on the front lawn of the Old Capital on Friday evening September 17 in Frankfort. Fred Murphy and the 10th St. Blues Band started off at the gut level of the blues with his punctuating harp and preaching vocals. Dressed in a red suit and hat, Murphy was in fine form, having recently recovered from surgery. He sang his signature tune "I Ain't Goin' To Spend Another Night by Myself," with some nice interplay between his harp and Pen Bogert's guitar. James Watkins and Sonny Sitgraves, both veteran musicians, provided the rhythm backup on bass and drums.
The music got moved uptown with the Walnut Street Blues Band. Lead guitarist Michael Wells has been traveling throughout the states recently with Clarence Carter, but due to the hurricane, he was able to play with his band. The group has developed into a tight, polished show band, with Artie Chunn doing the vocals. Her poised and emotional singing just keeps getting better and better. She also has been performing with the Dennis Ervin Band, which has allowed her more vocal diversity. They closed their excellent set with an encore of "Dr. Feelgood," which cured everyone's blues.
I hung around for the reunion of the group Crisis, which was the house band at the original Joe's Palm Room at 13th Street and Magazine. The musicians were a "Who's Who" of Louisville jazz, with Bennie Higgins on sax, Tyrone Wheeler on bass, and Riley White playing keyboards, along with guitarist Billy Clemons, who was really enjoying himself, rocking in his chair while getting those rippling chords out of his fret board. Tina Livingston was all over the stage and into the crowd even singing to a nearby locomotive that had stopped on the tracks. The Gentle Giant, Vic Frierson, returned from Baltimore to close out their set; singing some Luther Vandersloss tunes. It was a great night of appreciation for Louisville's rich blues and jazz heritage.