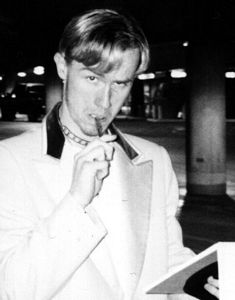 Planet
This month I am featuring a band that blew away the competition at the 1998 Battle of the Bands, held during the Carl Casper Custom Auto Show (in which my former band, The Slackers, was a 14th place finisher), with a first place victory. But hey, no hard feelings about that! These guys are mega-talented, and they demonstrate their precision in every performance.
Planet
The band is Planet. The group is comprised of Bryan Guess (guitar/vocals), Alex Featherstone (bass) and Jeff Williams (drums). A generalization about them might be "a funky rock band with a dash of blues." The sound is best described as refreshing. if you ask me. The group has been together now since the summer of 1997 and has withstood some lineup changes, like so many other bands.
The final trio is as harmonious as they come. The group's PR claims that "the right attitude, artistic talent and determination have solidified to form a trio of musical promise." Their talent has taken them to that first-place victory at the 1998 Carl Casper event; an appearance at New Albany's 1998 Ecofest; the 1998 and 1999 Harvest Showcases; an opening slot for Motley Crue at the Palace Theater, plus a long list of club dates at The Toy Tiger, The Rudyard Kipling, Butchertown Pub, Headliner's Music Hall and others.
[Speaking of the Harvest Showcase at Headliner's - and I want to state very clearly that Headliner's was not in any way responsible for what I am about to complain about.] - the view of Planet at this year's Harvest Showcase would have been much better from the inside of Headliner's, as opposed to my slightly colder, more ostracized, outside version from the band entrance. This is because of a new Alcohol Beverage Commission enforcement ruling a few weeks ago that I will be bringing you a full story on next month. It basically says that there are not going to be any more 18-and-over nights at clubs like the Toy Tiger and Headliner's. This really puts a damper on my job, since I frequent concerts at these venues and write about the bands/shows. I will bring you all the details in a separate article next issue.].
The band put on a terrific performance at Harvest that weekend. They were versatile enough to work Eminem's "Slim Shady" into an original song of theirs. Their serious approach to music is obviously not so stern as deny them some fun while they play. The music was energetic, very tight, had a heavy groove and, as mentioned before, refreshing. From outside the club, the band gave me an interview with some FAQs.
How did they get started in music? For guitarist/vocalist Bryan Guess, it all started in the 4th grade with his desire to play the violin! This lasted about two weeks, until his parents bought him his first guitar, with its own built-in speaker, from Toys 'R Us. Jeff Williams began teaching himself how to play drums at age eleven. Alex Featherstone was at a Buddy Rich concert with his dad at a young age, and he admired the slapping technique of one of the band members. He asked his dad what that guy was doing, and his dad simply replied, "He's playing guitar." Alex replied, "I want to do that." A while after playing, he realized that it was not a guitar, but a bass. The transition to bass occurred shortly thereafter.
Their influences come from jazz, rock and funk roots: everything from Parliament to Zeppelin to Primus. They have a demo that you can get at shows containing six origina