I've Got A Mind To Ramble
Red Mile Blues
Another blues festival has sprouted up in the heart of bluegrass country, this one at the Red Mile track in Lexington. The Central Kentucky Blues and Heritage Festival was loaded with talent, together with promotion by the blues-savvy WRVG FM, World Radio's flagship station in Georgetown.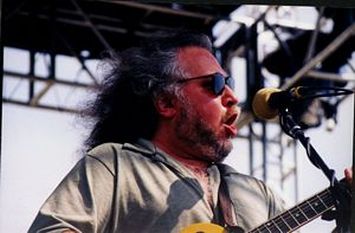 Bob Margolin, above, and Pinetop Perkins, below, were part of the Rolling Fork Review.
July 24 was one of those scorching hot Saturday afternoons in the treeless infield of the track. The stage was situated facing due west, which made it tough on the musicians playing in the late afternoon and early evening, as they were looking into the sun. (Now I know why bluesmen wear those wide-brimmed hats.)
Tanita Gaines and the Accused had just finished when we arrived. Tanita and the Accused are getting wider recognition as a regional act, thanks in part to her outstanding singing. Someday we will say "I remember when. . ."
Alvin Youngbood Hart was a last-minute addition to the lineup, for he had heard about the event and wanted to be part of it. He is one of that young breed of personable bluesmen who sings and plays his acoustic guitar in the traditional idiom. He will also be at the King Biscuit Festival in October.
The Rolling Fork Review was an interesting mix of young, old and in between. Elder statesman Pinetop Perkins had just celebrated his 86th birthday on July 13. Bob Margolin is reaching his middle-aged stride, having played guitar in Muddy Waters' band during the Seventies, along with Perkins. Big Bill Morganfield was the new kid on the block, carrying on the blues tradition of his father, Muddy Waters. Each musician had a chance to shine - or sweat - with Margolin doing a cool version of "Ice Cream Man." Morganfield played several songs from his new CD, Rising Son, and Perkins frolicked at the keyboards with "Down in Mississippi." These intergenerational bluesmen have teamed up to present authentic "Mississippi-via-Chicago" blues.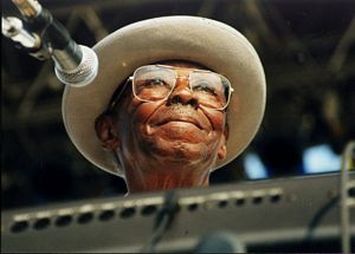 The Lone Star Shoot Out was a reunion of three veteran guitarists who started out on the Gulf Coast. Lonnie Brooks, Long John Hunter and Phillip Walker each could have done an outstanding set on their own, but they have teamed together this summer to play the festival circuit and promote their new Alligator CD, The Lone Star Shoot-Out.
Brooks opened, using a touring band that included his son Wayne on guitar and Kaz Kazanoff on sax and harp for the whole set. He cut into his Louisiana groove with "Two Headed Woman" and "Feel Good Doin' Bad." Then Phillip Walker joined him for "You're Playing Hookey." After all three players had a chance to solo, the shoot-out began with each of them taking turns trading licks. The jam could have gone on all night long, but they had have to tighten up their act for the road show.
Long John Hunter was actually a mentor to both Brooks and Walker when he was playing in Port Arthur and Beaumont, Texas. He seemed to enjoy himself the most, clowning with the others. They finished their encore with an extended version of "Roll Roll Roll."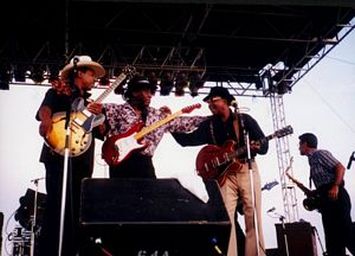 From left, Lonnie Brooks, Long John Hunter and Phillip Walker were the Lone Star Shootout
Jimmy Vaughan & the Tilt-A-Whirl Band was the closing act. This Texas outfit came dressed in black and sported slicked-back hair. Vaughan's razorback, pointed steel-tipped boots were straight from Austin. His band included Bill Willis on the Hammond B-3 and a backup vocal trio that complimented his tough, roadhouse style of blues and R&B. He paid tribute to his younger brother with "Flooding Down in Texas," a Larry Davis song made famous by Stevie. Jimmy's guitar is lean and mean; occasionally he offers a vocal. The crowd was on their feet around the stage for his encore of "Bye Bye Baby Bye Bye."
Mike Francis of WRVG said "the festival was a success as a fund-raiser and as an outlet for the blues to the local community." The festival is planned to be an annual event, in a new, park-like setting next year.
Francis drove Brooks, Hunter and Walker back to the airport, as they had flown in from different parts of the country. On the ride back, they were comparing and imitated their favorite cartoon characters. Beep, beep, zoom.
Jimmie Vaughan, leader of the Tilt-A-Whirl Band
Louisville Blues Festival Update
John Grantz with the Public Radio Partnership is putting together the acts for the Louisville Blues Festival, scheduled for Theater Square on Oct 1-3. Friday evening will feature the Fat Possum Juke Joint Caravan with Elmo Williams and Hezekiah Early, T-Model Ford and R. L. Burnside, who has played Headliners twice. Saturday will have a spicy Louisiana flavor with Steve Ferguson and his Midwest Creole Ensemble, Beau Jacque & the Zydeco Hi-Rollers and Rosie Ledet, the Zydeco Sweetheart. Sunday will include Corey Harris, Big Brother & the Holding Company and Big Jack Johnson. Other bands will be added to the schedule.