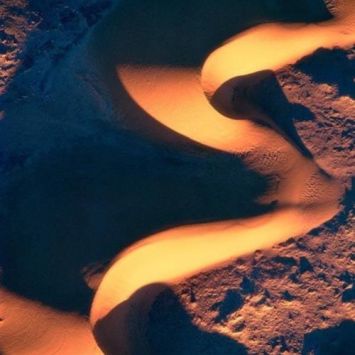 Selenography (Quarterstick Records)
The Rachels
By Ralph H. Sidway
Considering their beginnings, and the subsequent musical course changes Rachel's have charted, Selenography would bolster the positions both of adherents to the Theory of Evolution, as well as of proponents of a more divinely inspired cosmic worldview. One of Louisville's best-kept musical secrets, Rachel's recorded much of the album at Lucky Anchor here in town, but also went as far afield as Minnesota, Chicago and Philadelphia, with (primarily) guitarist Jason Noble performing the mastering with John Golden in Newbury Park, California. Despite recording on both analog and digital formats, engineer Robert Weston has helped craft a seamless work of art, that flows as effortlessly as the sublime aerial landscape photography used for the cover and CD booklet (by Tucson AZ photographer Adriel Helsey) would lead one to believe.
Indeed, even the name, Selenography, denotes a landscape of sorts, in this case, one of shades of mysterious and subtle tones of sepia and selenium, a topography of shifting moods and emotions, musical responses to people, places, events and things. The haunting and luminous centerfold painting, "Constellation," by Louisville artist Gregory King, seems to shimmer and come alive when one views it in conjunction with the music, the entire combination having the effect of transporting one to this strange realm, delineated by its opposite extremes, the "Bay of Harmony," and the "Sea of the Edge." (Liner notes, not song titles.)
Garnering raving reviews in England, where their freeing, quietly defiant music is alternately described as post-rock, pre-rock, classical-folk, what-have-you, Rachel's not only is difficult to be classified, in all fairness, it shouldn't be. After hearing the leadoff tracks, "A French Galleasse" and "On Demeter," I was tempted to try to group Selenography with the West Coast jazz-flavored "Shadowfax," (a Windham Hill band whose debut album is highly recommended). However, Rachel's departs for a new hill to survey, "The Last Light" subduing the spirits, only to raise them anew with the 3/4 time gallop of "Kentucky Nocturne," the only track which could even be called insistent.
Rachel Grimes (who shares the band's name but actually joined it after its creation by guitarist Jason Noble and Christian Frederickson - primarily viola), contributes enormously to the album with her writing and keyboard work, her "Honeysuckle Suite" composition for harpsichord a sprightly, soulful peak among the more moody valleys. But to single out anyone for special accolades is to betray the fit and finish that makes this neo-symphonic progression of sensitivities such a masterpiece. With Steve Buttleman on trumpet, Giovanna Cacciola's whispered vocals, Kyle Crabtree and Gregory King on percussion, Eve Miller on cello, Dominic Johnson on viola, and Edward Grimes on drums and vibraphone, the ensemble is perfectly matched. This is a pinnacle in a creative artistic career that, with such an emphasis on collaboration, shows no signs of diminishing.
Oh sure, you could put this on as background music (whatever that is!) for your next gathering of friends, but be forewarned, your gathering may be pulled away from you, as one after another asks, "What are we listening to?" Selenography is music that gets under your skin, like a slow, smoldering romance, never lets go, and continually reveals new facets and features to explore, much like (to return to the cover art) the shifting sands in Helsey's photography. And so it goes, like Rachel's crescent moon, full circle, yet with phases. Go ahead, plumb the depths . . . You won't be disappointed.
(You can catch Rachel's live, on Sunday, September 12, at the Clifton Center.)