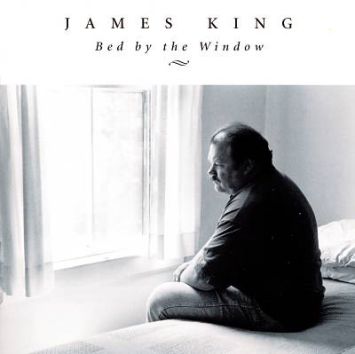 Bed by the Window
James King (Rounder)
Last year at IBMA, James King sat at a table next to mine and we each enjoyed a meal but did not meet. He was a friendly man who made small talk with others in the room. Later, I heard him in concert for the first time, and was I surprised! Suddenly, he was a bundle of energy and enthusiasm. The liner notes describe King as a "rarity: an honest-to-God soul singer who likes it loud and hard, who's not afraid of emotion and sentiment." A perfect description!!
This project is the debut for King's road band and they do themselves proud. Kevin Prater provides some great mandolin chops and vocals. His cross picking in the title cut is some of the most expressive guitar work in that style I have heard. Adam Poindexter's banjo is a driving force throughout the recording but especially in "Red Rose." Bobby Hicks sets in on fiddle and he always sounds great.
I listened to this recording at least eight times before I began to write this review. Each time the sensation was the same. It was as if I was back in 1950 listening to my radio. It was an exciting time because Bluegrass was starting to become an established musical form, and I loved that sound.
This recording contains selections from Hank Williams ("They'll Never Take Her Love"); Johnnie and Jack ("Potter's Field"); Ernest Tubb ("Yesterday's Winner"); The Country Gentlemen ("Red Rose"); Moon Mullican ("Sweeter Than The Flowers"). I also got a kick out of an unusual arrangement of the 1960s folk classic, "Pack Up Your Sorrows" and the very clever hard driving "I Don't Do Floors Anymore." If you like Bluegrass with the old time feel, James King is the real thing. And his music is from the heart.