Front & Center: Brewgrass Rising - Gary Brewer And The Strictly Bluegrass Festival By Tim Roberts
The fevered anticipation for it rivaled that of any music festival, then or now. The city would draw in visitors from all over the globe. Vacations were planned around it. For an entire weekend, Louisville was the Bluegrass music capital of the world and the Bluegrass Music Festival was one of the premiere musical events in the nation. Names like Bill Monroe, Ralph Stanley, the New Grass Revival and others would pack the Belvedere with rabid fans and the simply curious. Sponsored by Kentucky Fried Chicken, back in the era before it became known only by its initials, the festival was second only to the Kentucky Derby in terms of sheer numbers of bodies collected in one place for one purpose. The differences? Horses didn't run around an oval every half-hour. And admission was free.
But the politics of corporate funding doomed the festival. One year it simply wasn't there anymore. The high lonesome sound had vanished from Louisville as fast as a fingersnap. It was missed for nearly half a decade.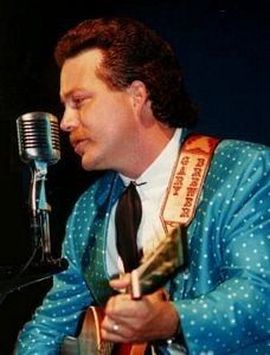 Gary Brewer
The Brewer family changed that.
"I'd travel all across the county and everybody would ask me, `Whatever happened to the KFC festival?' It was such a popular event," said Gary Brewer. "I really got tired of answering people."
His family's response was to create - with blessing from then-Mayor Jerry Abramson - the "Strictly Bluegrass Festival," the largest free Bluegrass music festival in the nation. Held at the Iroquois Amphitheater, this year's festival will take place Friday and Saturday, September 10 and 11. Now in its eighth year, "Strictly Bluegrass" draws between 13 and 15 thousand people, from as many as 30 states, for a weekend of workshops, jam sessions, food and, of course, continual concerts featuring the top names in Bluegrass.
"Strictly Bluegrass" is an event operated by a family for the family and sponsored, with one major exception, by family-based businesses. Support this year comes from Pepsi, Senn's Body Shop, Eckrich, Byerly Ford and Williams Food Service.
A fifth-generation Bluegrass performer, Brewer was working for the Mayor's Office as Music Director for the summer and winter programs when he approached Mayor Abramson with the idea for bringing a Bluegrass festival back to the city.
"I wanted to produce a festival that was a free, non-alcohol family event," Brewer said in a phone interview. His voice has a high timbre and a thick drawl that fit perfectly behind a guitar. "My dad and I put this on. Everybody in our family, on both sides, joins together and helps with the event as it's going on. We're doing it as a labor of love."
This year's labor of love will bring not only Gary Brewer and his band, the Kentucky Ramblers, to the stage, but also legendary performers Ralph Stanley & the Clinch Mountain Boys; the Bluegrass gospel sounds of The Legendary Sullivan Family; the "King of Bluegrass," Jimmy Martin & the Sunny Mountain Boys; James Monroe & the Midnite Ramblers; Bob Paisley & the Southern Grass and the proverbial many more. Another featured performer will be Wayne "Little Stretch" Brewer, Gary's four-year-old son, who is in the Guinness Book of World Records as being the youngest performer on the Grand Ole Opry.
While the performances will take place in the Iroquois Amphitheater, the festival will use all 800 acres of Iroquois Park. Workshops will be held close to the stage. Jams will spring up throughout the park. "Heck," Brewer said, "you could even [bring your clubs and] go hit nine."
Brewer stresses the community- and family-based reasons for doing the festival every year. "We're not doing it to make money. Strictly Bluegrass, Inc., is a non-profit organization. We're doing it to keep a class-A Bluegrass festival in Louisville, one that had once been part of Louisville for so long, and to keep that heritage here. We use the money just to pay the performers."
That immense level of commitment to a festival, a community and an entire genre of music from a single family is no surprise when you learn of their background. There are family dynasties in many professions. In acting it's the Barrymores (from John to Drew). In politics, the Kennedys (from Joseph, Sr. to Patrick). In journalism and civic pride, it's the Binghams (from Judge Robert to Barry, Jr.). In Bluegrass music, it's the Brewers.
"I'm a fifth generation musician in the family," Brewer explains. "My granddaddy worked with the Carter family back in the 1920s. We pre-date the Monroe family and others. That's why we call this `Brewgrass,'" he said with a big laugh.
But even with his genes steeped in the genre, he is the first member of his lineage to make a living playing Bluegrass music. He tours the country playing festivals and concerts. Before he goes on stage at "Strictly Bluegrass," Brewer will have performed at Mountain Days in Dayton, Ohio, The Camp Placid Bluegrass Festival in Blountville, Tennessee and the Rosine Bluegrass Festival in Rosine, Kentucky. "Strictly Bluegrass" will be only one stopping point for him. Later in September, he'll perform at the Poppy Mountain Bluegrass Festival in Morehead, Kentucky, the Bill Monroe Uncle Pen Day festival in Blossom, Indiana, then in October it's down to Georgia for the Cloud's Creek Fall Bluegrass Festival before he returns to the city for the International Bluegrass Music Association (IBMA) convention.
But if you can't fit those festival jaunts into your schedule, you can always hear him on your CD player. In June Gary Brewer and the Kentucky Ramblers released Jimmy Martin Songs for Dinner: A Musical Salute to the King of Bluegrass (reviewed in last month's LMN), a follow-up to 1998's Kentucky Headlines and Heartbreak EP that featured "Big Fire in Bardstown."
Brewer's reasons for performing the Martin songs relate to his own feelings about the status of Bluegrass music and how it is perceived:
"Back when my granddaddy played with the Carter family, [Bluegrass] was called country music. Back when Jimmy Martin was knocking down the hits in the 1960s, he was right in there with George Jones and Conway Twitty. There weren't fifty different charts. If you did anything remotely close to country music, it was all charted the same. Now you've got country charts, Bluegrass charts, rhythm-and-blues charts - it's all veined off into so many different directions. The industry has just labeled things to death. Labeling stuff is sometimes to the detriment of the music."
Placing music into categories makes it easier for the industry to market its wares. But no matter how stringent the industry's categories are, they don't alter what Bluegrass music really is.
"It's the kind of music that makes you feel good," Brewer said, "even if you're singing a sad song. I feel Bluegrass music is one of our last American pieces of art. Even though it's popular worldwide, it's a good representation of the average American. And I have never played a place where people didn't like Bluegrass."
You'll get your chance to like all the Bluegrass you can at the "Strictly Bluegrass Festival" on Friday and Saturday, September 10 and 11 at the Iroquois Amphitheater in Louisville's Iroquois Park. Shows run on Friday from 5 to 10 p.m., then on Saturday from 11 a.m. to 10 p.m. Admission is free and open to the public on both days.
The performance lineup for Friday is: Dean Sapp and Wayne "Little Stretch" Brewer; Fritts Family and Tommy Brown; Wendy Smith and Larry Fuller; Bob Paisley & Southern Grass; James Monroe & the Midnite Ramblers; Gary Brewer & the Kentucky Ramblers; The Legendary Sullivan Family and Ralph Stanley & the Clinch Mountain Boys.
Saturday's lineup: Tommy Brown and Wayne "Little Stretch" Brewer; Clyde & Marie; Eastbound; Fritts Family; Robert White; Wendy Smith and the Boys from Little Creek; Bob Paisley & Southern Grass; Gary Brewer & the Kentucky Ramblers; The Legendary Sullivan Family and Jimmy Martin & the Sunny Mountain Boys.
Find out more at www.louisvillemusicnews.com/garybrewer.htm .