Louisville Rock Lowdown
If you are wondering why Two Ton Groove is not in this month's LRL as announced in the last issue of LMN, it is because I could not get in touch with them. They will be featured in an upcoming column, when we touch base with each other again. But this month I bring you an equally talented group in the form of Dharmachine. I knew that I wanted to feature these guys as soon as I heard a sample of their CD BANG! The album was recorded this May.
Josh Hawkins, Corey Siegle, Jeffrey Smith and Joe Stucker have been together as Dharmachine since last March and have quickly developed their sound into something unusual. Much emphasis is put on the art of spoken word poetry and its incorporation into music. A broader spectrum of art is addressed through their music, as opposed to some bands that simply create verse-chorus-verse-pop tunes.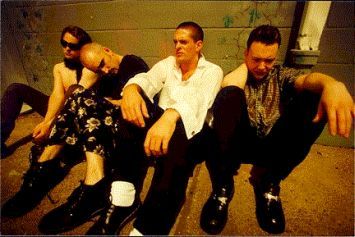 sharmachine
Members of the group states that they have been very self-absorbed lately, while trying to develop themselves as a band. A collective group effort goes into their writing of new material, and the songs are rarely complete upon first draft. Often, songs are worked and re-worked repeatedly, until a product that the entire band is happy with emerges. (And nothing is written in stone of course, as Bob Dylan tunes were used as an example of songs that change over time.)
The band has played at clubs such as Phoenix Hill, Butchertown Pub (before it closed), and Headliners and has also been participants in events such as "Dylan for Dollars" and the Homegrown CD. Their CD release party, held at Headliner's on August 5, was opened by Delicious Trip Attendance. BANG! can be purchased at their live shows and at www.Iuma.com. Distributing their CD in record stores is a possibility in the near future, but not a priority at the moment, says the band.
The new CD was recorded at Barrick Recording by Dave Barrick (engineer for the Kentucky Headhunters) and proved to be a great learning experience for "studio-rookie" Joe. Most of the disk was recorded live, though the bandmates were separated by glass, of course. The band feels that their live performances live up to the sounds of the album, even the effects. This is due in part to the drummer, who fancies a semi-electric drum set. Check out my Recording Review of the CD entitled, BANG! in next month's Louisville Music News.
Ahhh . . . the influences: everything from Radiohead to P. J. Harvey. Hints of cultural satire have fallen into the frames of the music as it has developed, though it was not a premeditated gimmick. The main goal of the group is merely to "do something that means something." Above all, Dharmachine wants their crowds to know that when onstage, the band is excited and hoping to connect with their audience members so that they understand what the show is all about. As their unofficial motto goes, "Expect more from local music."
Expect more from local Louisville music, eh? How could you bring more into Louisville music? Well, for starters, you could bring in an interpretive dancer as the band did at "Dylan for Dollars." Dharmachine is not afraid to take that extra step to make fans enjoy the show. A continuing effort to bring the city of Louisville and its music closer to the art scene will be their never-ending goal. Look in the future for some possible art festivals, including the music scene. and help support it in any way you can.
What does it take to like/understand Dharmachine? Intelligence and an open mind are prerequisites. Next, it helps to read the lyrics, which can easily stand alone as poetry. Another quote by the band refers to a small percentage of closed-minded listeners of pop radio: "Just because something has an unexplainable sound, doesn't mean it sucks." So go get yourself a copy of their new disk at any live show, or call Jeffrey Smith at 456-1051 for more information on the where and how much for the CD. Also, if you are online; don't forget to check out Dharmachine.com for your viewing pleasure.
I would like to thank Dharmachine for being in the Louisville Rock Lowdown this month. Best of luck to them, and all local scenesters. Keep on the lookout for Two Ton Groove in a future issue. Next month, I'll be bringing you Planet.
Send me all your comments/complaints/ideas/band demos and other assorted information to Jkslacker@aol.com or page me at (502) 672-3153. I am always looking for interested bands, so feel free to nominate your own band as well as others.
Until next month, Rock on!