I've Got A Mind To Ramble
Blues on the Southside
"One of the greatest thrills in my life was to play at the Checker Board Lounge on the Southside of Chicago about four years ago," Lamont Gillispie told the crowd at Leonard's on February 19. the Checker Board, at 423 E. 43rd St., was and is a Mecca for blues fans and musicians who want to experience the real thing deep into Chicago's Southside. I remember that classic photograph of Lamont with his band, The Homewreckers, standing in front of the lounge with the black-and-white Ralston Purina logo painted on the front facade. Lamont was pretty tight with the flamboyant guitarist Lefty Dizz , who he had first met at the Checker Board twenty years earlier.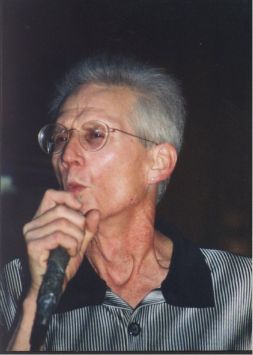 Lamont Gillispie
On this night, Lamont was back on the south side again, only this time it was in Louisville. His group, 100 Proof Blues , is the house band most weekends at Leonard's Bar and Grill, 3605 Taylor Blvd., around the corner from Central Avenue. The band includes Eddie Hilton on drums and Byron Davies playing bass. Veteran lead guitarist Mark Stein also helps out on a few vocals and Mike Hood rounds out the band's driving Chicago blues sound on keyboards.
But this was Lamont's night to shine, blowing his harp like the good old days. When I last saw Lamont at the Louisville Blues Festival in October, he had just come out of the hospital, following four serious operations in about the same number of months. He was just a shadow of what he used to be, except for his tenacious spirit. Now just months later, Lamont is performing regularly and with renewed vigor in what must be at least his third life.
"The doctors said I will be able to do things I haven't been able to do for years," Lamont said, "but no more smoking or drinking."
At break time, Gillespie passed the hat (actually a cymbal case) around to collect money for the Public Radio Partnership fund drive and called the pledge in during Scott Mullins ' "Blues Party." Later, the word got out during the second set that it was Lamont's birthday, so he got a standing chorus of "Happy Birthday" from the crowd. There were good blues vibes there that night and Lamont admitted that "tonight was another one of his greatest thrills."
You'll like Leonard's, for Dana Bremer , one of the owners, is planning to feature Louisville blues every Friday and Saturday night. Leonard's is a Kentuckiana Blues Society sponsor, which means members get in for free at the door. The place is a long stone's throw away from Churchill Downs, with an inconspicuous front covered with beer banners and neon signs. The stage is located in the front corner by the entrance, with seating for 50 people comfortably and an ample area to dance by the stage. A couple of moose heads adorned with hats and other embellishments gaze down on the patrons from either side of the bar. A few steps at the back lead up to some pool tables in a rear room. Leonard's is also a serous dart players bar, with a large case filled with trophies. Mark Stein said "that this was the fourth weekend we have played there and the crowds have grown each weekend."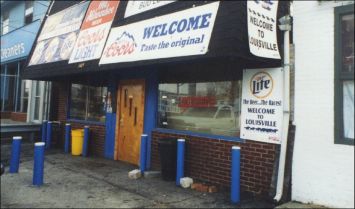 Leonard's Bar
Move over, country and karaoke, here comes Chicago's Southside blues to Louisville's south side.
Short Stuff
Mary Ann Fisher celebrated her fifth annual Mary Ann Fisher day on February 26 at the Puritan Apartments where she lives. The event, honoring "Louisville's (77-year-old) First Lady of Song," featured all-star performers Reed Davis , Mike Lynch , Gene Wickliffe , Peter Rhee and Michael Murphy . Fox 41 reporter Dick Irby had done an interview and background story that was aired on the evening news the night before.
The Kentuckiana Blues Society will be presenting a Blues Benefit For MERF on Sunday, April 2, from 2 to 10:30 p.m. at Stevie Ray's. Admission is only $5 to hear eight - count 'em - eight bands. Tru's Smokin' Vittals will be providing the barbecue in the Voodoo Garden. Lamont Gillespie will be there as well as Jimmy Roberts . Roberts has a new band that includes bassist Chris Rice , formerly with the Houserockers, and Gatewood Bledsoe , who played with Jack O' Diamonds , on drums.
Come out and support both the blues and the Musician's Emergency Relief Fund.