Not Quite a Full Circle
Full Circle (ear X-tacy)
Chaz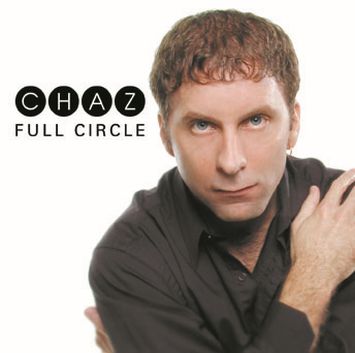 Welcome to Chazworld, a parallel universe of eclectic coffeetable pop for those who have accepted the notion that lifelong relationships and family are the only means of measuring one's existence. Of course. the iconoclastically impaired Roy Wally figure of Chazworld is Louisville's own unity guy, Chaz Rough. Fresh from a gig on the White House lawn, Chaz delivers eleven helpings of upbeat karma, charged with more positive current than a wall socket.
After the "jilted lover" paranoia of "Lover" which kicks things off, Chaz explores the story of a young lost soul in the DC Talk-influenced "Can't Make It Stay." This initiates a spiritual undercurrent present in several cuts on Full Circle. "The Journey" and the neo-gospel of "All I Need" suggest a relation with a higher power or a life partner as well, which brings us to the high point of the proceedings: "Next To You."
Backed with the gentle tapestry of classical guitar and Peter Searcy's tasteful cello, Chaz sings of sharing a tender moment with a partner that conveys passion without the sentimental land mines that lie under the surface of many love ballads. Without discussing the pedestrian fare of caffeine addiction ("Black Coffee"), this CD's intentions of positive regard are noble in these cynical times. But a major artistic problem seems to be present in several songs like "Who...," which, although conveying a sense of outrage ala John Mellencamp, the emotion feels forced. It seems that the basic duality needed for creative electricity is not apparent in some of these tunes: in order for "positive" current to flow, the "negative" must flow as well, to complete the circuit. When the artistic tension is not that urgent, the message tends to get short circuited.
Few would argue that the world would be a better place if we were to value the relationships of those who live under our roof. but in order to make a effect statement, the listener needs to be provoked somewhat. However, I doubt that was Chaz' intention on Full Circle. His vision exists in the passive present, so let's have a cup of coffee and enjoy each other's company, because this theme park is open for a lifetime.
Local Progressive
MotherSun
Easter Island
Imagine - It's Easter Sunday, 1722. You're on a Dutch ship exploring the Pacific off the coast of South America. Your captain, Jacob Roggeveen, snags you for a landing party going ashore on an island that's been spotted. You and your shipmates will find that the coastline is full of oblong statues – the Moai, with long, emotionless faces, many aimed in the direction of the sunrise. Admiral Roggeveen names the island after the holy day on which it was discovered. After you lift your jaw back up to your face, you and the others spend a few days exploring the island. You then pile back onto the ship and head home with news of the bizarre discovery. Nearly three centuries later the massive statues you found will become part of world culture, most notably as tiki-bar decorations and the inspiration for The Coneheads.
And a progressive rock band from Louisville will borrow the island's name.
A trio of veterans make up Easter Island, so we know we're getting more than a prog rock band whose members read too much Tolkien while Tarkus slammed through their headphones. Mark Micelli, formerly of Elysian Field (whose was CD reviewed in last month's LMN), is on guitars, synth and vocals, Richard Streander is on guitars and vocals, and Bob Chapman plays electronic drums and percussion. Having three experienced musicians is one of the best aspects of the recording. As veteran players, the three of them know they have choices in how they present their music. Put another way, the craftsmanship on MotherSun indicates they are apparently not bound to any preconceptions of what progressive rock should sound like.
Likewise, another aspect is that MotherSun is progressive rock that both avoids and rethinks many of the cliches associated with that subcategory. We get sensual chords from guitars instead of screaming riffs, "synthesis" of many electronic instruments instead of tortured synthesizers, acrobatic rhythms instead of thundering drums, a jazzish use of space instead of sound crammed into every bar, with lyrics that affirm life choices and changes. Think of it as Dave Brubeck meets Andreas Wollenweider – hip New Age music that could never be used in an elevator.
The name Easter Island itself provokes mysteries and puzzles. But it can also be used as a synonym for discovery, for solving riddles, for answers that reveal more questions. The music in MotherSun from Louisville's Easter Island is a discovery – a mystery – waiting for you.
Ska Fun and Games
Quatro (Rock N Roll Rampage Records
Johnny Socko
Face it, ska is fun. The horns, the Reggae rhythms spun up to jet speed, the stage full of musicians. What makes it more fun is when the band plays more than ska, when they can cover all ranges of music. Just because you have a full rhythm section and a blasting set of wind instruments doesn't mean every song has to sound like "Knock on Wood" by The Mighty, Mighty Bosstones. The band Johnny Socko definitely doesn't think so, and they let us know on Quatro.
Based in Indianapolis, but frequent guests in Louisville at the Phoenix Hill Tavern, this fourth release (hence, the name) from the irreverent, wry sextet is a pumped-up joy, as crazy as a centipede on rollerblades.
They careen from flat out ska in the opening track "Dancing Queen," to an exploration of the downside of wool hats (the choice headgear for slackers) in "Rocks in My Head," to the gentle Latin rhythm of "Coffee Girl," a valentine to all the coffee-shop waiters and waitresses we've fallen in love with. We get muscular hip-hop in "Old School Master," about a king of the old video games who's "smooth like a table-top Galaxian / And I'm always on the lookout for some elevator action / Like Zaxxon. . ." Behind the chorus are ancient game sounds like Pac-Man "bewww-bewws" (Remember? After Pac bites the big energy pellet and chases the ghosts?) and rapid blasts from one of the dozen other shoot-em-ups that lined arcade walls nearly two decades ago. There's the soulful lounge ballad "Hey Hey Hi," and more hammering ska with "Devil's Advocate." The final two selections come with apparent heavy influences. "No More Excuses" mirrors any one of the songs from The Band that can be sung in a loud, tuneless voice accompanying a jukebox in a crowded bar. "Half As Much" is strong with a Led Zeppelin vibe, and guest vocalist Jeremy Radway can flawlessly mimic the Robert Plant style of slurring his voice to its upper ranges and back again.
Johnny Socko is a popular attraction at Phoenix Hill whenever they visit. Quatro will bring the fun home for their current fans. It will earn them some new ones, too.
Bob Just Can't Get Enough Of Lynn's Singing
You'll Never Be The Sun (Rounder)
Lynn Morris
Oh, how sweet it is! This release is not flashy, it is just plain good. The ensemble is one of the finest, if not THE FINEST traditional acoustic bluegrass bands on the road today. Yes, they are a small group (only four musicians), but they have a large sound.
Morris' vocals are heartfelt, especially on the title cut, "You'll Never Be The Sun." "Wrong Road Again" is about a one-sided relationship. Perhaps, the lady in question should listen to "The Likes of You" and "Scraps From Your Table," two feisty tunes from a self-assured woman who decided she had enough of one-sided relationships. Ron Stewart's fiddle and banjo work is also pretty spunky. My, my, what a musician!
Marshall Wilburn provides his usual strong, steady bass line as well as several novelty vocal tunes, including "Destination Love" and "Seventeen Cents." Additionally, there is some mighty fine frailing banjo from his wife, Lynn.
The project contains two soulful duets and new covers for "Thy Burdens Are Greater Than Mine" and "If Teardrops Were Pennies." Both tracks are country classics with the feel of the original releases.
"Twister," a Ron Stewart original, has "standard" written all over it. Stewarts' work contains the same drive and bluegrass fire as Earl Scruggs. In a review about four years ago, I said "Ron is a bluegrass song's best friend" and I stand by that statement. Stewart is currently working on his first self-titled project. Hurry up, Ron!
This is one CD you won't get tired of and it should be in your collection. To learn more about Lynn Morris or to obtain a copy of this CD, visit your local musical distributor or contact http://www.rounder.com
Analog Art, Digital Music
American Made Music to Strip By (Geffen Records)
Rob Zombie
Remember Kids, Zombie Loves You…
I don't know which is more enjoyable: Rob's music, or his artwork. This CD holder is chock full of great pictures from live shows and the above-mentioned artwork of Mr. Zombie. In my opinion, it is perhaps the greatest packaging of an album to date. Shiny paper and a well-balanced combination of techno- and porno- are the ingredients in this most recent release by the leading authority on Goth-rock.
Now, what's in it for you?
The answer to that question begins with the twelve re-mixes of some kick-a* songs. Included are versions of "Dragula," "Living Dead Girl," "Superbeast," "Spookshow Baby" and more. The original versions of these songs were previously released on Hellbilly Deluxe, but the mixes are very cool.
I have been getting more and more intrigued with techno- and electronic music lately, especially when it utilizes a heavier flavor. This album is a good representation of this growing genre. Similar sounds can be heard from bands like Powerman 5000 or Static X. I predict this kind of sound fusion to be explored more in the near future. Fusion seems to be the key as of late, in every form of pop music. Country and pop/rock are coming together for a more lively sound (Shania Twain, Garth Brooks and the like…) just like rap and rock are (Korn, Limp Bizkit, etc…) It can only reach a larger audience, and hopefully broaden people's horizons to new things. This CD is a "must-have" for any fan of techno, rock, Rob Zombie, or evil illustrations.