Down On The Corner
• With this issue, Louisville Music News begins its second decade of publishing. Started in April 1989 by Jean Metcalfe and me, LMN has grown from a songwriter-oriented publication into a full music newspaper, covering, or at least attempting to cover, all styles of music in the Louisville area. It is our hope to continue to provide Louisville music fans and musicians the most coverage of Louisville music.
In order to keep going, however, we need additional staff, particularly CD reviewers, though writers of all stripes are invited to submit material. We also need marketing persons to manage sales associated with our website, www.louisvillemusicnews.com. Anyone interested in either activity should call Paul Moffett at 893-9933 weekdays.
• In keeping with the resurgence of older acts with product, Mark Micelli says that a brand new Easter Island CD, Mother Sun, is due out shortly. Watch for it in all the usual places.
• slackshop will release the complete CD, faint praise and happy accidents, on April 10. It will include eight new tunes and the three songs from their Grace EP.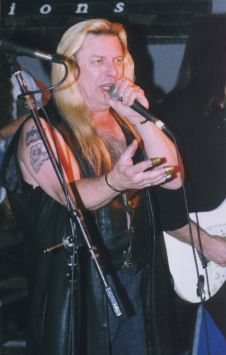 Jim Dandy Of the rock group Black Oak Arkansas still preaches the rock 'n' roll gospel. They appeared at Whisky Bob's on March 15
• Tim Krekel 's latest ear X-tacy CD, Underground, is set to be the first project from ear X-tacy Records to get nationwide promotion. Former WFPK on-air personality Leslie Stewart will handle the publicity for the release.
• John Grantz of Media Events sent along a fax announcing the return of the Powertel Rockin' at Riverpoints Concert Series. The Friday night shows, to be staged on Festival Plaza by Joe's Crab Shack, will feature national nostalgia and Louisville acts. Confirmed acts include Eddie Money, Chubby Carrier and the Bayou Swamp Band, the Classic Rock All-Star Band, Blue Oyster Cult and BR-549 . The event will kick off on May 19 and run through July 28.
Louisville and regional acts wishing to play these shows should send a cassette or CD plus bio information to: The Powertel Rockin' at Riverpoints Concert Series, P. O. Box 4126, Louisville, KY 40204. Bands selected to play will be contacted by April 20. Grantz requests that bands not call him. Those who do will be guaranteed not to get a gig. (Just kidding. Ed.)
• Martin Productions has announced "Original Fest 2000," a combination showcase and benefit, scheduled for June 2 & 3 at Headliners. Previously held at the Playground, the event brings in assorted music industry types to check out the bands. This year, the event will be staged simultaneously with the Louisville Music Industry Alliance's June 3 expo. (See next item.)
Bands interested in the Original Fest should send a single song on CD or cassette, plus entrance fee of $15 to Martin Productions, 6417 Sherlock Way, Louisville, KY 40228. Deadline is April 29.
• The Louisville Music Industry Alliance's first industry expo, now scheduled for June 3 at Mom's Musician's General Store in Jeffersonville, will feature a number of music industry experts speaking on music business matters of concern to bands looking to advance their careers. Details about this event will be released at a later date.
• Here's a raffle with lots better odds than the lottery ever thought about: the Kentucky Opera's 2000 Jaguar Raffle. In previous years, the KO has raffled off Porsche's but this year, they're going for the big Kahuna with the Jaguar. There will be only 2000 tickets sold, at $100 each. The drawing for the winner will be held at Churchill Downs, on Mary 20, 2000, following simulcast of The Preakness Stakes. To enter, call 502-584-4500 or 800-690-9236.
• Gist Piano has been named a national finalist for the Steinway Partners in Performance Award . The Award recognizes excellence in eight areas of piano sales.
Codas
• Frank Lewis "Tubby" Barth , 82, died on March 10 in Lyndon. Barth was a former professional singer of the old WGRC radio in Louisville.
• James A. "Jackie" Bradley Sr ., 62, died on March 19 in Louisville. He was a member of Inspirational Male Voices.
• Clarence L. Rhodes , 77, died on March 12 in Jeffersontown. He was a former member of the Thoroughbred Chorus.
• Frank "Pee Wee" King , 86, died in Louisville on March 7, 2000. A member of the Country Music Hall of Fame, King was best known for co-writing "The Tennessee Waltz" with Redd Stewart . He wrote over 400 songs in his career. For more on Pee Wee, see Michael Stout's "Cowboy Corner" on page 6 and Jean Metcalfe's "Remembering Pee Wee ..." on this page 17.