Front & Center: Leslie Stewart
By Victoria Austen Moon
The rumors flew around for weeks among music insiders in Louisville: >former program director Leslie Stewart was leaving Public Radio's WFPK to venture out on her own as a publicist for Louisville area musicians. I figured — as with most rumors — there had to be a chunk of fact or two mixed in with the fiction, so I recently sat down with Leslie to get the straight scoop directly from her: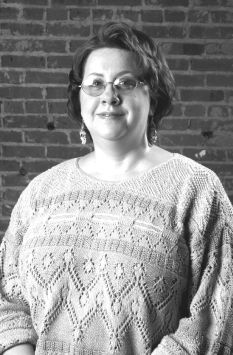 VM: Okay, let's start at the beginning — why did you decide to make a change?
LS : I think it's been a natural process that as long as I worked in radio, people would ask me for help and advice on how they could get their own material played, and people have been asking me to do that for years. As long as I was program director of a station, it felt like giving that kind of advice would be a conflict of interest, and it was also something I didn't have time to do. I could give general advice, but I couldn't be very specific or give them a lot of assistance like that.
"After we changed the format at WFPK [from classical to AAA in January 1996], I felt a growing dissatisfaction with my commitment to the world of radio. I think a lot of that stems from the fact that changing the format is the most exciting thing a program director ever gets to do, and when that was over it seemed like it was all downhill from there — the exciting part was over and all that was left was a lot of paperwork!
"It took me about two years to figure out that I wasn't blissfully happy in radio, and I started wondering what to do instead. I had spent most of my adult life in radio. I've always had a musical focus to my life, whether it was as a music major at Eastern Kentucky University or as a flute performer or working in radio — music has always been right at the forefront. And it just felt natural to use that experience that I've gathered over 15 years in radio to help other people get their careers off the ground, or refine their careers, or get them to the next step in their career. Once I decided what I wanted to do, I just basically took the idea and ran with it. "
VM: What sort of clients do you currently have?
LS : "The business is going better than I expected, and I've been really busy — which is good! I' m currently working with a variety of clients: I have a record label, an online music publisher, several individual bands and artists, and consultations going on with a management company and a classical composer. It runs the gamut, really, and everybody has different needs and goals, which makes every day for me different, new, and challenging."
VM: Let's say I'm a new local artist with a CD, and I'm looking for some publicity. How could you help me?
LS: "It would depend on what you had already. Media kits and one sheets [one-page summary of the band and its press] are usually the starting point — you need to have something I can work with to send out to other people. Most bands I talk to already have a CD and are interested in capitalizing on that CD and using that as a marketing tool to get gigs or increase their touring base to get gigs in other towns. Some people already have a national following and are looking for a new record label. It's different for every client. I have to figure out where they are, what they've got already, and if what they've got already is what I want to send out — I do a lot of rewriting! — it' s a totally different game plan for everybody."
VM: Do you have any advice for a brand-new band with a brand-new CD starting out in Louisville?
LS: " My advice to bands who are just starting out: Treat your band like a business from day one. Have goals, have a plan, have a budget and make sure everyone in the band is on board and willing to do their share. And have the good sense to call in the pros when you're not sure what the next step is, whether it's a publicist or an attorney or a CPA.
VM: What are some advantages a radio background gives you over a band trying to do the same things themselves?
LS: "If you think about why someone from radio would be good in PR, it makes sense. I used to be on the receiving end of all the PR and phone calls — now it's my phone calls people aren't returning! Also, I know who to call. A lot of people pay me for who I know more than what I know. A lot of people know who to call and what to do in this market but not in other markets or cities, and I can help with that."
VM: Are you still working with public radio?
LS : "Yes — now I get to go in and I get to play classical, jazz, rock; I get to do only the shifts that work for me, and I'm still doing my Sunday afternoon jazz show, so I feel like I' m still doing what I got into radio to do in the first place. And I have a great time!"
VM: Where do you want to go with your business from here?
LS: "I'm always looking for new clients — I know that the freelance life is feast or famine, so I'm trying to prepare for that. I do envision a time where I'll either have a waiting list or an assistant, but I' m not there yet. If I get there in the next year or two, that will be right on schedule for me."
"As far as where I want to go eventually, I don't really know. Having spent 15 years in radio and not thinking about going anywhere else, it was pretty traumatic when I had to think about it. One of the things I learned from that experience was that I shouldn't mentally "lock" myself into any one thing. If I do this for two or three years and decide it's not making me happy, I'll be on to something else. I think whatever I do will always have to do with music in one way or another, but I'm much more open to change now, and wherever those changes lead I know will be the right place."
Interested artist and bands can contact Leslie Stewart at (502) 451-7569 or through email at deejaygrrl@juno.com.