Remembering Pee Wee . . .
By Jean Metcalfe
I still remember the day the florist truck pulled into my driveway. Probably the wrong house, I thought, since it wasn't my birthday or other noteworthy occasion. But my name was on the small envelope attached to the lovely house plant, so I happily accepted it. The card indicated it had been sent by Pee Wee and Lydia King, in appreciation for the cover story featuring Pee Wee that I had written for this newspaper. Their hospitality and the opportunity to see all their wonderful memorabilia had been more than sufficient thanks.
On a second visit to the King home to videotape an award presentation – Pee Wee's frail health would not allow an on-site acceptance – our camera lingered on the walls of the large basement office, which were covered with photographs, posters, gold records, awards and more items than we could gawk at in one visit. Pee Wee was an enthusiastic guide, adding immensely to our enjoyment. In his zeal to please, he started to pick up his famous accordion from its floor-level location. Now I know that an accordion weighs about a ton and a half, but had it not been for our and Lydia's insistence that he not attempt to lift it, I believe the diminutive musician might have somehow managed to hoist it up to his chest and play a few chords.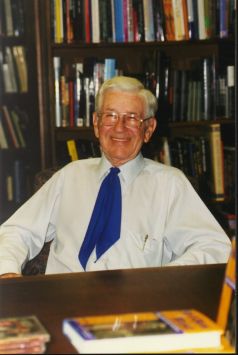 Frank 'Pee Wee' Kings
I remember many things about visits with Pee Wee and Lydia. I recall how he apologized for not having more costumes to show us; he had given them to museums, barn dances, and others. I remember him proudly pointing out a family picture that included himself and Lydia surrounded by their children, grandchildren and great-grandchildren. He explained how his son, who shot the photo, had managed to include himself in it. An innovator like Pee Wee appreciated such technology.
But there is one moment in our talks that will forever stand out. At the conclusion of an interview, I asked, "Any regrets?" I was thinking along career lines, and was pretty much expecting Pee Wee to say that he had no regrets. I was caught off guard by his response. He regretted, he said, that he hadn't been able to prevent his mother's drowning in a rain-swollen river near their farm in Wisconsin. (It was a freak accident that had happened many years after Pee Wee was no longer living at home.) Nothing about his career, nothing about mountains not climbed, movies not made, gigs not played, songs not sung or written … rather, a long ago, sad remembrance of his mother.
Wade Hall, Pee Wee's biographer, has said that writing a comprehensive account of a person's life requires one to dig up any dirt that can be found about that person. He proudly added that he had found no dirt to include in "Hell-Bent for Music: The Life of Pee Wee King." This despite the fact that in Pee Wee's heyday he was idolized much the same as are today's rock stars.
Louisville musician John Roy once told me about a performance in which he filled in for Pee Wee's drummer. He recalled with amazement how fans had grabbed them and tugged at their clothes – proof of the extent of the band's popularity. Further proof came in the form of a Lockheed Lodestar that in the Fifties took them to and from personal appearances. Emblazoned on its side were the words "Pee Wee King and His Boys, RCA Victor." And there's a picture on the wall to prove it.
Pee Wee King is way up there on my list of favorite cover subjects. In each instance when I have spoken with him, he has been quick to credit Lydia with a major role in his success. (She gave up her own musical career to devote herself to their four children.) Pee Wee and Lydia exemplify a quality that is all too rare in today's in-your-face society. That quality is class.
Rest well, Pee Wee. We'll still remember you every time we hear "The Tennessee Waltz," "Slow Poke," "Bonaparte's Retreat," or any of the other songs written and made famous by you and Redd Stewart and those Golden West Cowboys. And I will feel a twinge as I recall the blend of nostalgia and sorrow that filled the church as your funeral service concluded with a recording of "The Tennessee Waltz" by Pee Wee King & the Golden West Cowboys.
But I'll smile every time I catch sight of that cherished house plant, which this inept gardener refuses to let die.